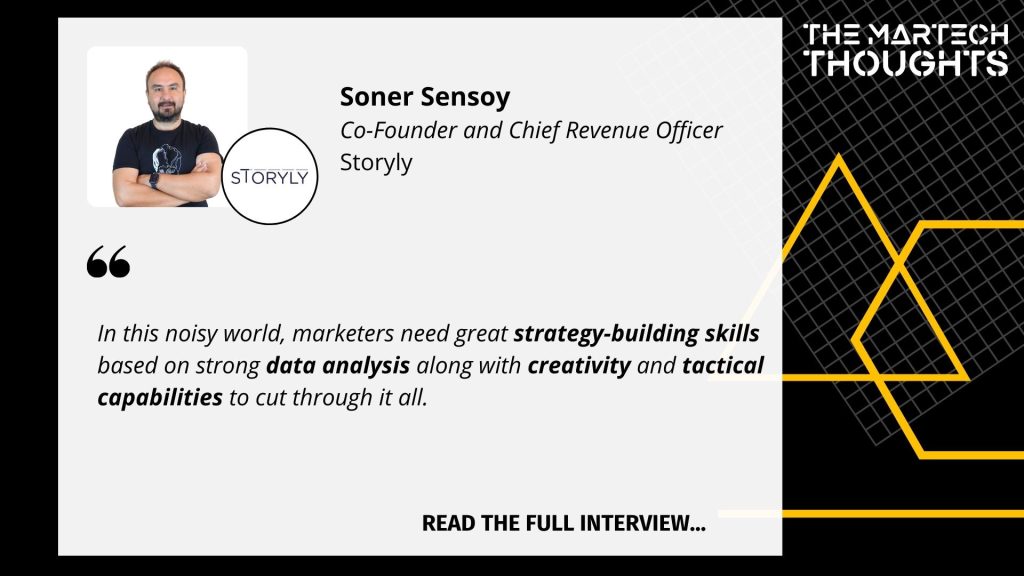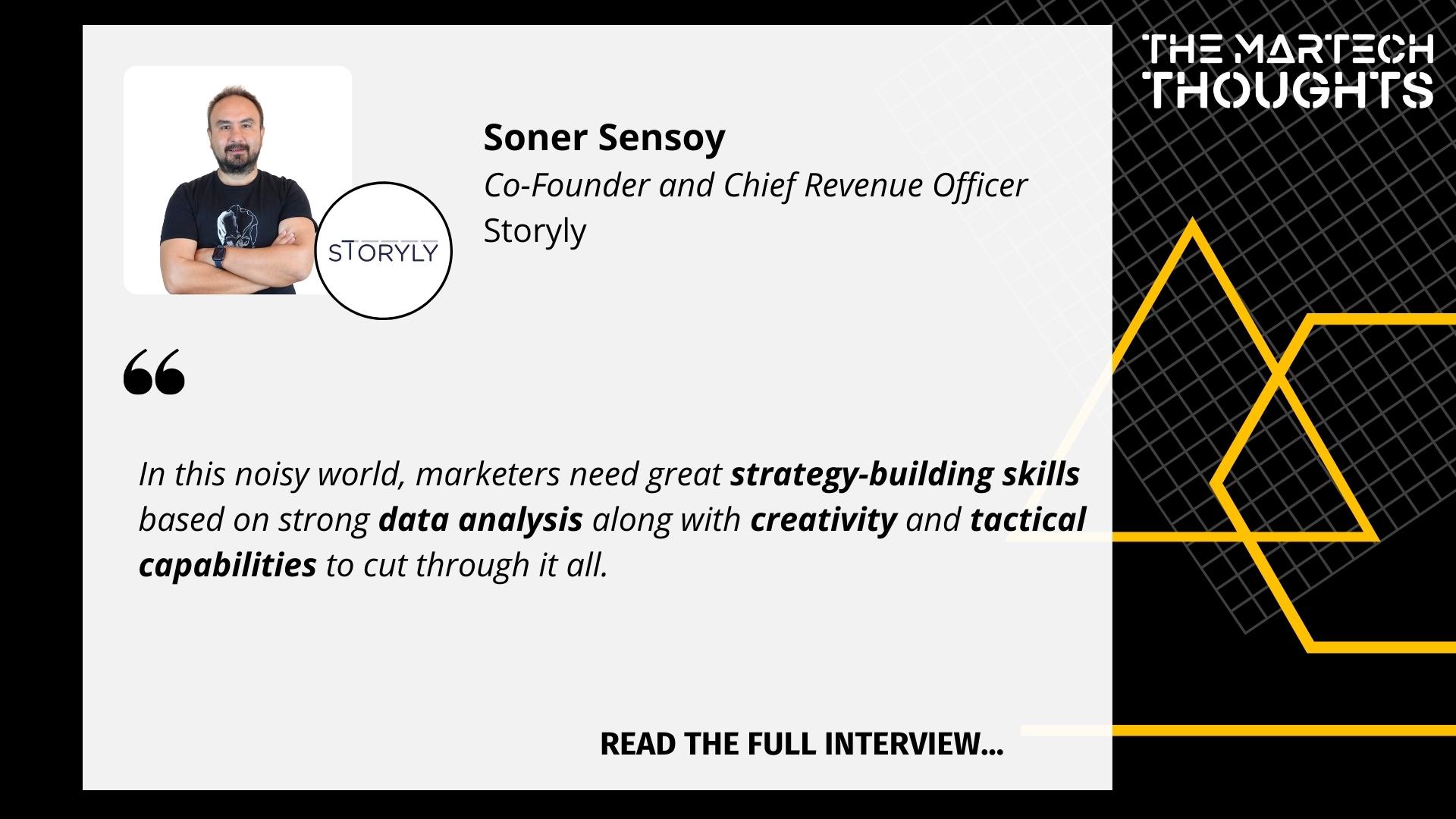 What are the top priorities for a MarTech Stack Optimisation Strategy to achieve?
Drive pipeline growth or acceleration
How do you see the skillsets needed for the marketing profession changing?
Like any other function, marketing is going through a fast-paced transformation driven by changes in technology, global dynamics, and consumer expectations. The foundations of it are constant but now there are more data and much more advanced tools available to marketers. So, it should not come as a surprise when I say digital marketing is the most in-demand skill. Specifically, data-driven marketing skills are invaluable as it is the most precious commodity of the day. Knowing how to leverage it can turn marketing efforts into productive results.
Also, the pace of things and the volatility call for resilience and contingency plans, which makes adaptation and agility a must for marketers.
But of course, all these changes do not make creativity any less important; it is still of the utmost priority. In this noisy world, marketers need great strategy-building skills based on strong data analysis along with creativity and tactical capabilities to cut through it all.
What is the greatest roadblock in trialling the new innovations in Marketing Technologies?
Not able to build a business case to release funding
Currently, what are you primarily looking for in your digital marketing efforts? Awareness or engagement? Why?
Storyly is a young brand that continues a robust growth journey. In just under 2 years, our team managed to reach more than 300 clients across 40 countries and still counting. To support these growth efforts, our main focus is on awareness though engagement is also an important part of our strategy.
Though Stories is a mobile content format with which users are familiar from social media, it is a whole new channel for mobile user engagement; we pioneered this idea and introduced it. So, on top of marketing a new brand, we are also trying to drive awareness of a new category, introducing a solution, and creating a need that our target audience is not fully aware of yet. This is both challenging and exciting. Challenging because you need to educate the market. Exciting because there is nothing more satisfying than hearing the great comments about your solution, and seeing that it is acknowledged and appreciated. That is the main reason we are following such a strategic approach at this moment in terms of digital marketing efforts.
What will be the next evolution in marketing technology that we can expect in the coming years?
The marketing landscape is evolving and becoming more focused on "meaningful experiences" in line with the changes in customer expectations and marketing strategies, as well as the possibilities that technology offers. Especially combining the possibilities of digital and physical world, creating "phygital" experiences, and utilizing technologies like VR will define the future. Likewise, marketing technologies are becoming more and more focused on the next level of user engagement. I think products like Storyly will play a key role in such an evolution.
Also, we see investments shifting from traditional channels to digital ones. So multichannel marketing solutions are becoming more important for improving operational efficiency and creating better marketing plans. Such solutions with flexible capabilities will also be a part of this evolution.
How do you foresee the role of gamification across industries?
I think gamification has already become an industry norm, not just for communications purposes but also to boost conversions. In a recent roundtable we held virtually with business leaders in Asia, it was one of the main topics of the conversation and every participant mentioned how gamification should not be limited to giving away coupons and discounts. Instead, the whole experience should be gamified; it should be the essence of the product. Learning apps are great examples of it but I strongly believe companies from many other vertical industries can come up with creative ways of achieving it.
We have seen clever uses of our product Storyly Stories for gamification, such as Turkey's leading platform to buy & sell pre-owned clothes Dolap. They launched a campaign called "Find the Surprise Coupon", revealed one letter of their promo code by publishing new Stories every hour, and rewarded users with all letters at the fifth hour with a 20% discount. They achieved an incredible 82% increase in reach and a 170% increase in impression. This is just one example; there is great potential out there and we are trying to inspire our customers to use it even more.
What are the roadblocks to implementing gamification?
Gamification when overused can become an annoyance rather than entertainment for end users. It needs to be carefully crafted and planned. Data about the users is crucial at this point. You have to offer a gamified experience that matches the expectations, interests, likes, and wants of your users. On top of that, how much development effort is needed also has an impact on gamification.
Compliance with local regulations is also another challenge. A mobile app reaches out to a very broad audience. So the planning process should cover it all in order not to face any legal implications afterward.
And finally, it is not a great fit for every company. It's not something that should be implemented just because it is hype. It should make sense for the business and business goals.
What would your company use AI the most for?
Develop data-led marketing campaigns
How much of your marketing is data-driven?
We know that for strong growth, we have to rely on data-driven marketing – both to measure our performance and make smart decisions based on smart predictions. We combine qualitative and quantitative data approaches since our audience is quite a niche as a B2B company. Data is our beacon while forming strategies, conducting A/B tests, creating content roadmaps, and planning our communications efforts online and offline. On top of these, we also make use of an account-based marketing approach in our activities.
What's the best approach/tools to understand customer pain points? Especially when the survey response rate is low.
The best approach is the one designed with the "uninterrupted experience" expectation in mind and making the feedback mechanisms a part of the whole experience, in a non-intrusive and easy-to-interact way. No user would stop to write a review or leave a rating for a mobile app while trying to make an urgent purchase. Leaving feedback is not a priority for them. Marketers need to find solutions that would make users leave those much-needed comments voluntarily and deliberately. With Storyly, for instance, mobile app teams can stick interactive stickers on their Stories and collect feedback using multiple choice questions, polls, quizzes, and even open-ended questions through question stickers. When you look at the analytics, interactive stickers have a response rate of 25%, more than twice that of a traditional app survey, which in some cases reaches 65%.
How do you connect, engage and build a persistent relationship with your customers?
We don't follow a "one size fits all" kind of approach when it comes to relationship management. We segment our customers based on specific criteria and find the right approach for all of them. The only commonality is "being proactive from the earliest stage" of our relationship with the customer. We have an amazing customer engagement team that is always ready to support our customers starting with the onboarding stage. Following the onboarding, product usage, adoption, and advocacy stages very closely, we are building a robust relationship. We try to be an active part of the whole process rather than just providing support when needed.
Our primary focus is of course to ensure the customer's full and accurate understanding of the product and how it works. On top of that, we try to inspire our customers to make better uses of our product and get better results through customized decks or our inspiration playbook, which is available on our website to everyone. We also make suggestions based on best practices.
Our product is an ever-developing one. So, when we launch a new feature, we do more than just inform them. Working with our customers, we find the best use cases and help them turn that new feature into success. Finally, following their metrics closely, we contact them to see if they need support and make some recommendations in addition to regular health check calls.
What factors do you consider when replacing or consolidating your current tech stack to make it more ABM focused?
Continuous monitoring, adapting and adopting new approaches entail the basis for our operating model. The idea of sticking to something that does not generate as much value as we aim for, just because we made an investment, is not meaningful.
Currently, we are focusing on strategies that would facilitate pilot implementations and optimize the revenue stream. While doing that we will leave the standard demand generation mechanisms behind. Instead, we are using a framework that starts with account selection, followed by planning, engagement, and reporting. In order to consolidate these four steps, we will make use of personalization in our measurements and results. We are planning to handle this in a controlled fashion, take each one of these steps as a separate project and stop focusing on MQLs as our main target.
Find out more about them at Storyly – Embed Captivating Stories in Apps & Websites
See more content here: https://themartechsummit.com/content-library/