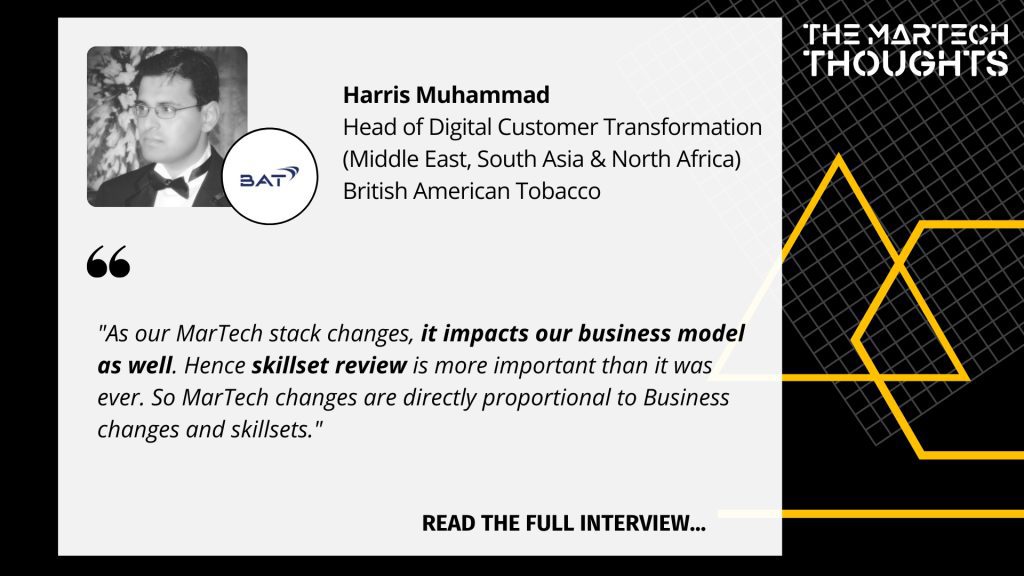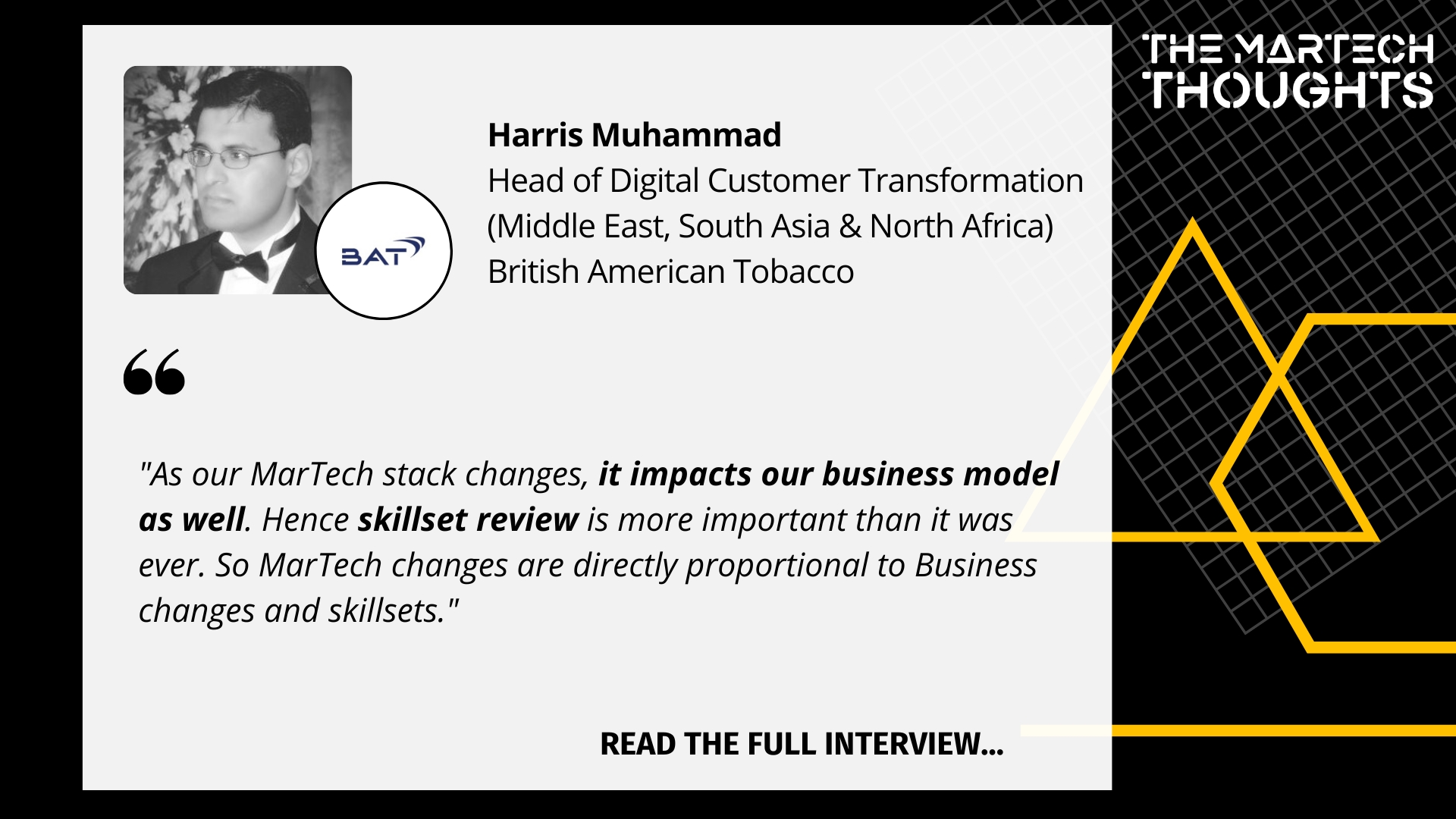 Harris Muhammad, Head of Digital Customer Transformation (Middle East, South Asia & North Africa) of British American Tobacco shares his insights on MarTech Stack, Marketing Strategy and Customer Experience with The MarTech Thoughts, The MarTech Summit's interview series.
What are the key priorities for a MarTech stack optimisation strategy to achieve?
"Improve personalised customer experience"
What would your company use AI the most for?
"Develop data-led marketing campaigns. And create scaled hyper-personalised content"
What are the major roadblocks in trialling the new innovations in marketing technologies?
"Budget"
How important is data in making marketing decisions and engaging customers?
"Very important – I always leverage data 100% of the time"
What is the one marketing platform/app/solution you can't live without? Why?
"Consumer-facing counterfeit application & BI platform – a locally developed app that is helping fight counterfeit and saving thousands of pounds on monthly basis. By doing so, we are enabling consumers to buy the right thing and help us in parallel to win back our market share."
How do you see the skillsets needed for the marketing profession changing?
"As our MarTech stack changes, it impacts our business model as well. Hence skillset review is more important than it was ever. So MarTech changes are directly proportional to Business changes and skillsets."
With the recent developments and incorporation of technology, should we still perceive marketing as a social science?
"Yes, Marketing has never been as important as it has ever been. As we grow into our digital era the need to understand and know marketing gets even more critical."
At your organisation what tasks in marketing are good to automate and what tasks still need a human touch?
"Automating repetition via RPA and adding more API to the digital/trade ecosystem are good use cases to automate."
"Commentary around management reporting needs a human touch."
If you had to build a marketing strategy at your organisation for 2021 from scratch, what type of partners would you look for to collaborate with?
"Partners that understand my business dynamics, as MarTech is a combination of business process + technology + change management … so a partner that blends into my operations and understands my strategy."
Can new partnerships help shift the mindset from a product-centric model to a more customer-centric one?
"Yes it may. I personally feel it is a mix of both, we can not do things that are hinged towards either the product or customer, both have to go forward hand in hand, and only then can it be a win-win for innovation and consumers."
What will be the next evolution of mobile marketing that we can expect in the coming years?
"Progressive apps"
What is the best use of technology you have seen during this time of crisis?
"Work from Home – enabling virtual working in covid time and in parallel, e-commerce"
At your organisation how has your approach to marketing changed due to new MarTech tools and solutions?
"We are now more focused on content and consumer management"
Currently, what are you primarily looking for in your digital marketing efforts? Awareness or engagement? Why?
"In the marketing funnel, we want to always start with awareness followed by engagement. Both have a very important phase as eventually, we will want to mature a lead and increase our revenue."
When planning a marketing budget, what are the top 3 concerns one should watch out for in 2023?
Long-term sustainability and scalability
Agility in the system – to act on changing business needs
Sweating the asset to extract max out of it
How do you maximise cross-team communication with new MarTech tools?
"By being agile – have more meaningful interactions"
As mobile and internet use rapidly expands; how do you track customer behaviour change?
"Have a proper CRM in place and manage customers accordingly"
With the exponential rise of technology, is there still room for offline marketing?
"Yes, what Covid has taught us is that we can not depend on a specific way of operating. It has to be a mix of both online and offline marketing. Better not to place all your eggs in one basket!"
How do you balance experimenting with new technologies vs investing in current technologies that you already utilise?
"I am a big fan of rolling out Proof of concepts – start small, test (via A/B) and then scale big. This helps in being agile."
How do you connect, engage and build a persistent relationship with your customers?
"There are online and offline ways in which we connect with customers/consumers – the need for both remains critical given we have a spread of population in Urban and Rural. Both sets of customers have a different onboarding journey."
With the advancement of AR & VR, how do you see these being utilised in digital storytelling?
"This is a new tool in our MarTech offering, especially in our Rural area, where people are still adapting to the digital world and the wow factor there is much more… the key is being effective."
What challenges do you see in processing data coming from different sources?
"To extract actionable intel from all the data that is gathered – hence we will embark on an EDP journey"
Which part of the customer journey is the hardest part to capture data for?
"Awareness in the marketing funnel"
Follow Harris on LinkedIn: https://www.linkedin.com/in/muhammadharris/
See more content here: https://themartechsummit.com/content-library/