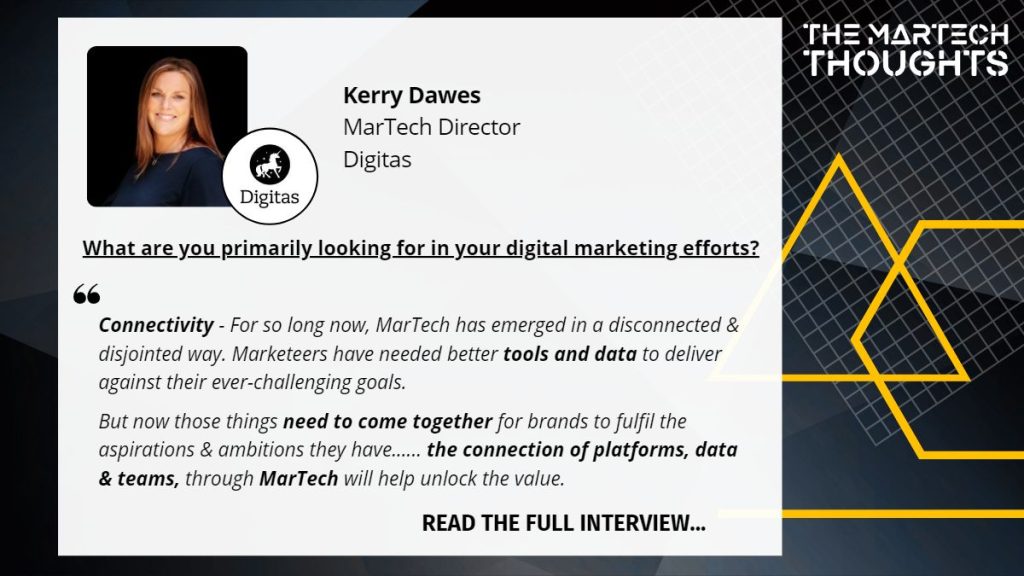 Welcome Kerry Dawes, MarTech Director from Digitas to our MarTech Thoughts interview series, sharing her insights and experiences about MarTech Stack and Emerging Technologies.
What is your industry? And how would you explain your job to a 5-year-old?
I work across a variety of industries but typically in the e-Commerce, Media & Consumer space.

"You know all those websites, apps, social media & emails that exist. I help make those happen."
What is the one marketing platform/app/solution you can't live without? Why?
Tag Manager – the gateway to everything else, and accurate data!
Currently, what are you primarily looking for in your digital marketing efforts? Awareness or engagement? Why?
Connectivity – For so long now, MarTech has emerged in a disconnected & disjointed way. Marketeers have needed better tools and data to deliver against their ever-challenging goals. But now those things need to come together for brands to fulfil the aspirations & ambitions they have. Organisations are increasingly left disappointed and frustrated with their not living up to the sales pitch at the RFP stage, and that's because it, typically, has not been invested in effectively. From a skillset, data integration or operational point of view. So in the future, the connection of platforms, data & teams, through MarTech will help unlock the value.
At your organisation, what tasks in marketing are good to automate and what tasks still need a human touch?
CRM Automation is still so undervalued. Getting journeys built, automated and running will help your marketeers to focus on the strategy.
Analytics & insights still need the human touch to properly interpret what's going on and why.
What are some of the significant changes to your customer outreach and retention strategies? And how has it impacted the growth plan for upcoming years?
Connection. Connection of the offsite journey, to the onsite conversion, and retention is paramount heading into 2023 as consumers demand a relevant connected experience.
How do you see the skillsets needed for the marketing profession changing?
People who are comfortable accessing, using and working with data. In addition, dedicate MarTech professions so the platforms are properly maintained, used and exploited for marketing effectiveness.
How do you keep your team motivated to get the best out of them during challenging economic times with additional external pressure?
Investing in training and exposure to the latest technologies
What would your company use AI the most for?
Smart segmentation
What will be the next evolution in marketing technology that we can expect in the coming years?
Consolidation. Less is more!
What are the key challenges when it comes to implementing Chatbots for the first time?
Making it relevant and proactive in the moment of the consumers' experience
What is the scope of using AI and machine learning in Marketing Mix Modelling?
AI for Marketing Mix Modelling is definitely an opportunity however, data accuracy has to come first. Using AI on incomplete, inconsistent or skewed data may produce inaccurate results. And so ensuring you have effective tracking, data and customer records is key.
How could a marketer start utilising the Metaverse?
The Metaverse is a vast opportunity but can also become a big money pit. It is largely unknown from a consumer point of view and the stats of visitor numbers are still largely disputed. As such, brand awareness to reach very specific audiences are the best use case until the Metaverse becomes more broadly adopted.
With more consumers being conscious of their data being shared, how do you overcome the growing concern?
Shift to zero-party data collection. Ensure there's a value exchange that is valuable to the client. That way the client is offering accurate relevant data that you can trust & use.
What data enrichment strategies can you suggest that work effectively from your experience?
Zero-party data collection
What are the top priorities for a MarTech Stack Optimisation Strategy to achieve?
Improve marketing efficiency; Improve data management & security; Integrate disparate systems
What is the greatest roadblock in trialling new innovations in Marketing Technologies?
Integration
What are your views on having a single stack? (e.g. Google or Adobe vs a mix of best stacks for each function)
A best-of-breed approach, with platforms that are open and easy to integrate, is essential for brands to scale in the future. Long gone are the monoliths which in reality, aren't that well integrated. For this approach to work, a solid, owned data ecosystem is key.
How do you balance experimenting with new technologies vs investing in current technologies that you already utilise?
Purchasing or renewing any technology should be focused around why the business needs it and the value it brings. All too often, I see organisations blame the technology for a lack of progress. However often isn't the technology's fault. Was it integrated properly? Were the team up-skilled? Was the data accurate and operational? Organisations must start looking holistically at their tech stack and ensure that replacing or trying a new piece of tech has the right reasons behind it.
What's the best approach/tools to understand customer pain points? Especially when the survey response rate is low.
Behavioural data. And focusing on what customers AREN'T doing. What isn't driving conversion, what channels aren't performing.
How do you keep abreast of all the latest MarTech out there?
Industry news
How would you use a million pounds?
Invest in emerging AI tools, and train young women in those skills
What's the best advice someone has ever given you?
Get the brilliant basics right.
See more MarTech Thoughts interview posts here: https://themartechsummit.com/category/martech-thoughts/
Last updated: February 2023