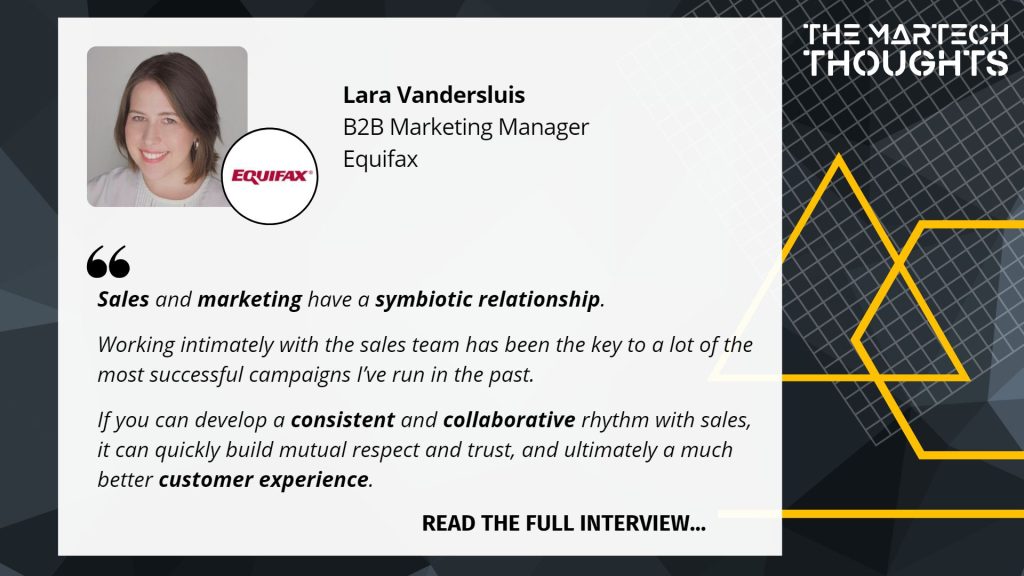 Welcome Lara Vandersluis, B2B Marketing Manager from Equifax sharing her insights and experiences on B2B Marketing, ABM and Emerging Technologies, as part of the MarTech Thoughts series.
What are the top priorities for a MarTech Stack Optimisation Strategy to achieve?
Improve attribution to revenue; Integrate disparate systems; Improve sales/marketing alignment, and usability to keep a marketing team engaged, motivated, innovative and efficient.
What would your company use AI the most for?
The future of work is rapidly changing and tech like ChatGPT is at the forefront of this evolution. These new innovations provide opportunities for marketers to leverage AI across lead gen, content personalisation and creation, market research, and so much more. It's an exciting time!
What is the greatest roadblock in trialling new innovations in Marketing Technologies?
The lack of a compelling event to change the status quo (see the technological change prompted by the pandemic), but also the initial time and resources required for implementation often make it difficult to get key stakeholder buy-in. Thus the importance of building a robust business case that demonstrates ROI and the time to achieve it.
What are some of the significant changes to your customer outreach and retention strategies? And how has it impacted the growth plan for upcoming years?
I'm a firm believer in a diversified customer outreach strategy. All the research tells us you need to have your message reach a customer anywhere between (depending on who you listen to) seven and seventeen times before they may consider taking up your call to action. But that message needs to reach that customer through multiple channels. And that message needs to resonate with the stage of the buying cycle your customer is in, at that time. Read, personalisation. AI is going to offer significant opportunities to make this more achievable for marketers, and so future growth plans should account for this.

Today's buyers expect a lot. Content needs to be relevant, and timely. Marketing is increasingly doing more of the part of sales in the customer journey, so that means outreach strategies need to cover a larger portion of the buying cycle from a content point of view. Content needs to cater for the point of research as well as education, and conversion.

As your marketing function matures, you should focus on developing an 'always on' strategy for your brand. B2B buying cycles are lengthy, and quarterly or even bi-annual campaigns don't usually align with them. But this generally needs a longer-term view. This can present a planning challenge when budgets may be allocated quarterly, but investing into long-term strategies can really pay off and make your job easier in the long term.

Retention strategies are more important than ever and marketers should recognise the value that we can contribute to preventing customer churn and assisting sales teams with relationship building. Utilising marketing automation and nurture strategies, with an integrated sales and marketing CRM is often essential. Using Account Based Marketing should combine multiple data sets, and may be the right tactic for your team, but this won't be right for every organisation, and leadership should evaluate if an ABM approach might add value to customer retention and expansion. I'd encourage any marketing team to not lose sight of the importance of brand campaigns in their ability to have an impact on retention as well as net new acquisition. Even when budgets are tight, the marketing team that keeps the brand at the forefront will come out on top in the long term, so it's an essential part of any growth plan.
How do you see the skillsets needed for the marketing profession changing?
New innovations in AI are going to open a lot of opportunities for marketers to pivot their skillsets. We're likely to find a need for content editors and strategists rather than content creators. Marketers will need to hone their skills in strategy over execution, and senior marketers will need to increasingly focus on providing business value and demonstrating the contribution that the marketing function is making to the business' bottom line as we come up against a tougher economic climate.

No marketer should underestimate the value of brand building internally within your organisation. Not only does this continue to give marketing a seat at the table when it comes to key business decisions, it also makes cross-functional teams more open to collaboration and connection. These relationships are invaluable for an effective and high performing marketing team to make an impact.

Investment has been challenged in recent years, so we need to learn to do more with less. Marketers are being challenged to be creative in their strategy development. And in turn marketers should also be pressing stakeholders for more value. Utilising marketing as a service and external agencies can add value to your tactics whilst not adding the cost of a new resource. But we have to always ensure we're holding those external resources to tangible outcomes/KPIs.

Some ways I've implemented this day to day is focusing on building and investing in our organic channels, relying on our partnerships, and developing new partnerships for our business. Also working cross functionally with other teams to ensure we're utilising resources across the business, giving marketing a voice in multiple discussions, and with all stakeholders aware of and aligned to the marketing strategy, ROI targets and goals.
How much of your marketing is data-driven?
Marketing is both an art and a science. Many marketers tend to focus more on one or the other. But I've found that discovering the right balance is one of the keys to a successful campaign.

I had a campaign where I was working closely with our sales team to gain customer insights, but I was getting conflicting information around customer behaviours and what customers may actually want/will influence them. We realised we needed to take a step back. We couldn't do the same thing again and expect a different outcome. So we needed to ensure we were grounding campaign decisions in the data. We undertook a quantitative and qualitative data gathering exercise, listening to our customers and analysing. We found that the reasons for those behaviours truly were varied, but we found some consistent themes. So we could develop a campaign offering that took two different approaches, responding to those themes. One which enabled us to speak to the customers lower in the funnel, and a different strategy higher up. This two-pronged approach successfully led us to a better outcome, where the data was able to inform our decision making.

Whilst I would also look to the data first, there are times when we are working with limited resources, so the 'art' of marketing comes in. A good well-rounded marketer should focus on putting themselves in the customer's shoes, and listen and engage with your stakeholders at the coal-face with the customer (sales, customer service, etc.) as much as possible.
What is the one marketing platform/app/solution you can't live without? Why?
A solid email marketing and automation platform is completely invaluable to a marketer. And I've found it to often be a very under-utilised resource. In my opinion, learning marketing automation, drip nurture strategies, content personalisation, and behaviour based email marketing has so much potential to fulfil so many marketing goals within the single channel – it's often a wonder more marketers don't put the time and effort into learning these platforms. They also provide a great visualisation of a marketing strategy on one canvas, so you can test your logic and thinking around customer behaviours and flows. Another advantage of this channel is that you are often engaging with an audience that is already brand aware, in your funnel, and/or at least willing to listen to what you have to say. How invaluable that is.
How do your ABM campaigns work: with regards to the sales teams?
Sales and marketing have a symbiotic relationship. Working intimately with the sales team has been the key to a lot of the most successful campaigns I've run in the past. If you can develop a consistent and collaborative rhythm with sales, it can quickly build mutual respect and trust, and ultimately a much better customer experience.

A lot of this can come down to organisational structure. I'm a firm believer that marketing should not report into sales (even in smaller organisations, this can be a recipe for disaster), but there should be a clear understanding that the marketing lead for a product or service area forms a part of that team, as well as the marketing team. Some of the best marketing/sales alignment I've seen was produced when the core GTM team consisted of a salesperson, product manager and a marketing manager, working together on messaging, attending meetings together, and delivering training together.

Account Based Marketing is a marketing tactic rather than a strategy. So for any tactic to be successful you need to have built solid foundations, based your decisions on data, and kept to a consistent and realistic project timeline.

If the relationship with sales has been thoughtfully established and time and effort has been put in to build it on trust and mutual respect, achieving what's needed for effective ABM becomes so much simpler.
See more MarTech Thoughts interview posts here: https://themartechsummit.com/category/martech-thoughts/
Last updated: March 2023