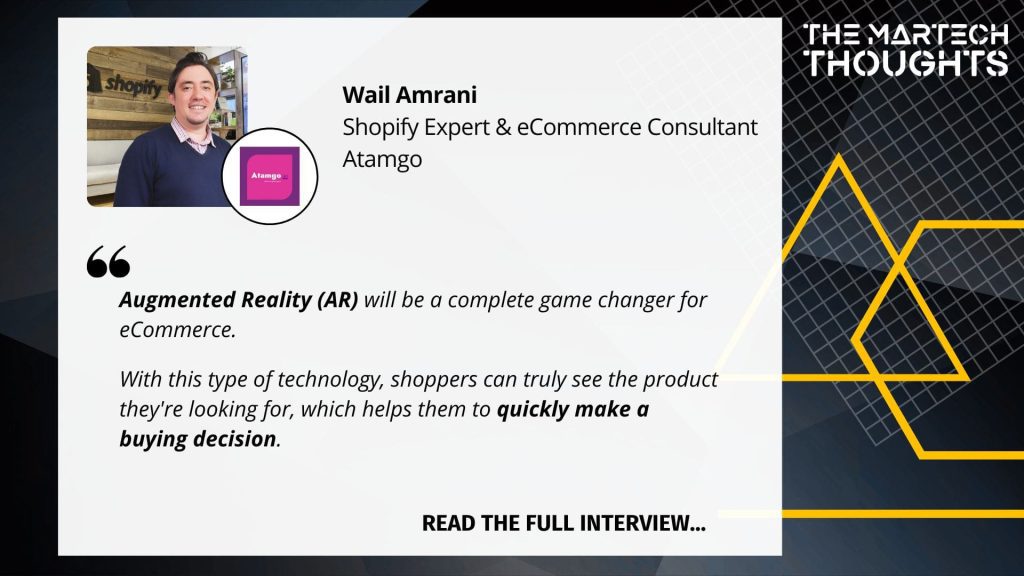 Wail Amrani, Shopify Expert & eCommerce Consultant from Atamgo shares his insights on eCommerce Marketing, and Marketing Automation with The MarTech Thoughts, The MarTech Summit's interview series.
What are the top priorities for a MarTech Stack Optimisation Strategy to achieve?
"Increase marketing ROI and improve personalised customer experience"
What would your company use AI the most for?
"To create scaled hyper-personalised content"
What is the greatest roadblock in trialling new innovations in Marketing Technologies?
"Integration"
At your organisation, what tasks in marketing are good to automate and what tasks still need a human touch?
"Marketing automation allows my company to have repetitive tasks on autopilot and market on multiple sales channels more effectively.
From scheduling several social media posts to managing personalized email campaigns, I think
automating marketing tasks can help any business remain strategic. But I think good content marketing is designed to establish relationships
(that drive profit) and, automating content communication can make our goal harder to achieve."
What will be the next evolution in marketing technology that we can expect in the coming years?
"Augmented reality (AR) will be a complete game changer for eCommerce.
With this type of technology, shoppers can truly see the product they're looking for, which helps them to quickly make a buying decision. AR really will change the shopping experience in specific industries, such as fashion and home decor because the client can get a better feel for the item without seeing it in person."
What are the key challenges when it comes to implementing Chatbots for the first time?
"The first important thing is identifying the customer's use case and understanding what your business requirements are.
Be able to address personalized clients issues and give the bot additional training to provide specific answers
Understanding customer intent and emotion."
What are the top 3 things on your checklist when choosing the right influencer to work with?
"There are a few key selection criteria for finding influencers for your business:
The number of followers: Macro Influencer have millions of followers and they are well-known personalities
Micro-Influencer: they have fewer followers and are often more credible and in daily contact with their community
Engagement Rate: How the followers are reacting to their postings.
The Community Demographic Data: it should fit your business or brand: age, gender, interests, and Place of residence"
What is the one marketing platform/app/solution you can't live without? Why?
"The platform is Google Analytics: it lets us analyze everything that is happening on your website, including user behavior, audience, sources of traffic, page views, engagement rate, conversions, referrals, and more."
Follow Wail's LinkedIn
See more MarTech Thoughts interviews here: https://themartechsummit.com/category/martech-thoughts/