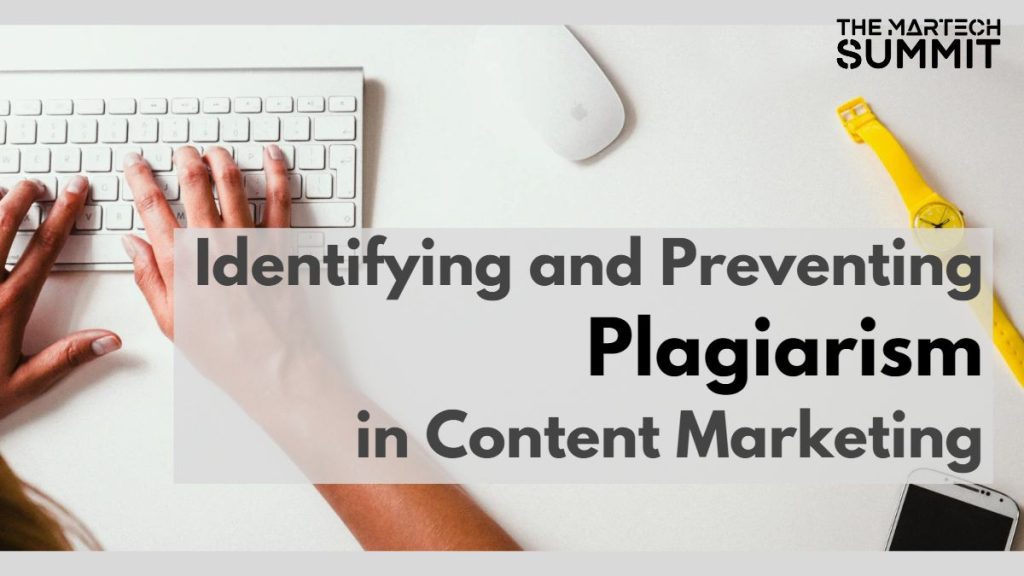 Plagiarism is a sort of gambling in which you pretend someone else words or ideas are yours. It is an illegal, unethical, and punishable crime. Plagiarism is unaccepted and discouraged all around the world. Hence, the identification and prevention of plagiarism are really important.
Plagiarism is the most common issue in all fields that require writing, especially in Content Marketing. No one wants to be the prey of plagiarism. It is compulsory to make sure that your writing is 100% original and authentic no matter it is a blog post, article, social media post description, or just a text to your website. Originality is the only way out.
Being accused of plagiarism is a thing that you never want to attach to yourself. Specifically, if you are a content marketer, plagiarism can be a threat to you. It can ruin your reputation and kill your chances of progressing in your career. It can also ruin your content marketing campaign in various ways such as getting penalized by search engines or getting blacklisted by journals.
How is Plagiarism Identified?
We all know that plagiarism can be harmful to us and it is necessary to prevent plagiarism at any price. But prior to prevention or removal, we need to check for plagiarism. How can we prevent ourselves from committing plagiarism without the identification of plagiarism? Moreover, for identification, you should have a clear knowledge of plagiarism.
For checking the similarity in your content, a plagiarism checker can be used. It can help you detect every sort of plagiarism. There are many plagiarism checkers available online to detect the copied text in your content. Here are a few easiest steps to identify plagiarism in your content.
Step 1. Open any well-reputed and safe plagiarism checker from the Google SERP.
Step 2. Paste the text in the input box. However, some plagiarism checkers allows one to upload the file containing the text to check.
Step 3. Hit the Check Plagiarism or Submit button after filling in the captcha. The results will be shown within a short span of time.
Plagiarism Types
There are multiple ways you can be caught for plagiarism, e.g. intentional, paraphrasing plagiarism, and accidental plagiarism. Let's have a look at the multiple kinds of plagiarism.
Intentional Plagiarism
Copying someone else content while knowing it's illegal and wrong is known as intentional plagiarism. It can cause severe problems and the content owner can take legal action against you. You might face heaving fines or even imprisonment.
Unintentional Plagiarism
Unintentional plagiarism is when a writer comes up with a sentence or a passage that has been written in its exact form by someone else on the internet. This is a problem that is faced even by honest writers who have no intention to commit plagiarism.
Ways to Prevent Plagiarism
There are multiple ways you can save yourself from plagiarism and a few of them are discussed below.
→ Taking Ideas from Different Sources
Copying is unacceptable but taking ideas from others' content is completely okay as long as you are not plagiarizing. As a writer, you will come across writing on similar topics many times, and sometimes, you will need to write on a topic that you are completely unaware of. In case, you can take ideas from other's content.
This can be possible by assessing the content over the internet relevant to your marketing campaign. This technique can save you from plagiarism as well as be helpful in idea germination. However, restrict yourself from copying others exactly.
While fetching ideas from other's content, ensure the relevance between your and their businesses and targeted audiences. Try to find niche-relevant content that can fit your content marketing campaign.
→ Paraphrase Text for Plagiarism Prevention
If you are weak at grammar and vocabulary or struggle to read and write English, you can paraphrase the text. Paraphrasing is about changing the words and sentence structure of an already published article or blog post.
This technique can provide you with unique content instantly. For making the process smoother, fast, and more accurate a paraphrasing tool online like Paraphraser.io or Quillbot can be helpful.
You can use a paraphrasing tool to rephrase your text for eliminating plagiarism from it. Compared to using a tool, paraphrasing manually has a lot of complications regarding quality and swiftness. Online paraphrasing is way more convenient and accurate than manual. Here you can see how the aforementioned tools alter the given text.


However, while paraphrasing online, do pass the text from a paraphrasing tool online twice. Because some plagiarized content might be left on the first attempt.
→ Convert Text to Infographics
Converting the text from someone's article and blog posts into infographics is another great way to prevent plagiarism. Similar text written in images is not considered plagiarism. However, do not copy images from other websites to paste into your content. Instead, you can use free software like Canva to make attractive infographics.
After all, in content marketing, infographics have a greater impact than any text or written content. For converting any text to pictures, make sure to find relevant content first, then use any image editing software to create an attractive image containing informative text.
→ Use Citations, References, and Quotations.
Giving credit where it is due will never hurt your reputation, especially in content marketing, where you cannot afford to lose content due to plagiarism. Therefore, the best way to avoid plagiarism is to add references and citations.
There are several ways to cite references and the most common is an in-text citation. It just includes the citation number wherever you used someone else content or quotations. At the end of the content, you can add references to your citations. The source information like URL, author name, and publish date are the main ingredients of a reference.
Using quotation markers ("") while quoting someone's sayings in your content can also save you from plagiarism.
Conclusion
We think this post will help will you a lot in understanding and preventing plagiarism. You can implement the above-mentioned ways to remove and prevent plagiarism.
Plagiarised content will never make your content marketing campaign successful. Hence, don't try to make the search engines a fool and concentrate on your content quality.
Find more insightful articles at: https://themartechsummit.com/content-library/
Published in January 2023