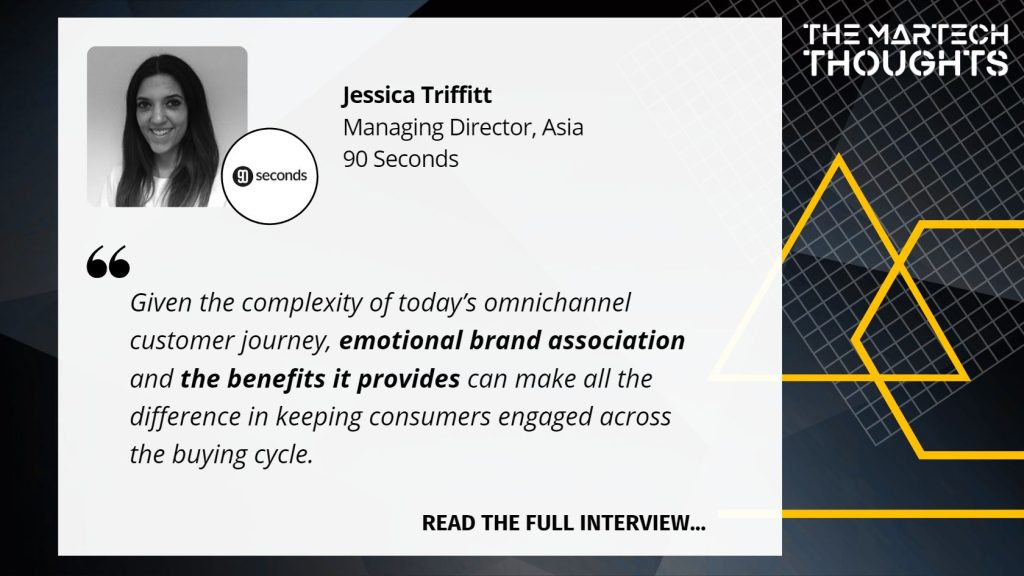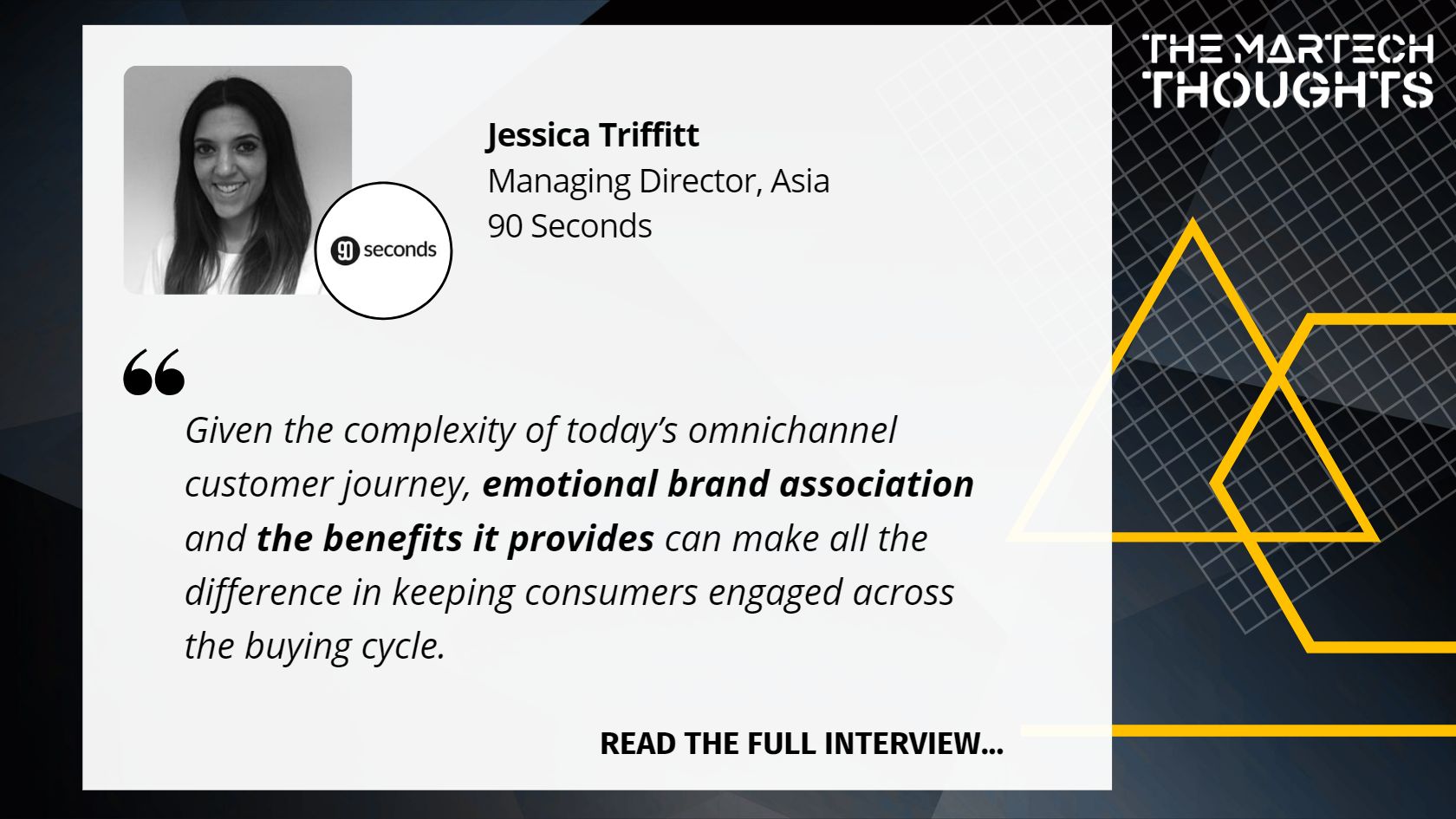 Welcome Jessica Triffitt, 90 Seconds' Managing Director Asia, was recently invited to speak at the Virtual MarTech Exchange Summit on December 2022, on the art of storytelling and customer engagement – specifically sharing her insight into the power of video content and its unparalleled ability to drive clear results for brands and businesses alike.
As Jessica has mentioned, with 90 Seconds' goal being to create any form of video content easily, at speed and at scale, and with 20+ years of experience spanning marketing, digital and media across both sides of the agency and publisher coin–coupled with her international experience having lived in four different countries across multiple continents – Jessica was uniquely-placed to lead this provoking conversation.
In this article, we share some of the core insights Jessica shared during the session, alongside her key takeaways from fellow panellists Winnie Ng, Vice President Corporate Marketing at TTM Technologies and Donovan Chee, Head of Marketing and Communications for South East Asia at Bureau Veritas.  
Why is video such a strong medium for storytelling?
First and foremost, when considering modes and methods of engaging customers through storytelling, there is quite simply no more powerful medium to do so than video. As a marketing tool, it's unrivalled – it captures and retains attention, as well as delivers ROI more so than any other medium. Appetite for it is also only growing and with the average person having spent 100 minutes per day watching videos in 2022 and with nine out of 10 consumers overtly wanting to see more videos from brands and businesses in 2022 according to the IAB, this insatiable appetite isn't going to be sated anytime soon!
But its power isn't just down to customer demand – it also has a unique ability to engage and capture viewers more so than other mediums. For example, our brains have moving picture superiority and we're able to retain 95% of a message when ingested via video, compared with just 10% when read according to Forbes. What's more, we also retain the message more quickly with moving visuals processed 60,000 times more quickly than text according to Scientists; they're more emotive, engaging and can communicate ideas in a way that words simply cannot.
So, with time essentially equating to money and with marketers increasingly being pressured to deliver more with less, it makes sense that video should be the first investment item on the 2023 budget sheets. In short, the demand is there, as are the engagement results.
What else do brands need to be mindful of when creating stories in order to forge an authentic connection?
This is a really important question as the very best storytelling in the world can come unstuck at any stage if the campaign doesn't hold up to scrutiny under a social and sustainability lens.
On a social front, we can pull multiple examples from our minds of brands that try to forge customer connections and miss the mark exponentially through ill-considered or clumsy campaigns. Take Pepsi's Black Lives Matter campaign with Kendall Jenner which drew criticism as an example of trivializing social movements to sell a product and – at best – ignoring the experience of Black people following centuries of violent subjugation…
Or Samsung's advertisement of a woman running the streets of London with headphones on at 2 am which drew multiple complaints to the Advertising Standards Authority for being irresponsible. The campaign drew extensive public criticism in Europe for being 'tone deaf' off the back of multiple high-profile deaths of women across the UK who were killed in similar circumstances – alone and at night.
I cite these two examples not to trash and thrash – I'm sure these campaigns were produced with best intentions – but as examples of the vital importance of representation at the creative decision-making table. While I don't know the demographic breakdown of Pepsi and Samsung's creative teams, we can certainly say with conviction that representation matters and perhaps if more women were in Samsung's creative brainstorm, they could have perhaps highlighted the fact that going for a run at 2 am with headphones on doesn't exactly feature on their to-do list on account of the very real and very omnipresent threat women face daily. Or perhaps if the Pepsi creative table included more people of colour, they may have pointed out that handing over a bottle of Pepsi to a police officer at a BLM protest isn't going to appease any tensions – particularly when one considers the killing of George Floyd at the hands of serving US Police Officers was a catalyst for the movement.
Brands also need to keep sustainable marketing practices front of mind when creating storytelling campaigns, with consumer attention on a company's ESG practices has never been higher. In fact, IBM's recent 2020 study of almost 20,000 people across 28 different countries showed that 70% of consumers are willing to pay up to 35% more for greener products and Aflac found that 77% of customers would purchase directly as a result of a company having implemented strong CSR policies focused on sustainability practices. 
The narrative has changed, and sustainability is now the single most important consideration for businesses overall, with environmental concern at the top of consumer priorities according to the UK Ethical Economy. This should be a key consideration for any marketer when looking at the creation of any form of content. Sustainable marketing is the future and brands and businesses that fail to pivot accordingly will undoubtedly be left behind, but by adopting carbon-saving and sustainable business practices, you can ensure genuine and lasting customer engagement and loyalty.
This is a core part of 90 Seconds' solution – we've completely eliminated the need for global travel, ensuring both carbon and budget efficiency, slashing emissions that could have been racked up by sending crews to far-flung locations. Our business model has sustainability at its very heart through operating at a local level and we're not only giving back to the communities in which we operate through employment and investment in on-the-ground resources, we're also passing these environmental savings onto our customers who are adopting greener and more sustainable marketing practices as a result.
Forging connections with customers seem all the easier if you're a local business or brand, but how do global brands cut to the heart of customers across multiple regions?
If brands take one thing away it needs to be this – genuine, authentic storytelling at a local level goes far, far beyond just localisation. We see so many big brands fall at this hurdle with tokenistic efforts. Simply translating dialogue with captions or poorly dubbed voiceovers is never going to forge true customer engagement. In order to create meaningful connections, brands must approach their marketing in the same manner – with genuine consideration and intent at a local level, and this starts from the ground up.
For example, employ locally; local talent understands the intricacies of cultural nuances and the complexities involved. Rather than ending up with a 'one size fits all' global approach to video content, you're creating a piece of genuine and authentic content that is going to connect on a fundamental level with the audiences you're trying to engage.
Again, not to continue tooting our own horn, but 90 Seconds is based on this hyperlocal model premise – using local crews and talent from a database of almost 14,000 enables us to produce quality content for our customers, with input and insights that one wouldn't get from a crew flown in from a regional or global head office. It means we can ensure that the content being produced will cut through the masses and resonate deeply with a localised audience.
How do you combine logic (numbers/facts) with magic (emotions) to develop a more compelling story?
Ultimately, it's quite simple and both feed into and power one another – a self-supporting ecosystem if you will – with logic helping to deliver an even more magical story. Marketers must ensure they're not neglecting one over the other and in turn, engaging both the hearts and minds of the audience they're trying to reach.
The marketing sector still somewhat buys into the myth that B2B marketing should be purely logic-focused, but as my fellow panellist, Donovan Chee, pointed out during our session: those buying B2B products are the same as B2C consumers, they're all people at the end of the day. And as Winnie Ng later said, "B2B or B2C is irrelevant – it all starts with magic…". Given the complexity of today's omnichannel customer journey, emotional brand association and the benefits it provides can make all the difference in keeping consumers engaged across the buying cycle.
We know that consumers are driven by emotion, which is what ultimately drives a purchasing decision – more so than product or price when it comes to choosing between brands. That said, it's a really fine balance when it comes to storytelling – irrespective of whether that's B2B or B2C focused – and I would encourage brands to look at the overarching story arc, from beginning to middle to end and at which point logic takes the focal point over emotion.
My advice would be to always know – and keep front of mind – your customers' pain points and use facts and figures which directly address these concerns where you can, i.e. the benefits your product brings, whether that's a decrease in downtime, greater efficiencies etc. But don't forget the art and use the data to supplement the story, rather than drive it as ultimately, it is the story that will resonate.
How do you use good storytelling to stand out from your competition, when you have essentially the same features?
While as a business you may bear multiple similarities to competitors, I'm of the firm belief that every brand has a clear differentiator that stands out and sets you apart and it's this that should form the focus of your story. Is it your people for example? The way you produce something or your exceptional customer service? What's your USP? You must make a decision as a business as this will form a core part of your overarching business strategy but will also be incorporated into your storytelling and how you resonate with and connect to your audience. It's all about being unforgettable – irrespective of your industry – to cut through the masses and forge genuine connections with customers, you need to be remembered, which is what is essential when it comes to storytelling.
I think the common thread here is the vital importance of knowing your customer, whether you're in B2B or B2C marketing. If you don't know them you can't talk to them and therefore can't tell a story that resonates. Knowing your audience is essential and should be front of mind always for any marketer.
To see the session of Jessica, Donovan and Winnie, please check out the on-demand access at: https://themartechsummit.com/virtual-exchange
And know more about Jessica and 90 Seconds, please check out her LinkedIn Profile and their Sponsor Page
See more MarTech Thoughts interviews here: https://themartechsummit.com/category/martech-thoughts/
Last updated: January 2023