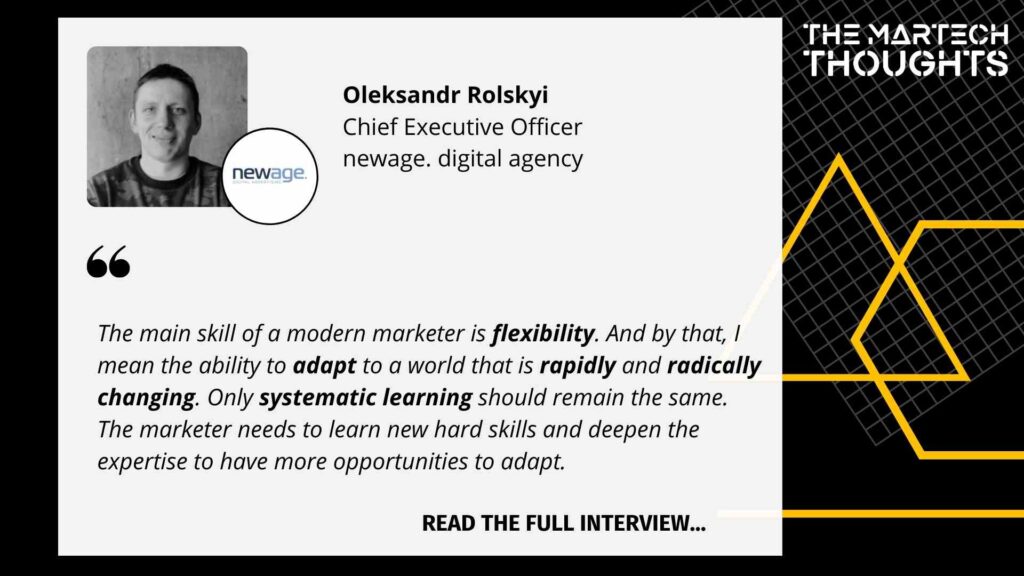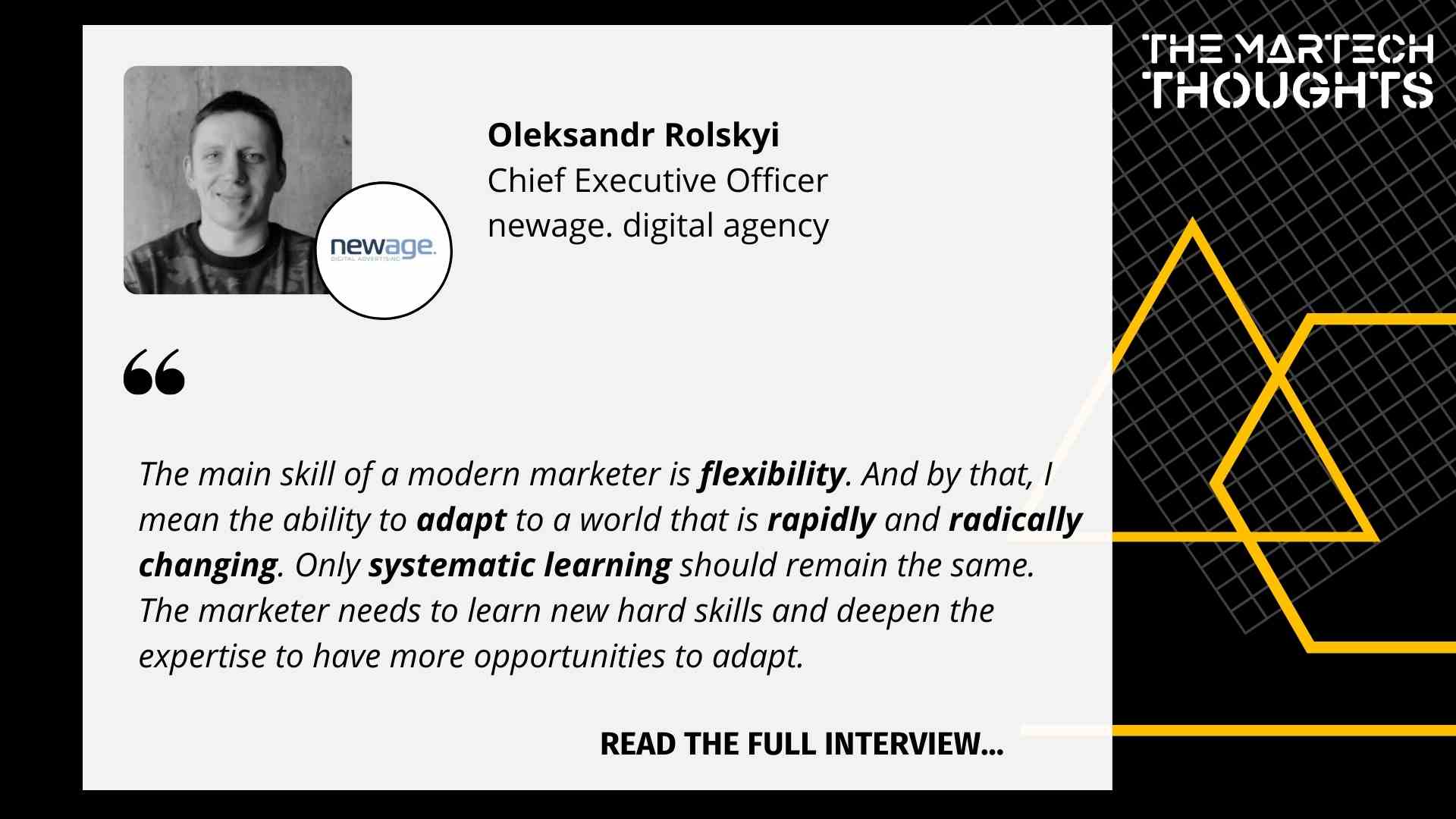 What are the key priorities for a MarTech stack optimisation strategy to achieve? 
Improve marketing efficiency. 
What would your company use AI the most for? 
Create scaled hyper-personalised content. 
Develop data-led marketing campaigns. 
What are the major roadblocks in trialling the new innovations in marketing technologies? 
Budget
At your organisation what tasks in marketing are good to automate and what tasks still need a human touch? 
Automation is one of the most important vectors for us. We have already automated reporting and analytics on advertising campaigns, uploading data to advertising offices and creating personalised creatives. 
Optimisation of advertising campaigns still needs a human touch; it is carried out manually.
Our next step is to create a dashboard that would analyse the data and make changes to the advertising space. It is quite possible to do it and we are working on it. 
How do you balance experimenting with new technologies vs investing in current technologies that you already utilise? 
Experimenting with new technologies is one of our strengths, we keep track of updates to all tools and invite clients to test updates as soon as they appear in beta. Some agree some do not – and so we find a balance. 
Our main technological achievement is related to GMP (Google Marketing Platform), we are one of the first partners of the platform in Ukraine, and we are constantly deepening our expertise. We are already certified in Analytics, Search Ads, Campaign Manager, and DV360 and plan to get certified from Creative studio and some other tools this year. 
How do you see the skillsets needed for the marketing profession changing? 
The main skill of a modern marketer is flexibility.
And by that, I mean the ability to adapt to a world that is rapidly and radically changing. Only systematic learning should remain the same. The marketer needs to learn new hard skills and deepen the expertise to have more opportunities to adapt. 
What is the best use of technology you have seen during this time of crisis? 
Today we see that advertising technologies can be used not only for commercial or social purposes but also during the war. For example, in late February, our agency launched an advertisement for Russian audiences calling for anti-war rallies and later promoted objective news sources like BBC etc. 
In general, our colleagues across the country have formed a creative patriotic community. We have resisted and continue to resist in the field of information, including through advertising tools. 
How much of your marketing is data driven? 
We are fans of the data driven approach, so we strive for 100% in customer campaigns. This is not always possible, but we strive for it. 
As mobile and internet use rapidly expands; how do you track customer behaviour change? 
Since 2018, we have been researching the trends in the behaviours of Ukrainian users every year.
As part of the study, we highlight both global and local trends. Our research is public, so you can also get acquainted with Ukrainian trends on our blog https://newage.agency/uk/tag/doslidzhennya-newage/ 
In addition, during each advertising campaign, our team of media planners closely monitor changes in audience behaviour under the influence of advertising. This is useful for further optimization. 
What challenges do you see in processing data coming from different sources? How to overcome? 
There may indeed be problems with compiling data from different sources. If the analytics is configured incorrectly, the data may be duplicated or, conversely, disappear.
And because of the data, people make wrong conclusions, and it affects the business.  
For example, one of our clients, a banking institution, had three points of contact with customers: a website, an application, and an offline branch. And the interaction was recorded in these three areas separately: CRM, Universal Analytics and in Firebase.
We have helped the client to integrate all these tools with Google Analytics 4.
Thanks to this, the bank can see the way of its clients and improve their experience. And it is also useful for marketing activities because it allows bank specialists to make correct, data-driven decisions. 
How do you monetise the data/feedback/interactions for future campaigns and alternative growth/revenue channels? 
Because we are a marketing agency, we work with feedback on two levels. 
First, it is about the data of users who contact our customers. We offer to launch remarketing campaigns on them and use the collected data to search for look-alike audiences. 
Secondly, we can talk about the interaction with data about our own customers. Here, after receiving the feedback, we pass it to the customer service department, which finds out how we can be useful to potential customers. We fill in the brief with the potential client and then offer specific solutions. 
What data enrichment strategies can you suggest that work effectively from your experience? 
First, detailed micro-conversions must be recorded on the analytics system on the site.
This way you will be able to track not only the fact of visiting the site but also the detailed path of the user, such as filling out the ice form, viewing contacts, etc. 
If we move to advertise analytics, we need to collect data on users who have been in contact with advertising, who watched the video to the end or not, etc.
It is important to understand users and customers, to understand their actions before visiting the site. This allows you to track delayed conversions, post-view, and cross-device.
As a result, it allows you to better understand customers and accurately, based on data, optimize advertising. 
See more content here: https://themartechsummit.com/content-library/