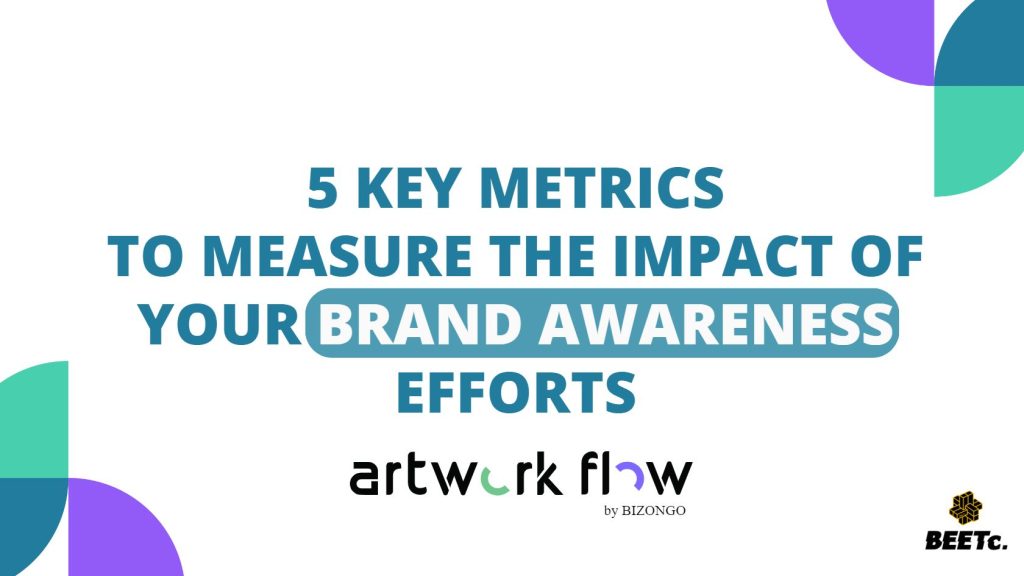 You've probably said or heard the terms "Google it", "Xerox it" or "put a Band-Aid on it" and seen never-ending debates on Apple vs. other brands.
But have you ever thought about how brands embed themselves into our psyche so much that they influence our behavior, lifestyle, and purchase habits?

The answer lies in increased brand awareness. Yes, it sounds like an abstract concept, but in this guide, we'll go into what it is, why it's important for a business, ways to measure it, and innovative strategies some brands have used to boost their brand awareness.
Here's what's covered in the article:
What is Brand Awareness?
Brand awareness represents the extent to which your target audience is familiar with your brand. Products and services that maintain a high brand awareness are more likely to generate more revenue as consumers prefer buying from known brands over unknown ones.
Take the beverage industry, for instance. When someone mentions soft drinks, you're most likely to think about Coca-Cola or Pepsi.
This is because both brands have employed many strategies over the years to raise brand awareness which helps them stay on top of the mind of their consumers and leads to increased sales.
Importance of Brand Awareness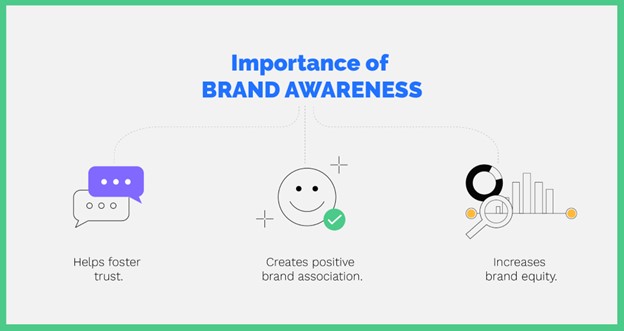 We already established that increased brand awareness translates to increased sales. Now, let's dive deeper into why this happens:
Brand awareness helps you build trust: There's no arguing that a great product and exceptional customer service are keys to building a successful brand. But to get customers to purchase your product and see how it can change their life, you need to build trust with them. Brand awareness helps you do exactly that. It gives your brand a personality, enables it to tell a story, and receive feedback like an actual person would, which makes it easy for consumers to trust your brand.
Improved brand awareness creates association: Positive brand awareness subconsciously encourages your consumers to associate products and actions with your brand. Case in point: the examples we mentioned earlier. This ensures that consumers are constantly reminded of your product, which in turn prompts them to choose your product while making a purchase.
Brand awareness increases brand equity: Brand equity describes a brand's perceived value. Positive brand equity enables you to command higher prices and expand your product line while negative brand equity has the opposite effect.

One of the best ways to build brand equity is to build awareness. Once a consumer starts recognizing your brand without assistance, they want to purchase from it and begin preferring it over similar brands, so the brand's inherent value is increased.
Now that we've looked at what brand awareness is and why it's so important for a business's success, let's look at the different ways to measure it.
5 Ways to Measure Brand Awareness
Brand awareness can sound like a vague concept but it's definitely possible to measure it. We've given 5 metrics below to help track the extent of your brand awareness. This is by no means an exhaustive list but these are some of the easiest metrics to start tracking brand awareness even if you've never done it before.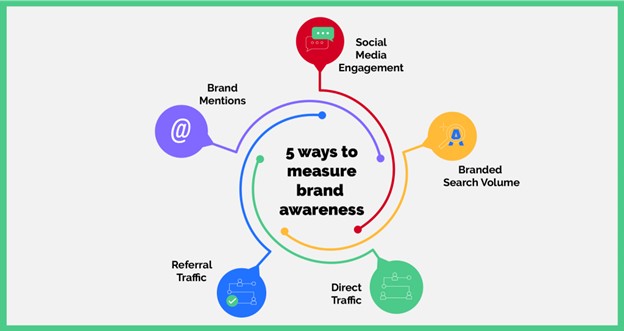 Branded Search Volume
What it is: Branded search refers to the queries that contain your company, service, or product.
When it comes to Artwork Flow, a branded search query may look like "Artwork Flow collaboration tool" or "brand asset management tool Artwork Flow", whereas a non-branded search query may look like "creative collaboration tool for marketing teams".
Branded search volume is the number of search terms containing your brand's name.
Why it's important: The more that people search for your company or your product, the more people are aware of your brand or product. Additionally, it helps you rank for the non-branded version of the query. Let's go back to the Artwork Flow example.
If Artwork Flow is ranking for the branded search queries mentioned above, Google will rank its content higher for the unbranded search term "creative collaboration tool" because it deems the brand more relevant to the query.
It also positively impacts the "search suggest" and improves your chances of your brand appearing in the related searches section at the bottom, which means higher discoverability in addition to more brand awareness.
How to improve branded search volume: Use a keyword tool to determine the branded keywords you're ranking for and the ones you aren't ranking for. Once you've made this list, audit the relevant content to see how you can optimize it further and create new content for the keywords you want to rank for.
Also, include internal links within pages with the most traffic and pages where you mention keywords so that Google can understand what your page is about and help you rank higher on search results.
Direct Traffic
What it is: Direct traffic refers to the number of website visitors you get during a specific time period.
Why it's important: If a lot of people are visiting your website, theoretically, it means more people are aware of your brand and your values. Similar to branded search volume, direct traffic also helps improve your discoverability and trustworthiness and increases the chances of ranking high on Google.
How to increase website traffic: Apart from employing on-page SEO techniques and making your website mobile-friendly and responsive, study the intent of the most searched keywords related to your product to ensure that your content gives your audience exactly what they're looking for.
For example, the keyword "the best smart watches" shows that the customer is more interested in the top brands and their reviews rather than wanting to make a purchase.
But a keyword like "the best smart watches under X" shows purchase intent, so the searcher is more likely to see rich snippets like this.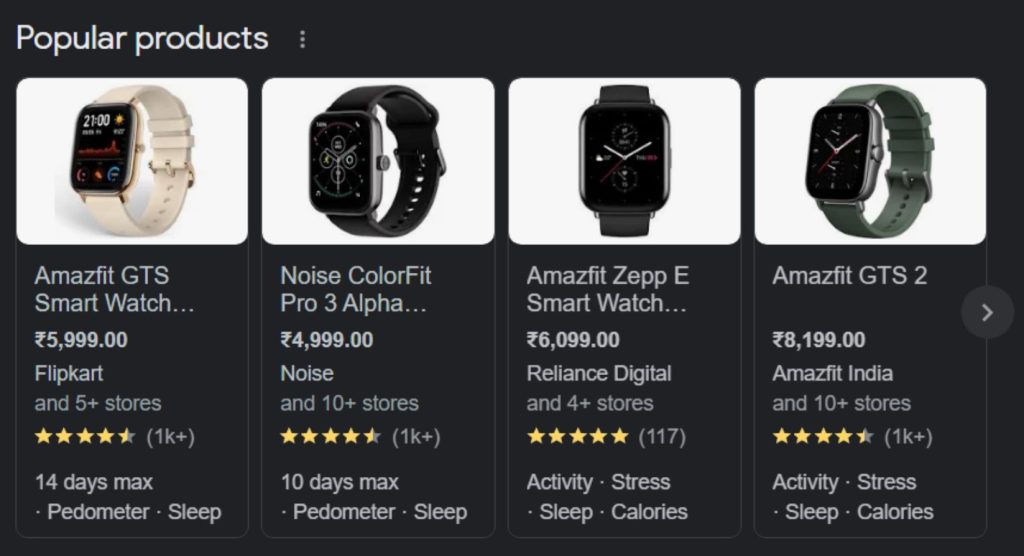 Referral Traffic
What it is: Referral traffic is the number of website visitors you get from sites other than major search engines. Ad traffic from social media platforms, review websites, online directories, etc., are examples of referral traffic.
Why it's important: Increased referral traffic means new people are viewing your content. This, in turn, means new leads and conversions in addition to increased brand awareness.
How to increase referral traffic: Creating guest blogs, speaking at events, and running paid ads are certainly the best ways to get trusted referral traffic your way.
But if you're just getting started with online marketing, start making social media posts and posting relevant comments on other blogs your users might visit to get traffic to your website. Here are a couple of tips to remember:
Add valuable comments instead of promotional ones.
Host comments on blogs that allow links in the comments to get a link back to your website.
Brand Mentions
What it is: Brand mentions refer to the posts, articles, comments, and any other piece of content that include a reference to your brand. Your brand can either be tagged in a post or comment or simply mentioned by name on online or offline mediums.
Why it's important: It's always good to keep a tab on what people are saying about your brand, as it helps you understand if you've built a positive or negative reputation. If there's a positive mention of your brand, you can retweet or repost it on your social media handle to further improve your credibility and trustworthiness.
And if you've got a negative mention, consider it a great opportunity to meet your customers where they are and show them you care. This helps satisfy the customer looking for a solution and shows other potential customers that you're consistent and proactive in your efforts to right what you did wrong or simply help someone in need.
How to monitor brand mentions: You can use online social listening tools like HootSuite, Sprout Social, BuzzSumo, and Buffer to look for brand mentions on social media posts and articles.
But if you haven't set aside a large budget to track mentions, you can always use the notification or alerts option available on social media platforms and search engines to track brand mentions or even do a manual search. Remember to search for common misspellings too so you don't miss any mentions of your brand.
Social Media Engagement
What it is: Social media engagement measures how people interact with your brand and the content you put out. It can cover a broad range of actions like comments, DMs, replies, saves, clicks, likes, follows, number of post saves, reshares, etc.
Why it's important: It's a great way to measure if the content you're putting out is resonating with your audience. The more your content is likable and relevant to your target audience, the more they'll share it, which will help spread the word about your brand and increase brand awareness.
How to boost social media engagement: Interact with your audience online; when someone reshares your post, replies to your story or comments on a post, respond to it.
But to get more people to interact with your content in the first place, you need to create valuable posts with an authentic voice and familiarize yourself with how algorithms work.
For instance, LinkedIn's algorithm values well-written text posts while Instagram's algorithm favors Reels.
Lastly, don't forget to monitor your social media content to better understand what type of content your audience likes the most.
Bonus: Here's a FREE Google Sheets template to track all the metrics we've mentioned above. You can create another copy and also track your competitors' metrics to see how you fare against them.
3 Brilliant Strategies that Brands Used to Build Brand Awareness
While there's no quick fix to building brand awareness and becoming a household name, you can take inspiration from these well-known brands.
Dropbox: Referral Program
When users know they'll benefit from sharing your product or talking about it, they'll readily tell their friends about it. Dropbox leveraged this principle to growth hack their firm when it was still a startup.
They offered every user 500 MB of additional storage space for every referral, which resulted in many sign-ups and saved the company thousands of dollars in advertising expenses.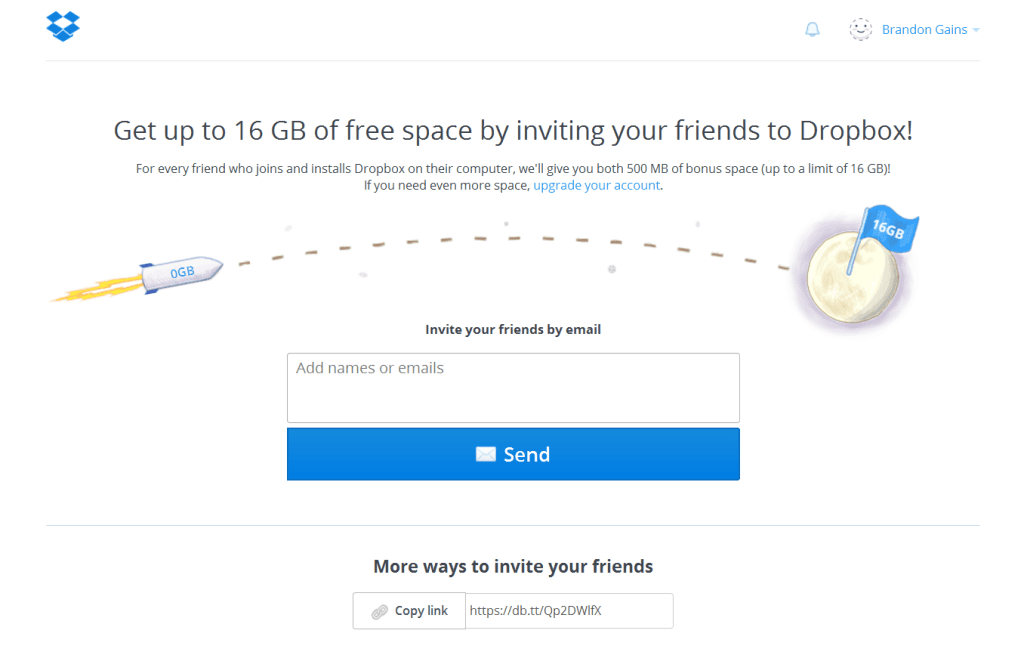 Hello Bar: Free Version with Credit Line
Many brands have a free version of their product to obtain customers at every stage of their business, get them adapted to their product, and upgrade to a paid version of it. Hello Bar took this concept to a new level and added a credit line to their free product so their users could promote their product for them.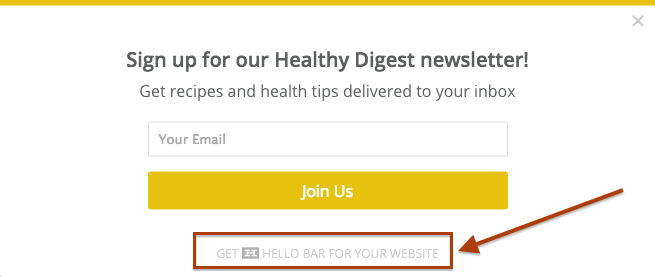 Sunrype: Social Media Contest
Everyone loves winning prizes. So, you can run a contest on social media like Sunrype did and give away prizes your audience may be interested in to get them to promote your brand. Since Sunrype sells healthy snacks and their audience is interested in products that help improve their health, they gave away home gyms and healthy snacks.
Wrapping up
Brand awareness plays a critical role in a business's success as it helps you build trust with your customers, create positive brand association, and increase brand equity.
Although it seems like an abstract concept, you can use metrics such as branded search volume, direct traffic, referral traffic, brand mentions, and social media engagement.
These metrics are a good starting point and can provide you with an insight into the impact of your brand awareness efforts. To make this easy for you, we've also included a FREE tracker you can use to gain insight into your brand awareness efforts.
About Artwork Flow
Artwork Flow is an end-to-end project management tool that manages your workflow and simplifies creative collaboration and asset management.

It helps you create templates, workflows, and checklists to collaborate with team members and go to market on time.

For more information on how Artwork Flow can help, check out the case studies, or contact us immediately for a free demo or trial.
Find this article helpful? Check out their Sponsor Page!