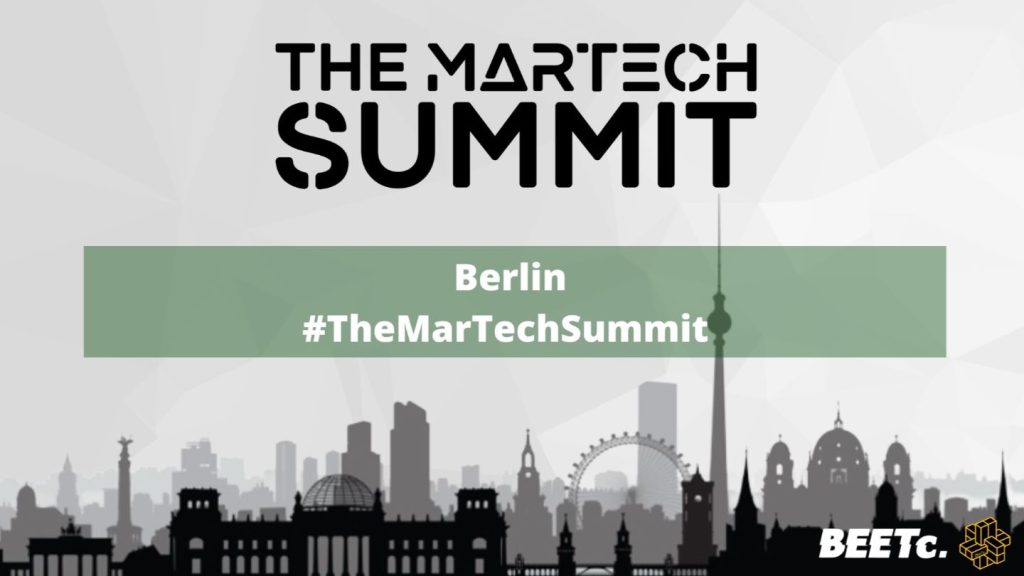 The First In-Person MarTech Summit in 2023!
The MarTech Summit is coming to Berlin with a compact One-Day summit on 22 March 2023. At Park Inn by Radisson Berlin Alexanderplatz, we will gather an exclusive band of attendees with senior-level MarTech professionals from all industries to explore the latest marketing technology trends and exchange insights!
In this English language agenda, we will discuss the status and development of marketing technology used by different companies, both local and global with a strong European base. This variety of perspectives on globalisation and localisation tactics will give a comprehensive view of the trends and strategies in place.
We will have 30+ MarTech thought leaders from the top companies speaking for us, accompanied by invaluable networking opportunities & discussions with MarTech peers.
What's Going to Happen?
The well-tailored One-Day summit is packed with Panel Discussions, Fireside Chats, Keynote Presentations, and Networking Sessions!
The attendees are guaranteed to be 85% senior leadership roles; thus, you can exchange deep insights and learn from experienced MarTech practitioners from various industries.
Our comprehensive agenda covers 4 big MarTech topics:
Emerging Marketing Technologies: Cookieless Future; Privacy-First; Full-funnel ROI; Artificial Intelligence; Digital Transformation; Marketing Mix Optimisation
Data-Driven Marketing: Marketing Automation; Zero-Party Data; CDP and Personalisation; Data Mining Strategy; Customer Data Analytics; Data Privacy and Security
Content & Creative Marketing: Social Media Marketing; Multi-Types of Content; Brand Storytelling; Social Listening; Influencer Marketing; Omnichannel Marketing
Digital Transformation: Digital Transformation & Internal Alignment; Digital Sustainability; The Role of Marketing Leaders; New Partnerships
There will be 30+ speakers from industry-leading companies, including DHL Express Global, Deutsche Telekom, SellerX, Müller, TÜV SÜD, Siemens Healthineers, Marley Spoon, Speak Out Revolution, N26, Baldwin Technology, Sygnum Bank & MORE!
Check out our confirmed speakers, and request the agenda here!
Why Attend?
The MarTech Summit Berlin features these advantageous attributes:
TOP SPEAKERS: This summit provides you with 30+ speakers from a variety of industries and backgrounds to give the latest insights into MarTech.
80:20 INDUSTRY PARTICIPANT RATIO: Guaranteed 80:20 ratio of end-user participants gives you a perfectly balanced crowd to learn from & network with.
NETWORKING: The MarTech Summit Berlin is full of opportunities for in-person networking at lunch, coffee breaks, drinks and panel discussions.
MULTIPLE FORMATS: You can expect to hear Fireside Chats, Keynote Presentations & Panel Discussions, all delivered by speakers from industry-leading companies!
With these exciting aspects, The MarTech Summit Berlin offers an inspiring One-Day conference to all MarTech innovators and practitioners!
➡ Reserve your seat now! https://themartechsummit.com/berlin-registration
➡ Interested in becoming a partner? Don't hesitate to get in touch with us at sponsor@themartechsummit.com.
➡ Group rates are available upon request for 3+ attendees. Get a quote at marketing@themartechsummit.com.
To catch up with The MarTech Summit's latest updates about speakers & agenda, follow us now:
We are looking forward to seeing you in Berlin this March!
By Jabin Wang, January 2023