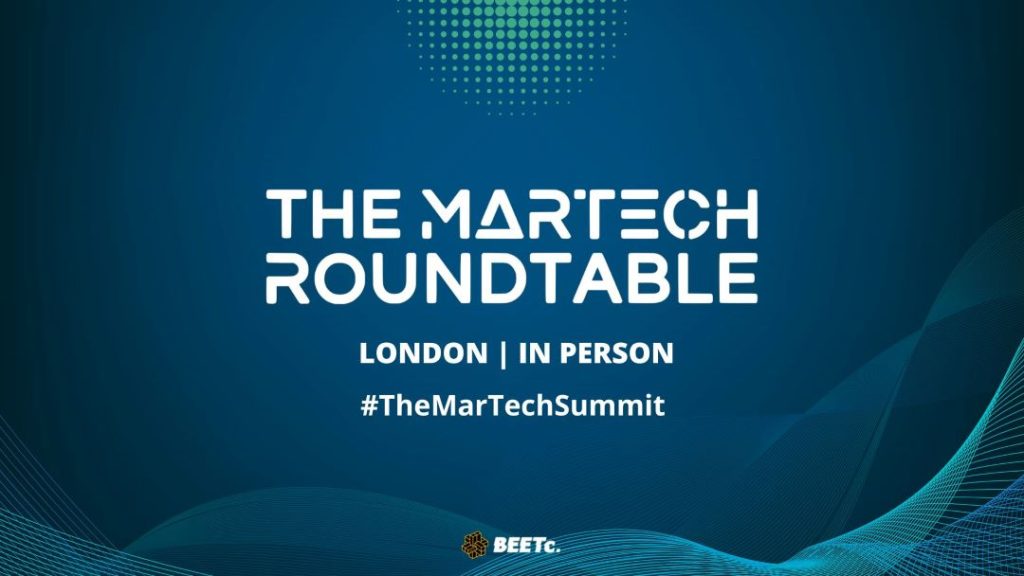 Back in London, but with a Twist!
We're always looking to innovate but also to take on feedback from our delegates to keep producing the best summits possible. We introduced in-summit roundtables at previous summits in London, Bangkok, and Singapore. Attendees discussed the most pressing topics in MarTech in tables of 8 before presenting their table's findings to the rest of the summit. The response was overwhelmingly positive, and we got asked, can we do more?
And now we have more.
We're very excited to launch our new product, The MarTech Summit Roundtable! Taking place in London at etc.venues St Paul's, 200 Aldersgate St. On 8th June, we'll be welcoming a capped attendance of 80 delegates to join our new format.
What to Expect?
Each roundtable will begin with a 15-minute panel discussion with esteemed speakers to set the scene and get the creative juices flowing. Our speakers will then descend from the stage and join attendees where in groups of 8, they will have 45 minutes to discuss the topic on hand. At the end of the discussion period, it's time to listen to each table's thoughts and key takeaways!
As always, our summit is designed for senior-level executives in marketing & technology, customer experience, data-driven marketing, content strategy & storytelling, marketing automation and digital transformation, from all industries! This is really your chance to meet and exchange ideas with experienced business leaders in a day maximised for networking and learning.
What We Will Discuss?
Our 4 roundtable sessions in the day will cover Metaverse, Revenue Generation, MarTech Tool Advancement, & Customer Data. Discussion points will be on hand to help guide the conversation but the beauty of this format is, there is no set direction, delegates are free to make their voices heard and to get their ideas validated. In a summit with multiple industries attending, this is a fantastic opportunity to expand your knowledge and mindset. 
Our final session, during our Executive Luncheon, is a chance for our delegates to really get hands-on, not just because food is involved but there will be a role-play aspect as we will all work together for something a bit closer to heart.
Why Join?
Format

: Smaller set-up to promote more engaging group discussions. Get clear key takeaways per session.


Invitation Only

: With only 80 seats available, each pass is checked by our team, ensuring that whoever is on your roundtable is a senior-level executive in EMEA-leading MarTech initiatives.


Engagement

: In a lot of events, you just sit and listen, this one you sit and engage. Get your voice heard throughout, learn new ideas and role-play in the last session.


Full-Scale Networking

: We've designed the agenda to help widen your network and mindset, not only in the session do you get to listen to others, but we will also have networking breaks throughout the day.


Premium Venue & Location

: Taking place in the heart of London, etc. venues are specialists in business events, we will have everything you'll need on the day
➡ Reserve your seat and get the Early Bird discount by 27 April! https://themartechsummit.com/roundtable-london-registration
➡ Interested in becoming a partner? Don't hesitate to get in touch with us at sponsor@themartechsummit.com
➡ Group rates are available upon request for 3+ attendees. Get a quote at marketing@themartechsummit.com
To catch up with The MarTech Summit's latest updates about speakers & agenda, follow us now:
We are looking forward to seeing you in London this June!
By Matthew Lin, April 2023