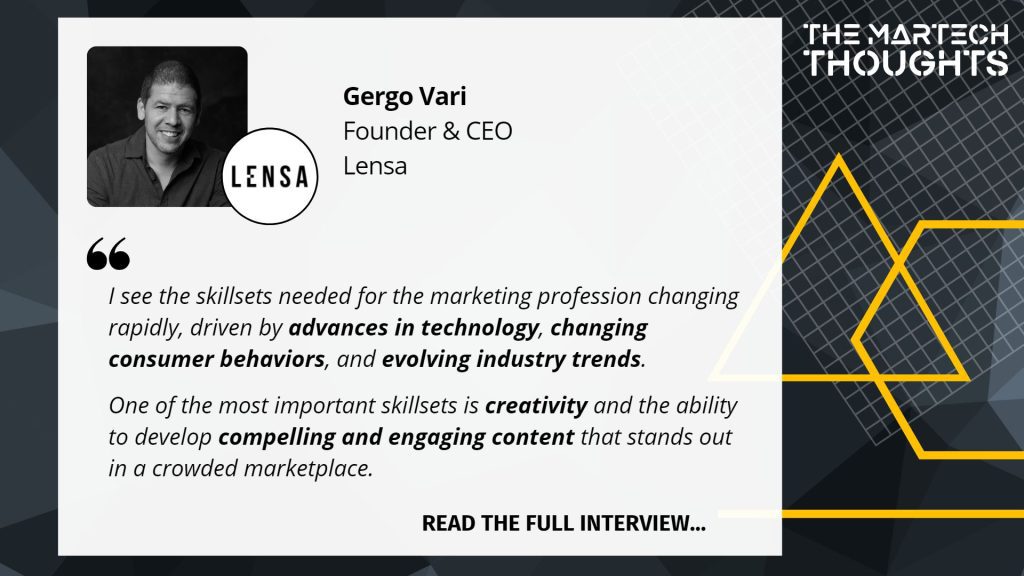 Welcome Gergo Vari, Founder & CEO of Lensa, sharing his insights and experiences on Marketing Skillsets, Emerging Technologies and Talent Acquisition, as part of the MarTech Thoughts series.
What is your industry? And how would you explain your job to a 5-year-old?
Lensa is a company in the recruitment industry. My job is to lead the vision for creating a better form of job search and career development. It's kind of like being the captain of a big ship, making sure everything runs smoothly and the ship reaches its destination safely.
Currently, what are you primarily looking for in your digital marketing efforts? Awareness or engagement? Why?
We are currently focused on both awareness and engagement in our digital marketing efforts. While awareness is important for reaching a broader audience and introducing them to our brand, engagement is critical for building lasting relationships with our customers and driving conversions.
At your organisation, what tasks in marketing are good to automate and what tasks still need a human touch?
As CEO of Lensa, I believe that automation can play a significant role in enhancing marketing efficiency and effectiveness. Some tasks that are good to automate include data analysis, lead generation, email marketing, and social media scheduling. By automating these tasks, we can save time, increase accuracy, and free up our team members to focus on more creative and strategic tasks.
However, I also believe that there are certain tasks that still require a human touch. For example, content creation, campaign strategy, and customer relationship management all require a high degree of creativity, empathy, and strategic thinking, which are difficult to automate.
Moreover, our team members bring unique insights and perspectives that machines cannot replicate. They have a deep understanding of our brand, our customers, and our industry, which allows them to make informed decisions and create meaningful connections with our audience.
What strategies do you have in place to retain top marketing talent and ensure that they are satisfied with their role and the company culture?
One of the most important strategies is providing opportunities for professional growth and development.
At Lensa, we believe in investing in our employees' skills and providing them with possibilities to advance and progress in their roles. This includes offering training and development programs, providing feedback and mentoring, and encouraging our employees to take on new challenges.
Another focus is on fostering a positive company culture. We strive to create a positive and supportive work environment where our employees feel valued, respected, and included. This includes promoting work-life balance, offering wellness programs, and celebrating successes as a team.
Providing compensation and benefits are important factors in retaining top talent, and we offer competitive packages to ensure our employees feel valued and recognized for their contributions.
What professional development opportunities can be offered to marketing teams and how to ensure that they are continuing to grow and develop their skills?
I believe that offering professional development opportunities to our marketing teams is critical to their growth and success. One way we do this is by providing access to industry events, conferences, and webinars. This allows them to stay up-to-date on the latest marketing trends and strategies, and connect with other professionals in their field.
We also encourage our marketing teams to pursue relevant certifications or courses that align with their interests and goals. This could include obtaining certifications in areas like digital marketing or social media, or taking courses in analytics or content creation.
What challenges have you faced in recruiting and retaining marketing talent, and how have you addressed these challenges?
The marketing industry is highly competitive, and it can be challenging to find and retain top talent. At Lensa, we have faced similar challenges, especially when it comes to recruiting candidates with highly specialized skills. One of the main strategies we have employed is to offer competitive compensation packages and benefits, including professional development opportunities and flexible working arrangements.
What is the one marketing platform/app/solution you can't live without? Why?
Here at Lensa we are focused on using technology to disrupt and improve the job search and career development industry. In terms of marketing, we recognize the importance of digital marketing and social media in reaching and engaging with job seekers and employers. We also understand that in today's world, brand recognition is essential for success.
We are committed to delivering an innovative and engaging online presence, with a focus on creating useful content tailored to the needs of job seekers and employers. Our goal is to provide unique opportunities to connect with our users in ways that will benefit them throughout their career journey.
Looking to the future, how do you see the role of marketing evolving and what skills do you think will be most important for success in the field?
Marketing, I believe, will continue to evolve as technology and consumer behavior change. Marketers will need a strong understanding of data and analytics, as well as the ability to quickly adapt to new technologies and platforms, to be successful in the field. Marketing departments will need to be culturally competent and able to communicate effectively across different languages and cultures as the world becomes more global and diverse. Overall, I believe that marketing will remain an important function in driving business growth and success, and marketers who can balance data-driven insights with creative problem-solving skills will be in high demand.
What are some of the significant changes to your customer outreach and retention strategies? And how has it impacted the growth plan for upcoming years?
One of the key changes we have made is to adopt a more data-driven approach to customer outreach and retention. We use data analytics and insights to better understand job seekers' needs and preferences, and tailor our marketing and customer engagement strategies accordingly.
Another change we have made is to focus more on providing personalized and value-added services to our customers. We offer a range of career development resources and tools, such as resume builders, interview preparation guides, and skill assessments, to help our customers succeed in their job search and career development.
How do you see the skillsets needed for the marketing profession changing?
I see the skillsets needed for the marketing profession changing rapidly, driven by advances in technology, changing consumer behaviors, and evolving industry trends. One of the most important skillsets is creativity and the ability to develop compelling and engaging content that stands out in a crowded marketplace. In a world where consumers are bombarded with marketing messages, marketers need to be able to create content that is not only informative but also entertaining and emotionally engaging.
In addition, there is a growing need for marketers to have a deep understanding of emerging technologies and their impact on marketing. As technologies like artificial intelligence, machine learning, and augmented reality become more prevalent, marketers need to be able to understand how these technologies can be leveraged to enhance the customer experience and drive business results.
How do you keep your team motivated to get the best out of them during challenging economic times with additional external pressure?
As CEO of Lensa, I believe open communication, recognition and rewards, professional development, and work-life balance are key to keeping our team motivated during challenging economic times. By being transparent about our challenges and plans, recognizing and rewarding our team members' hard work, providing opportunities for growth and development, and supporting their well-being, we build trust, engagement, and a culture of excellence. These practices help us maintain focus and productivity, even under external pressures.
What would your company use AI the most for?
Lensa is actually using AI for job matching and career development!
What is the best use of technology you have seen during this time of crisis?
One of the best uses I have seen is the rapid adoption of remote work technologies, which has allowed businesses to continue operating and employees to work safely from home. From video conferencing to virtual collaboration tools, these technologies have enabled teams to stay connected and productive, despite physical distancing measures.
As mobile and internet use rapidly expands; how do you track customer behaviour change?
Tracking customer behavior is critical for understanding our audience and adapting our marketing strategies to meet their evolving needs. With the rapid expansion of mobile and internet use, we are leveraging a variety of tools and techniques to track customer behavior change. One of the most important tools we use is analytics software, which allows us to monitor customer interactions with our website and mobile apps, such as click-through rates, time spent on site, and conversion rates. By analyzing this data, we can gain insights into our audience's behavior patterns, preferences, and pain points, which helps us optimize our platform and marketing campaigns for maximum impact.
How do you foresee the role of gamification across industries?
At Lensa, we have leveraged gamification to help job seekers identify the industries that best align with their interests and skillsets. Our Career Quiz game uses a fun and engaging format to help individuals explore potential career paths and understand the key characteristics of different industries. By making the exploration process more interactive and accessible, we can help individuals make more informed decisions about their career paths.
Overall, I see gamification as a powerful tool for education and exploration, and I believe that we will continue to see innovative uses of gamification across industries in the years to come.
How would you use a million pounds?
I would prioritize investing in people.
Specifically, I would focus on hiring and developing top talent to enhance our platform and expand our reach. Additionally, I would invest in employee training and development programs to ensure that our team has the skills and resources they need to drive our growth and deliver value to our users.
By investing in people, we can build a strong, dedicated team that is committed to our mission of helping job seekers find meaningful employment and advancing their careers.
What's the best advice someone has ever given you?
The best advice I ever got was from my grandfather, who told me that if you want to succeed in business, you have to hire people who are smarter than you.
Follow Gergo on LinkedIn, and find out more about Lensa at their website.
See more MarTech Thoughts interview posts here: https://themartechsummit.com/category/martech-thoughts/
Last updated: April 2023