This Time in London
The MarTech Summit London November 2022 gathered around 300 attendees from 155 organisations from all over the UK, and Europe – a total of 27 different countries. The summit was hosted at etc.venues 133 Houndsditch and comprised two full days of content sharing and networking.
Feedback from attendees was positive, with an overall satisfaction rating of over 88%. 77% said they plan to attend a future MarTech Summit, and 90% said they would recommend it to a friend or colleague.

This summit attracted an incredible number of attendees from cross-industry companies, which meant that there were great conversations around how opportunities and challenges in MarTech are shared, regardless of your industry.
Summit Highlights
The summit itself took form through in-person presentations that included fireside chats, keynotes, panel discussions as well as roundtable breakouts. There were quite a few evident themes that arose from those: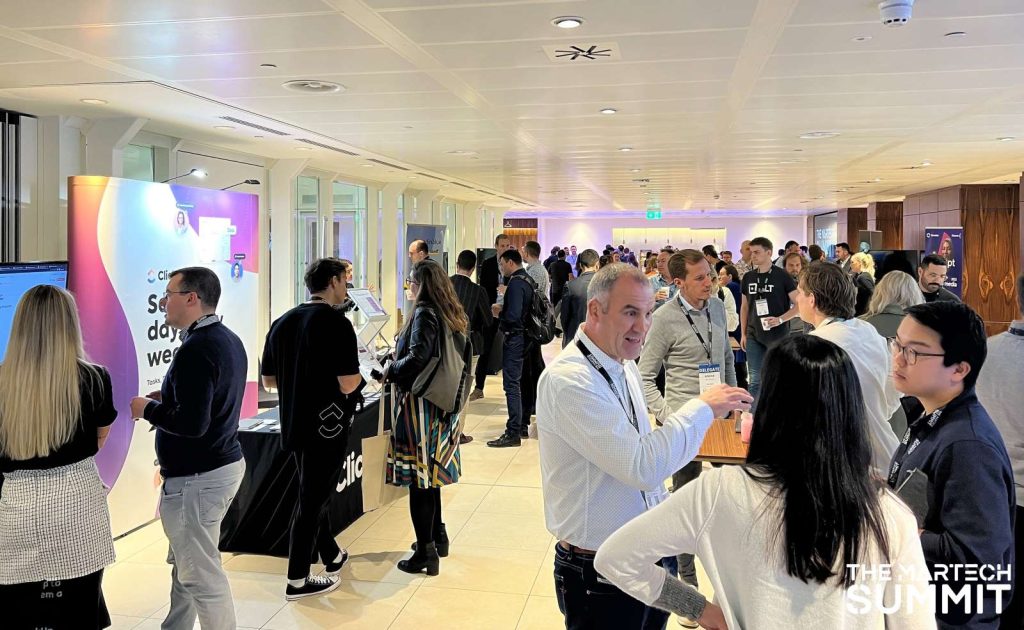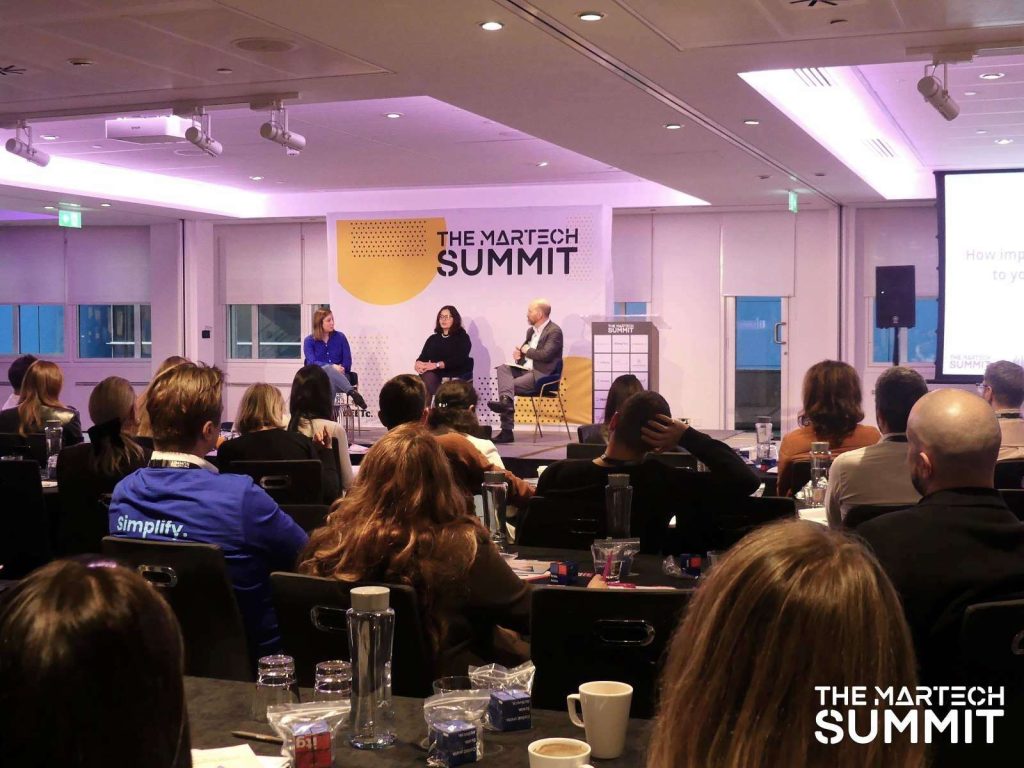 The first was how marketers are preparing for and responding to economic headwinds including budget decreases. As Tricia Weener, EVP, Chief Marketing Officer, Marketing & Comms, KONE commented "The external environment is changing at a faster pace than ever before, marketing and comms has a pivotal role to play addressing the changing expectations and needs of customers as well as supporting the change agenda organizationally".

Francesco Federico, Executive Director of Global Marketing Technology, Jones Lang LaSalle – with Advice for Marketers "ROI of marketing investment – lay down a transparent end to end attribution model – enable to demonstrate the journey, value bringing – as marketers in 2023 will be asked to the value of every single $$ Generating in the pipeline".
Secondly, and with that in mind, and the fact that this was a MarTech professionals gathering, it was discussed how valuable it is now and always to keep the "digital champions"- those who are the positive ones about new tech, integrations, onboarding of solutions close as they help drive interest from less interested business lines. Especially seeing as the time taken for onboarding new solutions is around on average 18 months.
Lastly of the main themes was covered by Carolyn McKeever, Group Marketing Director of Specsavers who noted the fact that "being comfortable with being uncomfortable is key – comfort in this part of our roles is unlikely given the speed with which customers, competitors and technology change". Her advice is to be ruthless about focusing on your key use cases and just keep coming back to them. It sounds easy. It's not. People love being distracted by "the next thing".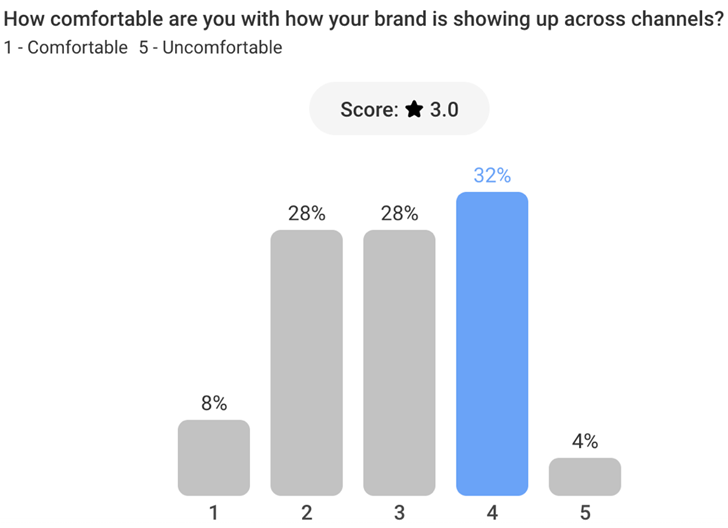 A clear point of discussion within many presentations was the biggest challenge to introducing new MarTech – Dr Nicola Maidwell, Chief Marketing Officer Northern Europe, GE Healthcare said, "usability is key, needs to allow for creativity too, easy to show value on return".
Janis Thomas, Ecommerce & Marketing Director of Look Fabulous Forever was asked "How do you ensure MarTech is treated holistically so that it works together to power your marketing (and isn't a headache to implement and manage?)" – she responded, "start with what the customer needs (the end-user), what is UX and how it will all change and work in the same direction." Nicola added that "Tools to nurture, retention and upsell and acquisition and social and PR – to enter new markets and gain new customers, find out what channels' customers use and research behaviours when looking for content or new things ".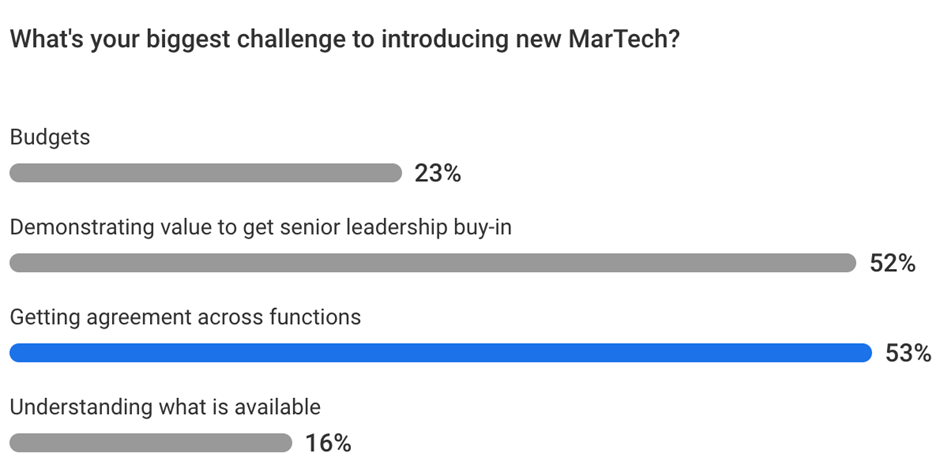 The summit not only covered B2C but also B2B companies. Given how B2B relies heavily on relationships, our speakers were asked how they manage to collect the right data points to then deliver a hyper-tailored experience? This is something that means that complexity round CRMs – now managed to bring sales and marketing onto the same CRM and everyone to document everything done for every interaction – is bringing 2 worlds together for human aspect and automated data collection.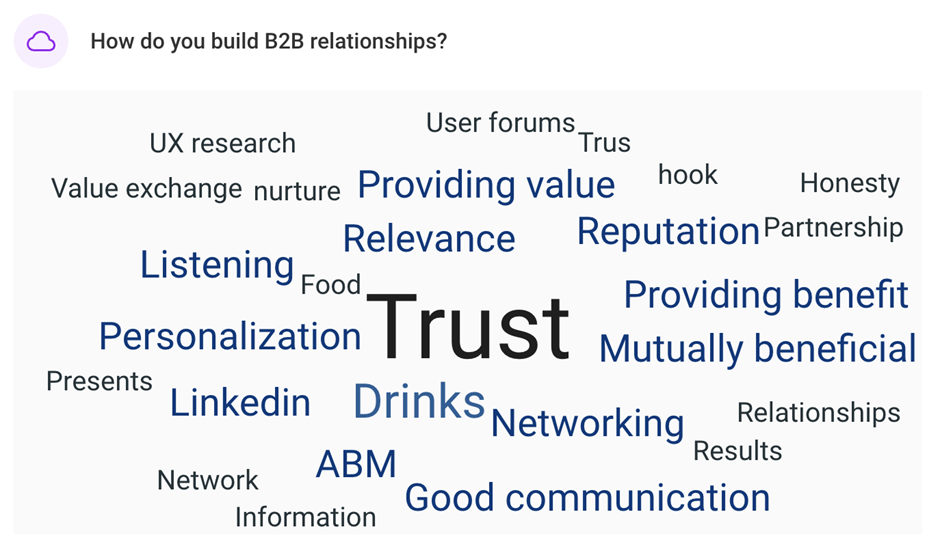 When talking about campaigns to win back customers Pete Markey, Chief Marketing Officer of Boots UK mentioned that "Getting the right product or offer to the right customer at the right time has always been the holy grail for marketers. Through MarTech and the evolving tech stack of media owners and providers like Infosum and Live Ramp, now more than ever we can make this a reality. In highly competitive markets like retail, you need to win in the core of how you trade as well as at the edges of opportunities where you win or lose your customers' attention depending on how personal and how relevant what you offer is – that's what excites me about the new capability we have to offer more tailored offers to our target customers at exactly the right time. This means a 'win-win' for customers and for the business that gets to drive greater success through a much stronger customer offering".

Reflecting on leveraging an engaged community, Charlotte Ford from heycar said how "Preparation is key when starting a community strategy. If you have clear objectives and the ability to take on board difficult or challenging feedback, then community building can be a valuable tool. But don't jump in before you're ready and be prepared to pivot your strategy!". Nick Rose, Head of Brand, Marketing & Digital Communications of law firm Linklaters "You can't bring everyone with you, but you need to make sure what you are doing is right. Which brings you back to what is your original ambition?" And Paula Murphy CMO at RES commented "Segmentation is vital. Clarity of the needs and wants of your various stakeholder groups and how that ties with what you wish to engage with them on is key".
Variety of Summit Experience
Great interactive sessions with many questions took place throughout the 2 days at this live in-person event with many questions for the speakers at the end of each talk. At the end of day 2 we also hosted facilitated networking sessions in the format of roundtables. Around 60 people, audience members and speakers alike, enjoyed discussing their own experiences on internal alignment and priorities for CX in 2023.

In addition to help strengthen the attendee experience, we also hosted a networking drinks session at the end of day 1 into the evening, where we encouraged attendees to have a drink and snack and hear from their peers.
Promoting diversity and inclusion within The MarTech Summit Series is important to us. There is continually a drive to remain committed to diversity when putting together our speaker lineups and the attendee demographic alike.
There was plenty of lively debate among the speakers and delegates at The MarTech Summit London's well-attended conference. However, for all the variety of opinions and experiences, attendees were united by a central conviction which is propelling the marketing and technology industry towards unprecedented reach and sharing of high-quality content!
Future Engagement
A big thank you to all our partners and MarTech enthusiasts who shared in the networking and learning of the two-day event.
The MarTech Summit Team is delighted to have hosted an elite and engaging community once again. Stay tuned for more to come by following our social media accounts and joining The MarTech Community on Slack!
Find us on:
To see our upcoming summits, including our 2023 Calendar, please visit: https://themartechsummit.com/events/
Also, check out our Hong Kong, Bangkok, and Singapore Post-Summit Reports!
By: Catherine Collinge, December 2022