We're Back in Singapore!
The MarTech Summit landed in Singapore on 27 October 2022 (the 2nd time in a year!) and gathered over 200 attendees across multiple industries from Singapore and beyond. The summit took place at the PARKROYAL COLLECTION Marina Bay and comprised an inciting agenda filled with networking opportunities.
This summit offered 14 live sessions from 30+ speakers that included keynote presentations, fireside chats, and panel discussions.


After Singapore opened up post COVID-19, every marketer is getting back on the right track to boost their marketing performance, which resonates with the theme of this edition of MarTech Summit – Envisioning Marketing and Technology into Performance.
Let's have a quick look into what this summit has covered!
Summit Highlights
Of course, the first question – What do you think MarTech is?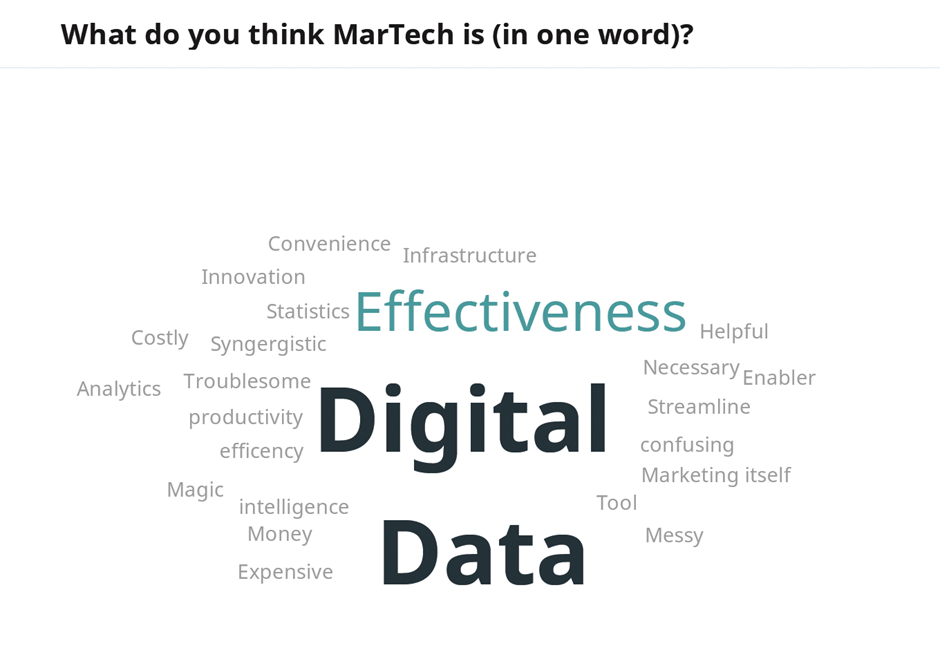 Digital, data and effectiveness and so on – all the keywords here are leading to an effective MarTech stack idea and execution. "It's important to demonstrate the value of what an end-to-end MarTech stack can bring to your organization, how you can turn data into insights throughout the customer journey and how this helps in achieving your business goals." – June Goh, Associate Marketing Director, Ostomy Care, Convatec Global Emerging Markets.
Everyone is now moving towards a data-driven approach in marketing, but what are the barriers?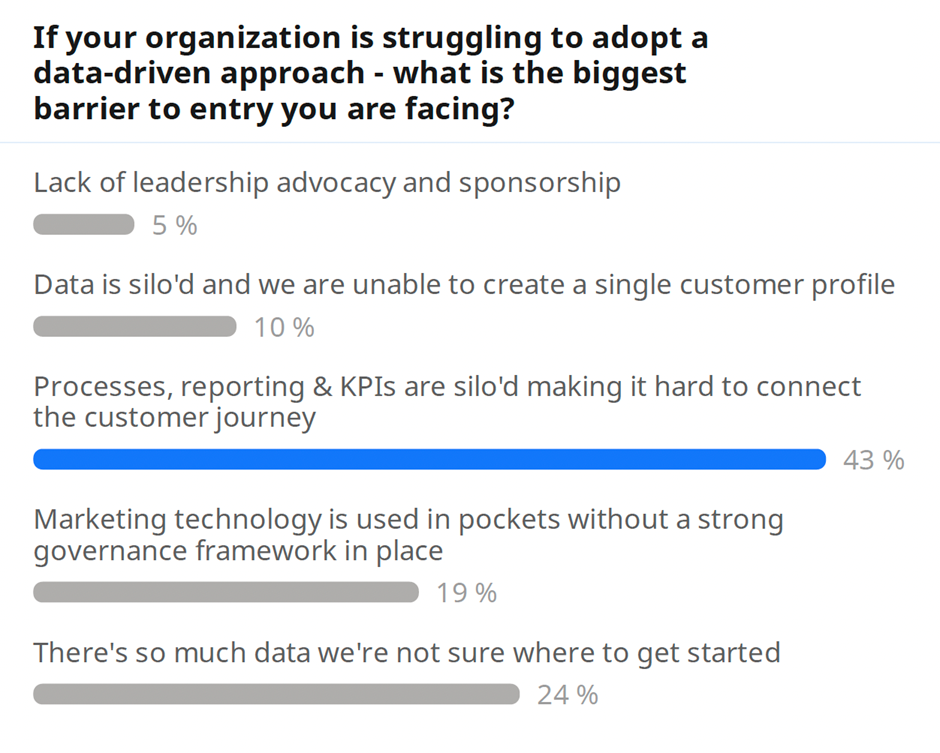 To champion the end-to-end data process, technology enablement is definitely essential to complete the processes. "An optimized tech-stack can be complex, start with existing technology and squeeze value from it first before investing in new solutions; and Develop a multichannel decision engine to prevent conflicting messages and drive maximum value per touchpoint" – Neha Dadbhawala, Director of Digital Marketing Operations, McAfee.
And when it comes to the customer journey and customer experience (CX), it's closely related to data but yet another independent realm that requires marketers to tackle every day.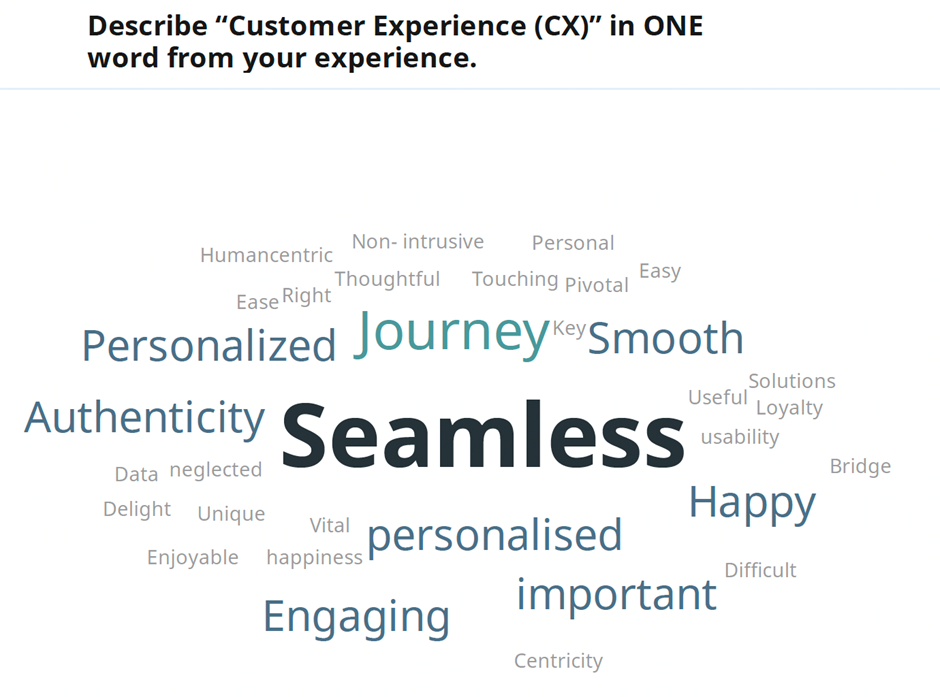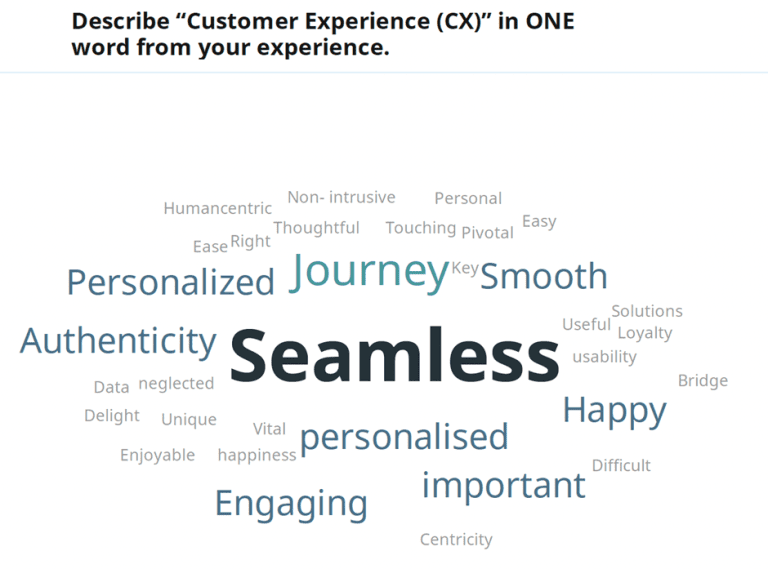 It is insightful to see how our audience described CX in one word. What caught our eyes would be "seamless" and "authenticity"!
"Marketers need to focus on the customer experience outcome first rather than technology, build a new capability top down with external support at the start but with a clear plan on how and when to in-source key areas, and exhibit value and impact regularly, even on a small scale." – Saurabh Patel, Group Head of Marketing, IHH Healthcare.
Stepping into our customers' shoes, we might find out how we as marketers engage and curate effective customer experiences & journeys.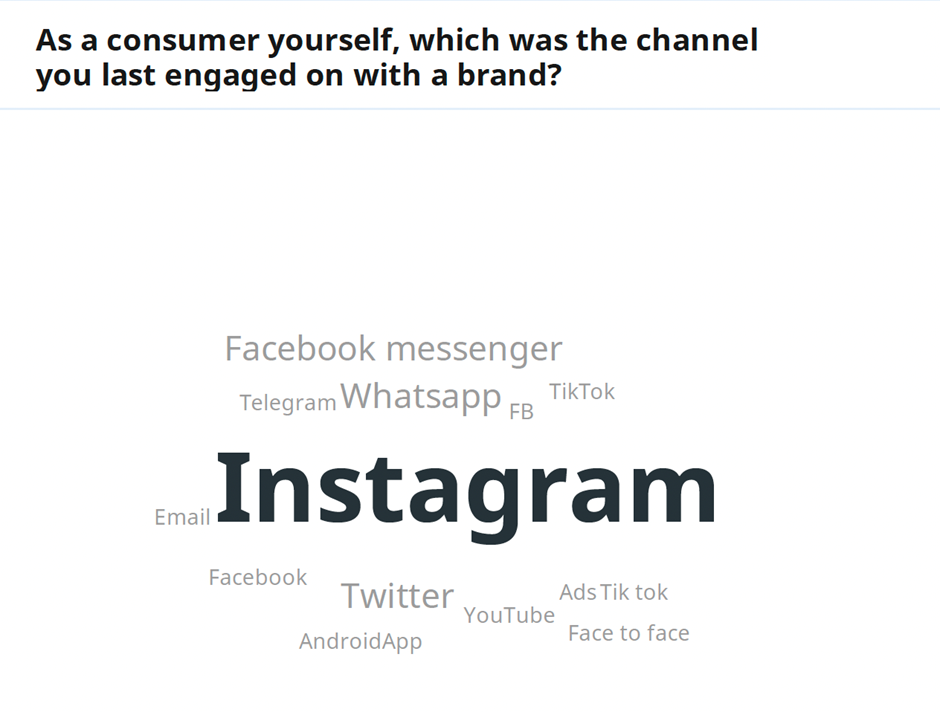 All the channels listed above would be common, but it does give us a glimpse to consider new customer engagement methods and platforms.
"It's important to start with the consumer insights on where your consumer is at and what content are they consuming in that channel then figure out the role of your brand in that journey." – Lianne Mui, Digital Marketing Director, Asia Pacific, McCormick & Company.
Key Takeaways
Lastly, some key takeaways from our team from this Singapore edition:
"Success depends on creative quality". Finding the right balance between humans and machines is important. Consider it as NOT HUMAN VS MACHINE but working hand in hand to ensure the ultimate goal is customer satisfaction and company/brand growth.
It needs to be authentic to ensure you connect your brand and company purpose to your customers and build trust – finding the right balance between human and automation.
While it's tempting to acquire all the marketing and technology, defining the right KPIs and process is key to defining the right MarTech stack. Don't let your tech stack outgrow your capabilities.
A huge thank you to all our partners and MarTech enthusiasts who joined us in networking and learning at the summit.
Future Engagement
The MarTech Summit Team is delighted to have hosted an elite and engaging community once again. Stay tuned for more to come by following our social media accounts and joining The MarTech Community on Slack!
Last but not least, we are also running a Virtual Summit in December! It's free to sign up and you can learn 2022 findings from over 30 speakers. After the Livestream sessions, the summit is also available On-Demand!
More information here: https://themartechsummit.com/virtual-exchange
To see our upcoming summits, including our 2023 Calendar, please check out: https://themartechsummit.com/events/
Also, check out our Hong Kong, Bangkok, and London Post-Summit Reports!
By: Teddy Fung, November 2022