Our flagship summit returns to Singapore!
The MarTech Summit happened in Singapore on 25 & 26 April, while it may have been our third summit in Singapore within a year, we came back with twists in our agenda, enjoyed by over 250 attendees across multiple industries from Singapore and beyond. The summit took place at the beautiful Stamford Ballroom in Raffles City Convention Centre and as usual had an inciting 2-day agenda with plenty of networking opportunities in between.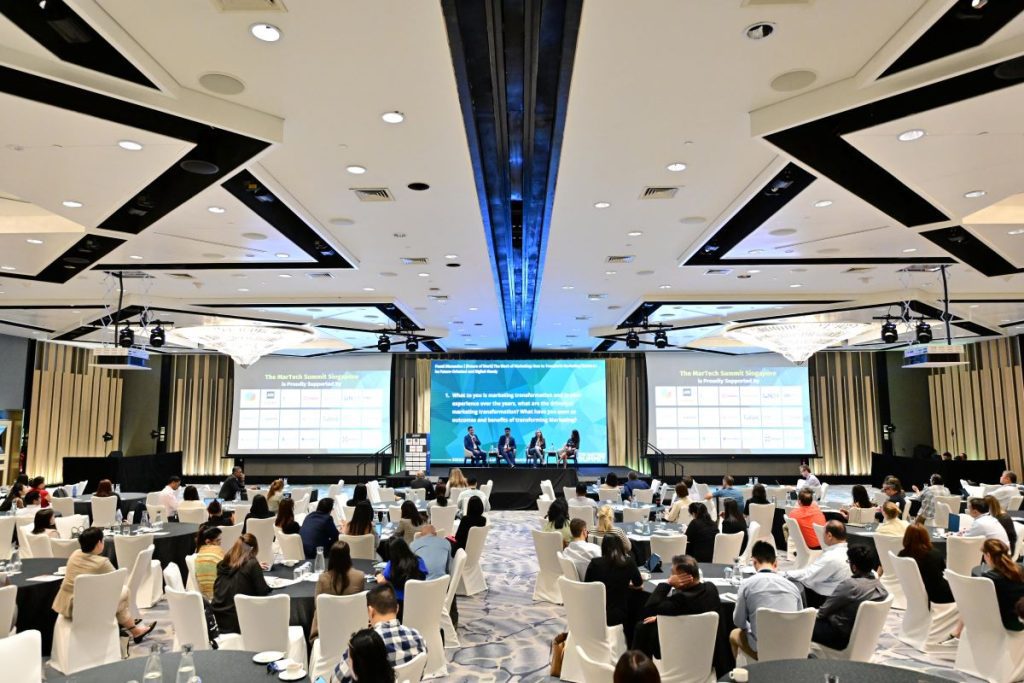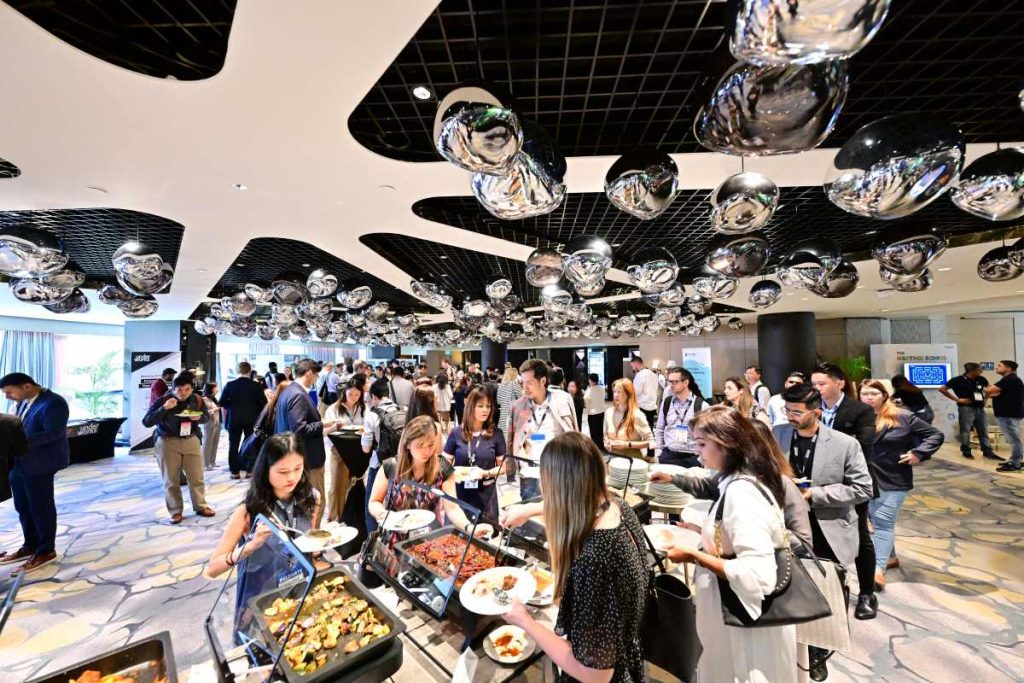 This summit produced 35+ live sessions from 60+ speakers that included keynote presentations, lightning talks, fireside chats, and panel discussions. In addition, we also had breakout rooms and in-summit roundtables, giving our diverse crowd plenty to think about!
Overall, we had representatives from 200+ companies, including MSD, P&G, Standard Chartered Bank, Income Insurance SG, Prudential, HSBC, Montblanc, HP, National Library Board, FWD, Amazon, Samsung Electronics, Airbnb, IKEA, Singlife, Colliers, Roche, Zalora, AIA, Nike, American Express, Unilever, foodpanda, Estee Lauder Companies, Rakuten, JLL, Shopee, Kellogg's, Shutterstock, Tinder, 3M, Agility, & many more!
55% were from companies with a headcount of 1001+.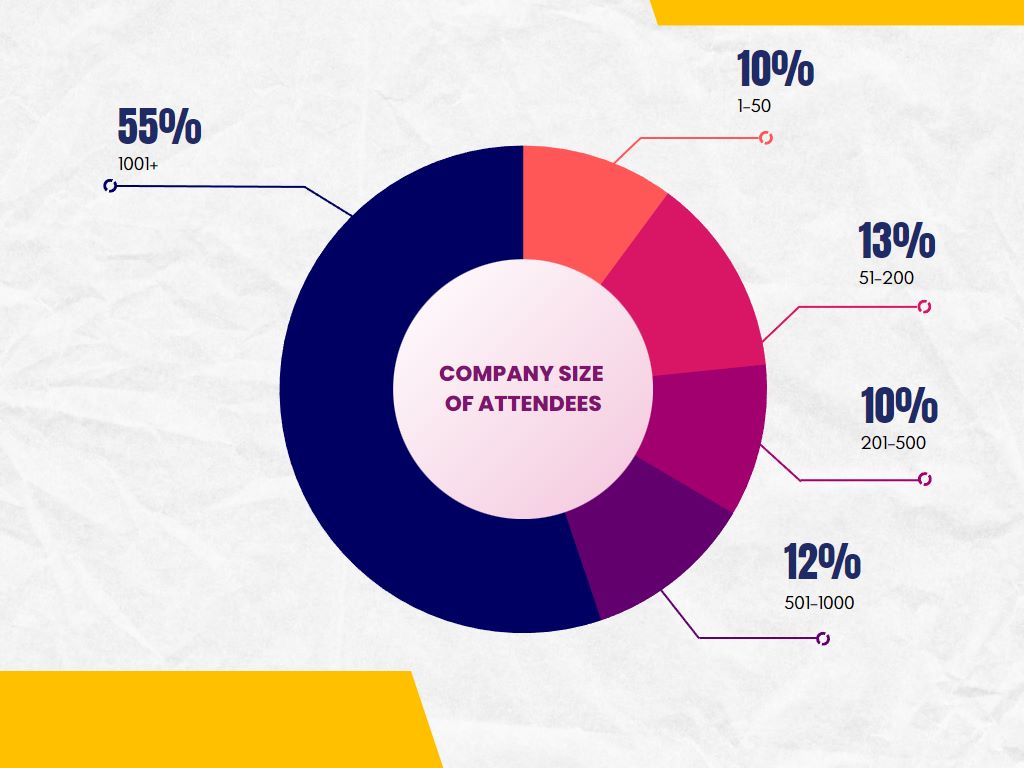 95% were in leadership positions and above.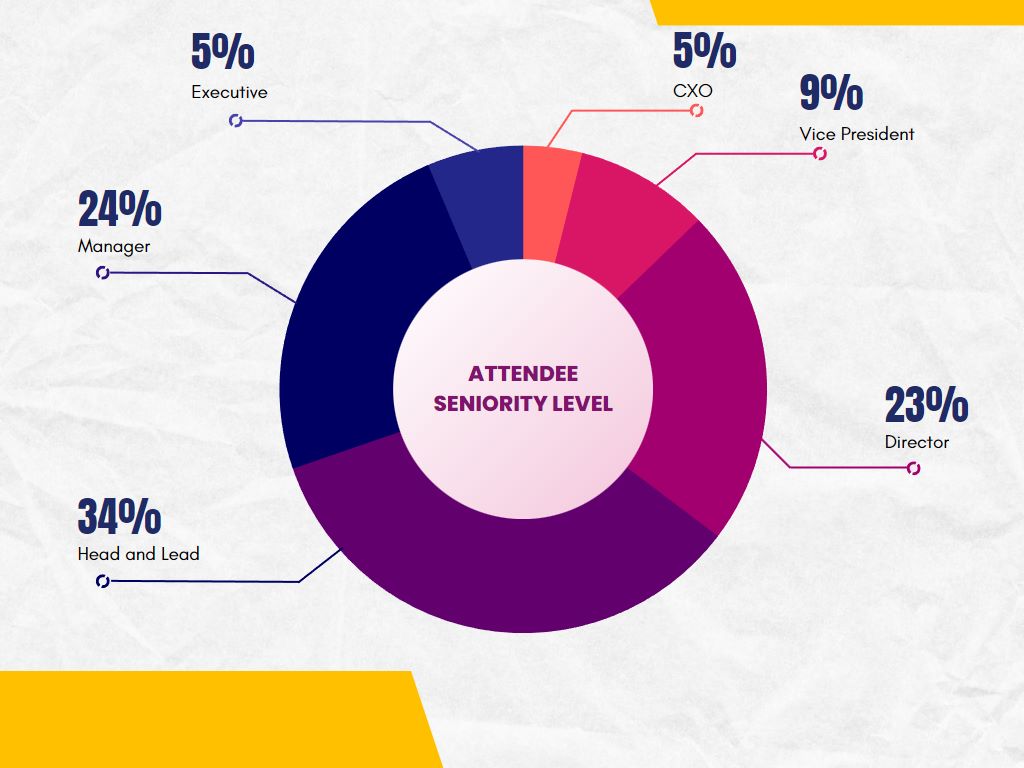 And 80% were in a marketing/digital position and the best-represented industries were Information Technology & Services, Banking and Consumer Goods.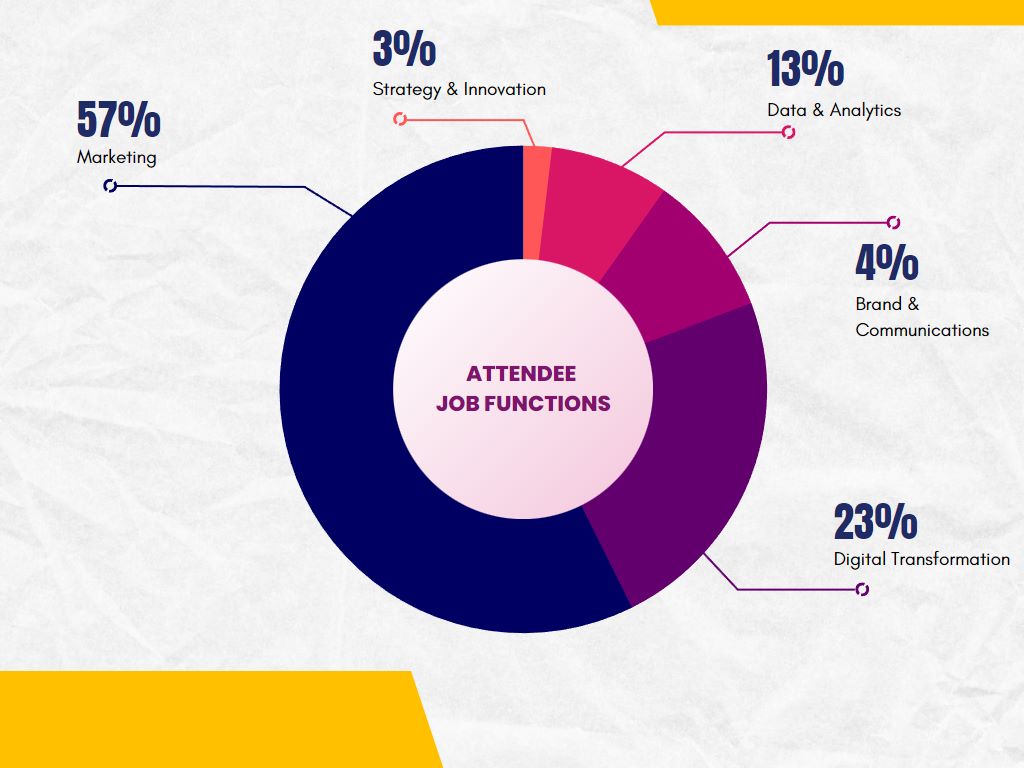 After a turbulent few years as the world reeled from COVID-19, marketers are now fully ready to step up and embrace the new challenges presented to them. We listened to attendee feedback, which is why our day 2 was split into 2 tracks, The Full Power of Data and It's All About The Experience. Attendees were free to move in between the 2 tracks and form their own agenda for the day.
Summit Highlights
Our summit tagline this time was: Accelerate Success with Your MarTech Stack: Leaner, Smarter & Richer. Focusing on how marketers can improve their MarTech stack as while technology is getting smarter, budget is not limitless. So, having the correct and investing in the correct stack is instrumental to the success of marketing campaigns.
As always, our summit is packed with opportunities for our audience to voice their opinion and whether they agree (or disagree) with our speakers.
But we also took this opportunity to learn more about our audience, and for them to learn about each other!
We found our audience actually prefers the comfort of their own home for a drink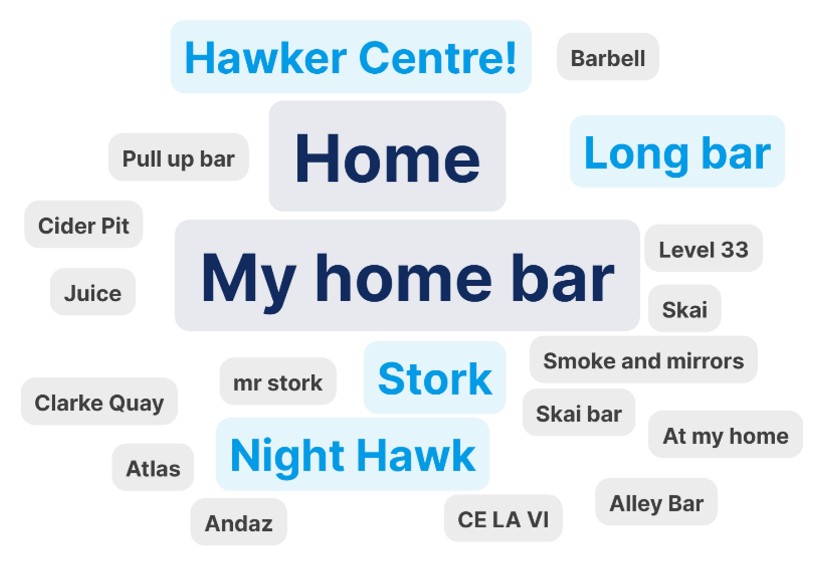 We found it interesting that a lot of people mentioned Hawker Centre as their venue of choice for a drink, but which one is their favourite?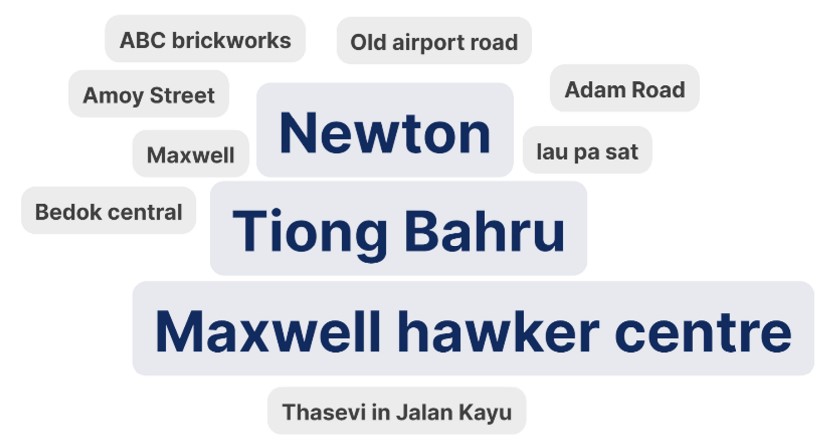 Let's have a look at a few thoughts on the integration of the MarTech stack, and of course, about data.
Objectives will always play a part in marketing strategy, Neha gave our audience a great talk on MarTech Integration and left them with this takeaway:
"MarTech Objectives are key in building success – Keep it focused. Keep them aligned across your organisation." – Neha Dadbhawala, Director of Digital Operations, with experience in Cyber Security, Fintech and Cloud services.
Data is obviously a very important aspect of marketing, but everyone has different uses. "Executives follow data. Managers study data. Visionaries challenge data." – Darius Chang, Product Marketing Expert, IT & FinTech
In his fireside chat, Darius asked a novel question to see whether our audience members use data analytics in their life decisions.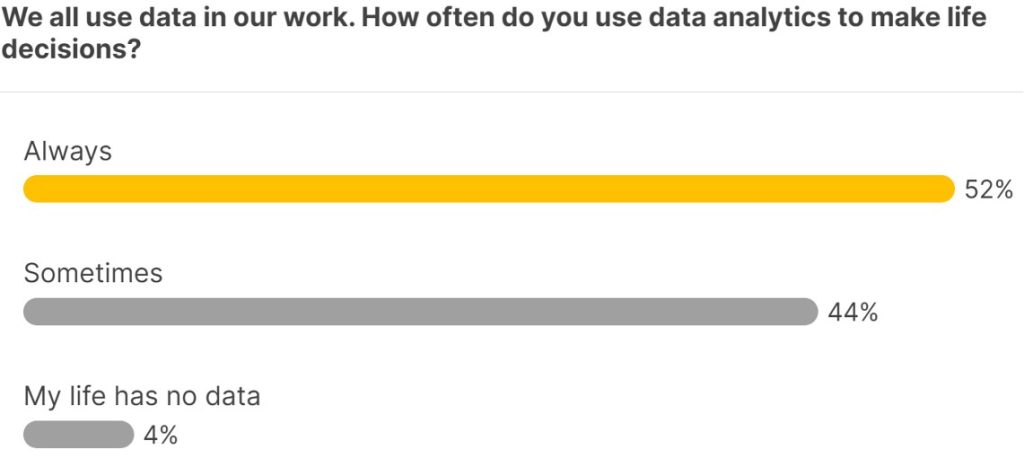 Topics regarding personalisation and customer centricity have been heavily discussed at both tracks on Day 2, in which they have given us the below thoughts:
Personalisation is key to increasing customer loyalty and retention, customers want to feel special and wanted. But of course it's easier said than done, our first panel in a data track asked our audience: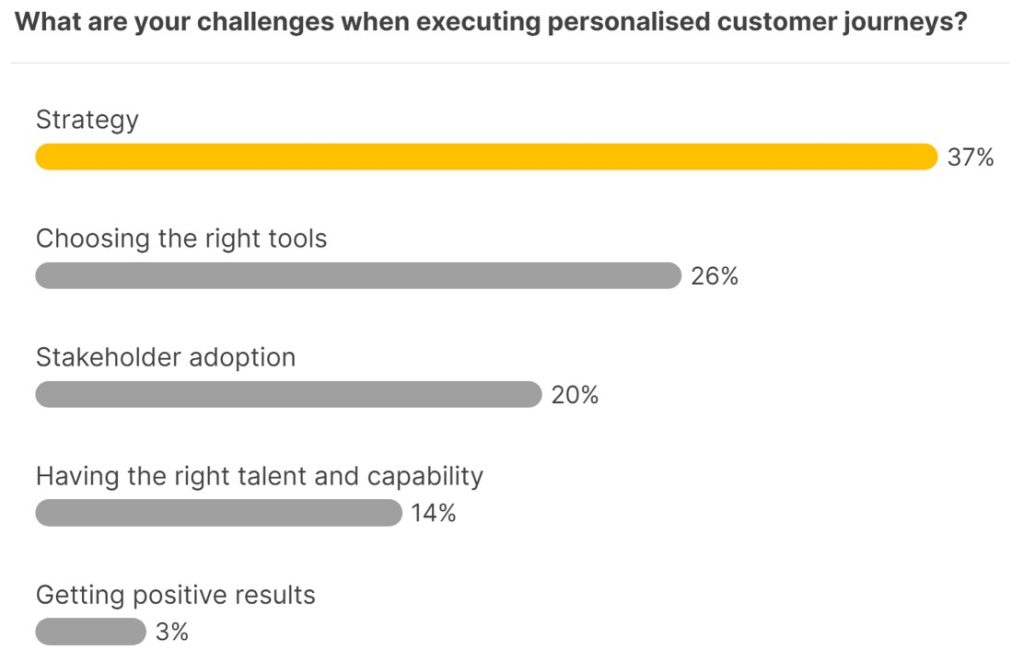 "Personalisation journeys take a village, and it needs strong fundamentals in the stack, the people and the execution. It is not just a change in the way we craft a better journey, but a cultural change to push for customer centricity in the thoughts and actions of all employees and leaders." – Zhiliang Li, Head of CRM, ZALORA
"Omnichannel personalisation requires a comprehensive understanding of your customers, a clear strategy, and seamless integration of the right tools and technologies. By leveraging first-party data, machine learning, real-time data capturing, real-time decision engines, and dynamic content technologies, businesses can craft tailored experiences that resonate with customers across all touchpoints and channels." – Yadear Zhang, CRM Tech Lead, Fairprice Group
"Key is to be Customer Obsessed, regardless of the technology or solution. It is easy to be swayed by the most current, sexy technology but we need to ask ourselves if this is what the customer needs." – Jonathan Lim, Head of Transformation Program Office (Director), Singapore Pools
Coming to an end, we always come back to brand and its impact on customers and communities.
"Conventional/Legacy brands need to listen deeply to consumers to unlock new revenue streams and need to become a part of culture to stay relevant." – Ramesh Yadav, Chief Marketing Officer, Baidyanath Group
Brands now also need to take into consideration the values of their consumers. Sustainable marketing has now appeared in the MarTech landscape as brands realign their values.
Our audience shared their views on sustainability with our 2 speakers: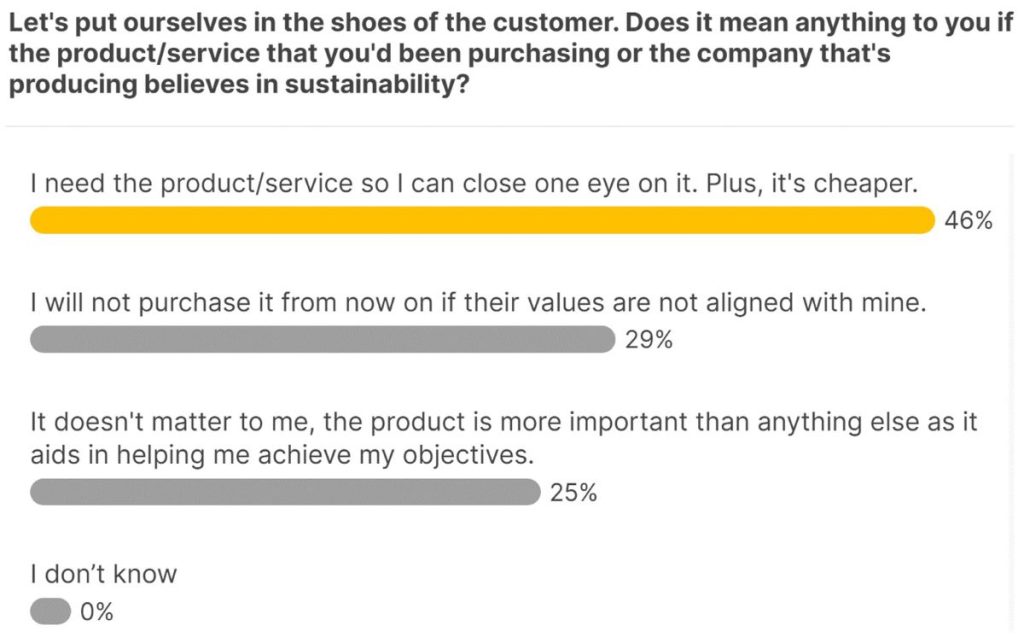 "Today, brands are no longer just talking about how good their products and services are, nor are they just focusing on bringing in sales. It is vital that companies build brand trust by being purpose-driven in their marketing and creating compelling stories that touch the hearts and minds of the consumers." – Donovan Chee, Head of Marketing & Communications, South East Asia, Bureau Veritas
After a fruitful discussion, our speakers then asked a follow-up question, and got back to the root of why we market?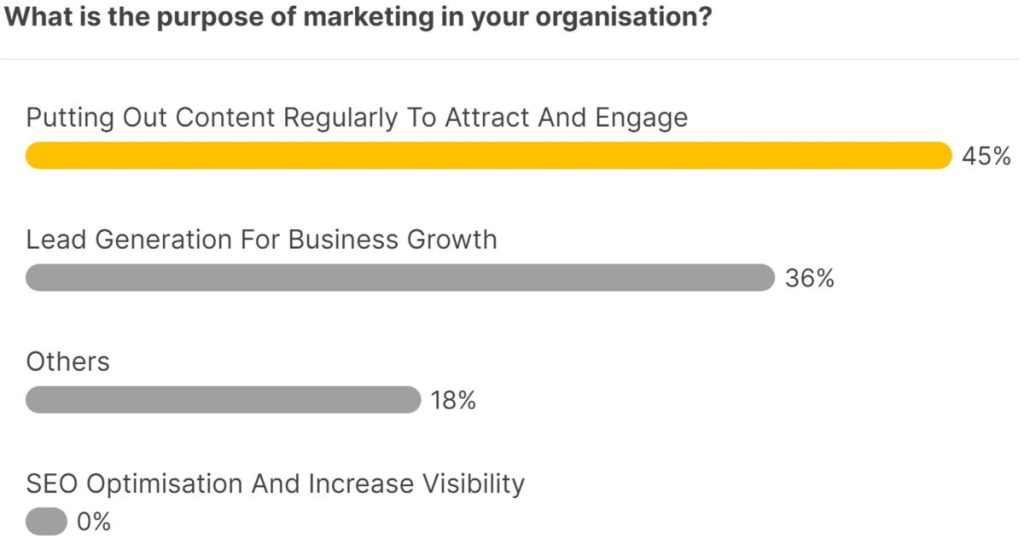 Future Engagement
The MarTech Summit Team is delighted to have hosted an elite and engaging community once again. Stay tuned for more to come by following our social media accounts and joining The MarTech Community on Slack!
Find us on:
Last but not least, we are also running a Virtual Summit in May! It's free to sign up and you can learn and interact with 20+ speakers! After the Livestream sessions, the summit is also available On-Demand!
More information here: https://themartechsummit.com/virtual-apac
We'll also be heading to Jakarta, Hong Kong, Bangkok, Singapore again and London! To see more information please check out: https://themartechsummit.com/events/
By: Teddy Fung, May 2023