Kicking Off 2023
The year of 2023 was kicked-off with our Global Virtual MarTech Summit covering both the EMEA & APAC regions. The gathering of over 45+ leaders & experts in the field of MarTech revealed both pain points & best practices for the industry through significant topics such as recent advancements in communication technologies, lead generations, talent development & so much more.
Joining us in the EMEA track itself, we had over 650 participants from 48+ countries, with representation from companies such as PepsiCo, EY, Philipp Morris, and Saint-Gobain.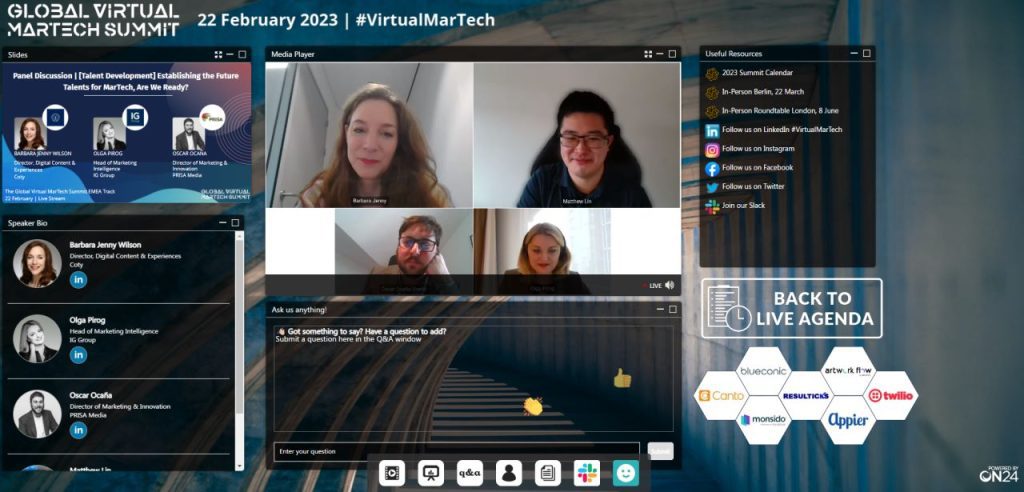 With an overlapping global panel, the two regions were successfully joined back-to-back through a very relevant topic on being "Future Ready" over finding out what was learnt from 2022 and how to prepare for 2023 coming ahead.
Key Takeaways
Here are some of our team's key takeaways from this summit:
Any transformation starts with alignment of goals between team members & all business units. With successful project management skills, transparency between departments, the right tools and dedication within the teams it means that you have the right ingredients for this.  
Data can give you direction but can also take you on a detour if misinterpreted therefore we need to Be clear on your goals, be specific on your target, and be consistent on your improvements 
In 2023, companies must be both agile and trustworthy, align sales and marketing goals, maintain a clear focus in execution, showcase their culture, and demonstrate empathy and insights from their people to succeed in the market. 
Summit Highlights
Let's now check out some highlights of the summit:

Through our panel discussion on internal communications, it was surprising to discover that 68% of our audience found that the remote style of working did not negatively impact their team's ability to communicate well. It was later concluded that the impact of hybrid working on a team's ability to communicate well depended highly on how intentional and adaptable the team is in their communication practices, such as when Kirstie Leadley from ZEDRA emphasized that we have "no excuse not to collaborate with the tools that are now available".

A very interesting term – "MarTech-washing" was bought up by Mahbir Thukral, Global Innovation Activation Marketing Leader, IFF through the topic of digital transformation. Mahbir described this notion as a similar effect to Greenwashing where "whatever is trending, we … automatically jump onto it because we have some #FOMO". This was later elaborated and tied with how to work smarter and not harder where Thomas Clausen, Head of Digital Transformation, Saint-Gobain Nordic & Baltics put emphasis on how we should "listen and see movements and trends from the industries" with the intention of making it "easier for our customer's" and not just implementing just for the sake of implementing or being "MarTech-washed".
Now let's hear some of our speaker's thoughts…
On Talent Development:
Barbara Jenny Wilson, Director, Digital Content & Experiences, Coty: "Talent development is key in this space, because change management skills become more important as tech keeps changing. This means that retaining the right people is more valuable longer term than hiring new."
Oscar Ocaña, Director of Marketing and Innovation, PRISA Media: "A company will always be able to "buy" the technical skill required at that moment for the job, but the right attitude and leadership capabilities will get you/and the company there in the long term."
On Internal Communications:
Davina Moore, Head of Digital Marketing, NXP Semiconductors: "Our greatest strength as a team is being different – and using that to help others learn."
Maja Sand-Grimnitz, Director, Brand Management & Global Gaming Marketing, EPOS: "Understanding of business strategy and must wins is the foundation for constructive communication across expertise, departments, and personalities – and it is everybody's responsible to secure this understanding in the individual team members and the organization as a whole."
Kirstie Leadley, Head of UK Marketing & Group Digital, ZEDRA: "There's no excuse not to collaborate with the tools that are now available, but it takes conscious effort to stay on top of ensuring everyone feels part of projects. It doesn't necessarily come naturally to all of us, but it can be learnt."
Calvin Tran, Head of Digital Marketing, CBRE: "Digital transformation starts with alignment of goals between team members, business units, and global organization. Incorporate excellent project management skills, transparency, right tools and dedication within the project teams and you have the right ingredients."
On what Demand Generation Success means to their company:
Sascha Bloemhoff, Strategic Marketing Director and Circular Economy Pioneer, Niaga® by Covestro: "reaching clients with a story that is so new that it does not resonate with them, which is why we are generating demand with and through partners and storytelling"
Xenthe Bang, Head, Global Demand Generation, S&P Global Ratings: "being able to follow the journey of a customer from a lead to business revenue and retention thereafter. Understanding the channel sources they initially came from (first-touch) to whether they stay engaged. And lastly, having the insights so that we can invest in what's working to build a steady pipeline."
Future Engagement
On behalf of The MarTech Summit Team, we would like to extend our gratitude to all our speakers, partners, and to all our delegates for tuning into the event.
For those who couldn't make it to the live-sessions, don't worry – you can watch all the sessions on-demand here (available until 22 May 2023. Please contact us at: hello@themartechsummit.com for access hereafter).
Or if you'd like to join us in-person, the registration for our next London event, taking place on 8th June – The MarTech Summit Roundtable is open: https://themartechsummit.com/roundtable-london
We are pleased to have hosted such an elite and engaging community. Stay tuned for more to come by following our social media accounts and joining The MarTech Community on Slack! We hope that you continue to leverage the power of MarTech and that you will find these sessions insightful, informative, and valuable  
Find us here:
By: Anne Su, March 2023