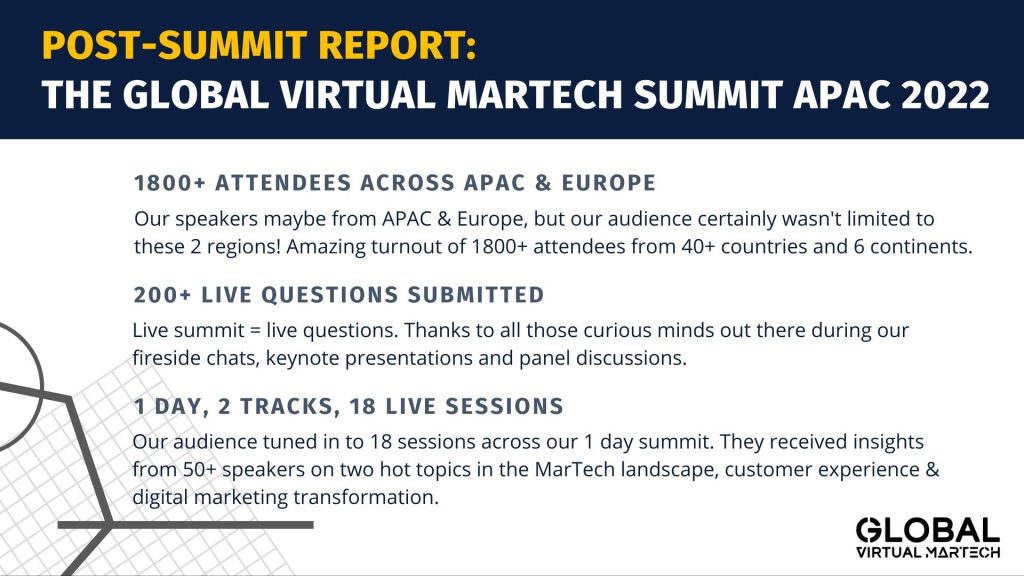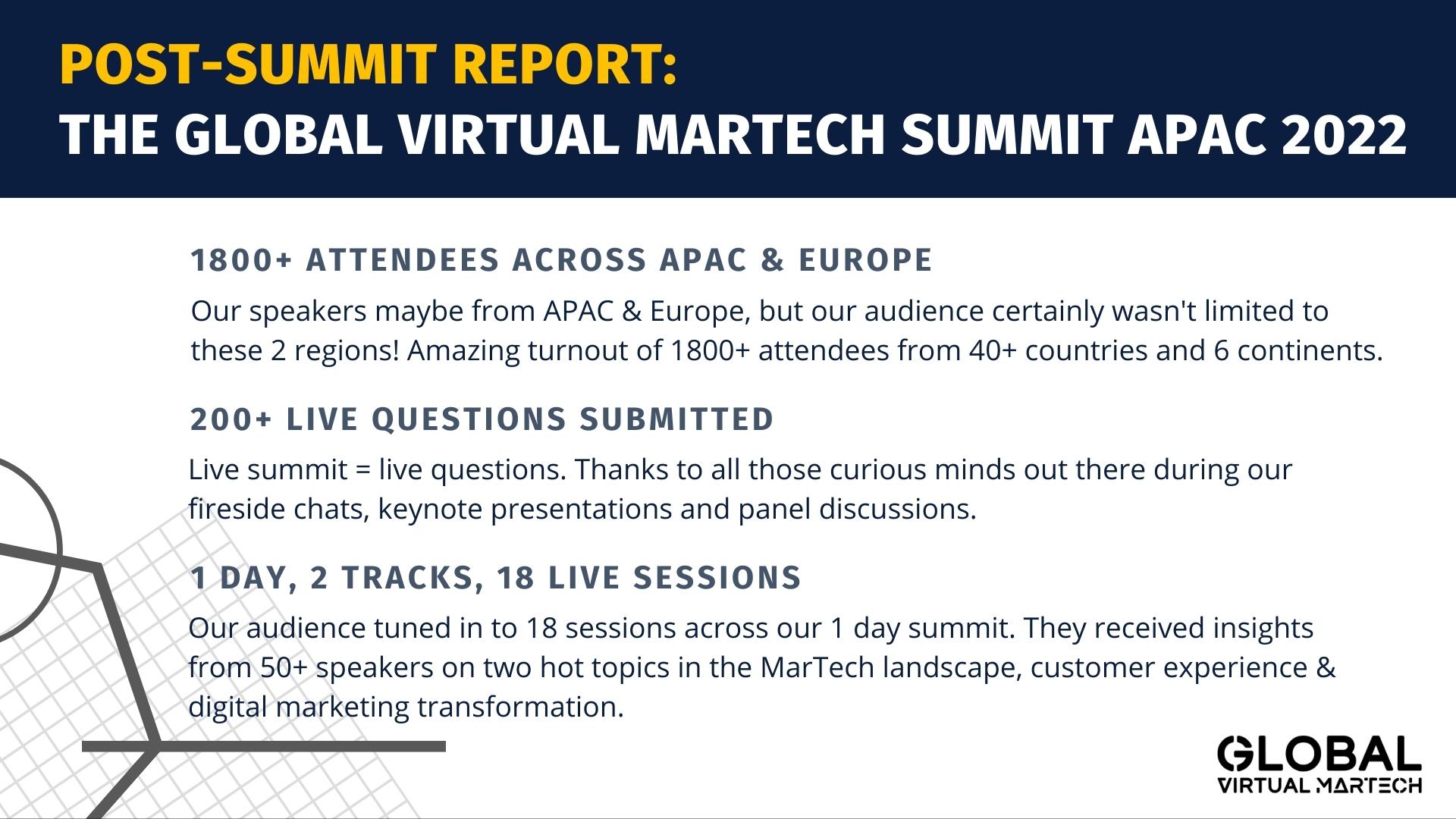 The Global Virtual MarTech Summit APAC 2022 took place on 24th August 2022. It was a fantastic experience again, thanks to the MarTech community!
This edition of the Global Virtual MarTech Summit had a special focus on APAC. It gathered more than 29 pioneering thought-leaders from global companies around the world operating in various verticals.
There were 10 sessions including fireside chats, panel discussions, and keynote presentations being delivered to 500+ live attendees.
Key Takeaways
Here are some of our team's key takeaways from this summit:
Content will always be king. However, different content is more powerful on different platforms, for different audiences.
As consumers become more concerned with the environment, social and governmental actions/inaction your "story" becomes more and more important.
Know your clients well and how we can provide a better client experience. Within that framework, it is easier to navigate what trends are most important for our priorities and adopt them quickly.
Live Poll Results
And now the spotlight is on our audience. Let's hear their voice by looking at some insights from the 'Live' poll questions:


As live streaming & short video is one of the popular trends. TikTok has become one of the top choices of marketers.

Moving to another important trend in MarTech during Covid – Virtual experience: How to run a big and successful webinar drawing huge attention from different industries. From our audience members' point of view, "fighting digital fatigue and getting people to attend" has become the biggest challenge during the process.

When it comes to the topic of storytelling VS. search engine marketing, our audience believes the correct order is starting with the story but making SEO a priority too

Speaker Quotes
And your favourite part, the notable quotes we highlighted from the summit:
"O2O commerce doesn't stop at developing websites or mobile APPs, developing mini-programs and onboarding to mobile wallets is the new opportunity to convert mobile wallet users."
– Angela Wang, Head of Marketing, Global Merchants Partnerships, South & Southeast Asia, Ant Group
"Omnichannel and O2O marketing is inevitable in our time. We must adopt it at our own pace while noticing the trends, where I think mutually beneficial partnerships are the way to go if we want to make the most of these turbulent times."
– Limerick Kurniawan, Customer Experience & Marketing Network Lead for Cluster Asia Emerging Market, Roche Diabetes
"The data is just information, and the tech is just a toy if there is no strategy. So take the time to build true marketing and technology (MarTech) partnerships. Help business partners to understand the art of the possible. Give Technology skin in the game to help solve real business problems with real deadlines."
– Lisa Dickson, Head of Marketing Automation, Bupa Personalisation, Bupa
"When shifting to marketing automation, change management becomes very critical. Change management will need to deploy for all aspects: platform, resource, capability readiness, CRM and KPIs tracking. Being well prepared in change management will help us a lot in bringing the whole organization to success."
– Le Minh Thong, Head of Commercial Excellence & Digital, Established Pharmaceutical Division, Abbott Vietnam
"Don't be a one-trick pony. Learn the business you work with. Learn different methods of analysis. Learn good storytelling techniques. And you will become invaluable to your business."
– Siim Säinas, Social Measurement & Insights Lead APAC, Google
"Leverage MarTech and integration to capture data along the customer journey, while staying conscious of regulations and its evolving limitations."
– Shirley Law, Global Marketing Leader, Schneider Electric
"Our digital landscape is a constantly evolving space – where new tools and capabilities are introduced at a phenomenal rate. None of that matters though, if the content behind those tools is poor. Content is still the heart of what we need to focus on."
– Davina Moore, Head of Digital Marketing, NXP Semiconductors
"Emerging technologies enabling a plethora of MarTech applications can be overwhelming. Make your MarTech investments with a CX-first approach. Customer experience should be at the heart of every technology & ops decision."
– Aatif Basheer, SVP, Marketing Technology & Operations, Preqin
"Storytelling is integral to the process of sharing your purpose. Bringing alive your brand and products for consumers to buy in to your brand/product."
–Simon Hague, General Manager – Foodservice Chains, Southeast Asia, Kerry
---
Thank you all again for joining us at this edition of the Global Virtual MarTech Summit APAC to share a moment of learning and networking. For those who couldn't make it to our live sessions and felt like you've missed out, don't worry, you still have the opportunity to relive the summit on-demand here.
More to come in the rest of this year! We're running in-person events:
The MarTech Summit Hong Kong, 13 October
The MarTech Summit Bangkok, 19 & 20 October
The MarTech Summit Singapore, 27 October
Reserve your seat now!
Last but not least, The MarTech Summit Team is proud and pleased to have hosted an elite and engaging community once again.
Stay tuned for more to come by following our social media accounts and joining The MarTech Community on Slack!
Find us on:
By: Namsa KangZhu, September 2022