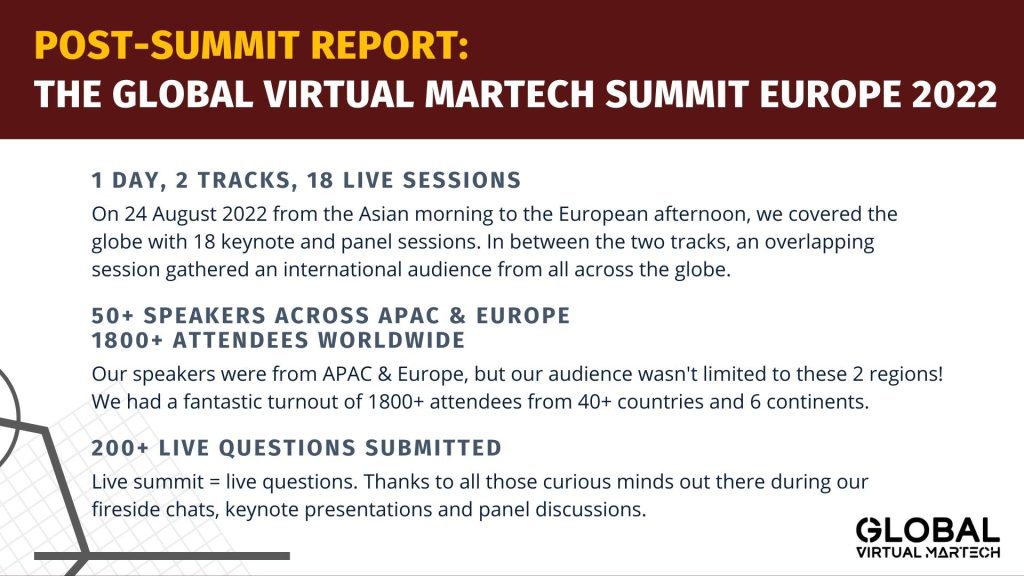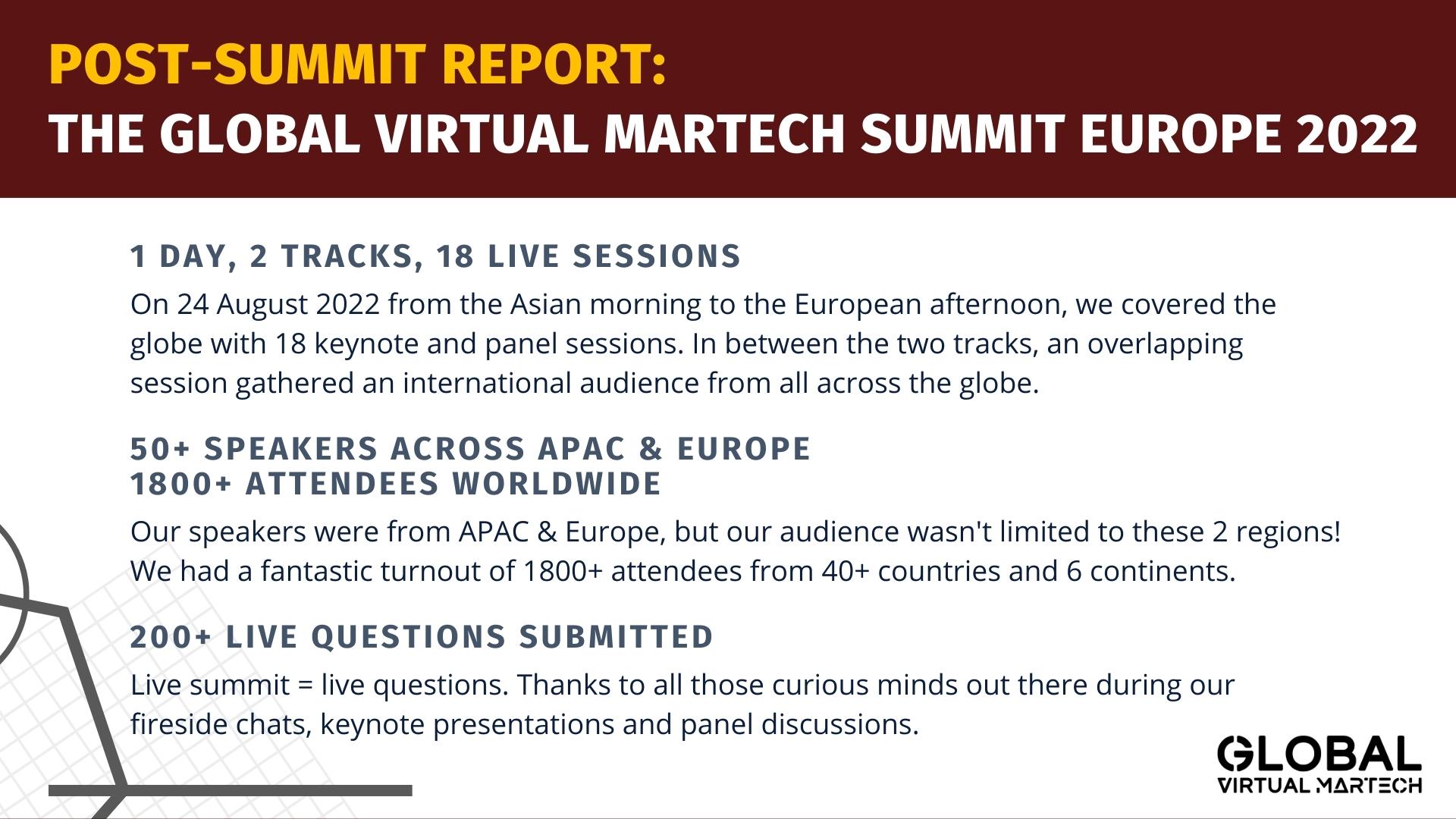 Once Global Virtual MarTech Summit APAC started to wrap up we delved into the first of the Europe agenda with both regions coming together in an overlapping session – a panel with a global view on Future Trends within MarTech for both the APAC and Europe regions.
The remainder of the agenda for the Europe track heard our esteemed speakers talk on leadership, marketing mix modelling, personalisation, customer centricity and more.
All 9 sessions came back to significant findings on customer centricity and that what is on the horizon for MarTech is enhanced customer experience in an integrated manner – Some form of e-commerce website integrated solution. Currently the focus is on silo'd platforms – there will be some forms of convergence down the road – Walking on the path of customer centricity…
Audience polls
During all events we host we pride ourselves on audience engagement and from that we now share the opinions of those watching!
Mix marketing modelling is the hot topic everyone wants to learn more about:

Upskilling is an internal push and shove for many organisations across the region, and how best to spend L&D budget was a topic up for debate:

A data-driven approach is still very much a challenge for many companies:

There was also a great conversation around storytelling and the results prove here that storytelling in a global marketing campaign, is by no stretch of the imagination a "one size fits all" ordeal. Advice given is to research your target audience and their cultural and language differences and nuances, and then work with locally based contacts to test that your messaging feels authentic.

As mentioned, it all came back to being customer-centric and how this requires organisations to keep reviewing how they are structured in terms of people, process and technology. This cannot just be set up once and then forgotten about, it needs nurturing – as highlighted in the responses here:

Speaker Quotes
Now for some notable quotes from our speakers and their key takeaways:
"There is an incredible openness and willingness to experiment with future-proof measurement approaches. We are only at the beginning of ubiquitous privacy safe measurement, but the direction of travel is established and momentum is growing"
– Stephen Lane, Managing Director UK, Analytic Edge
"It is true that some cultures (or genders, or generations) respond better to particular stories than others. Ever noticed how Netflix thumbnails differ if you're watching on your partner's account? But unless you have a large budget, you're going to find it impractical to make wholesale changes for every message. Find the universalities – powerful openings, hero narratives, alleviating pain, whatever it may be and build around those, then tweak for markets – And test your tweaks to see if they work"
– David Hooker, Brand Director, Printify
"Think human to human for internal and external comms!"
– Maja Sand-Grimnitz, Director, Global Gaming Marketing & Brand Management, EPOS
"Know who your ideal customer is and their ideal journey. Go small to go big. Prioritize your goals"
– Neha Dadbhawala, Director, Digital Marketing Operations, McAfee
"Asking the right questions will get you thinking in the right direction. If in doubt start with "Whose objective are we serving?" If the answer isn't the customer then you are probably working in the wrong direction."
– Keith White, Head of Digital Experience, Northern Trains
"Be deliberate about not hiring replicas of yourself. Hire people who are NOT like you and who provide a different point of views and backgrounds"
– Jennifer Braunschweiger, Senior Director and Global Head of Content Marketing, Shutterstock
"Reuse, repost, repurpose. It takes time for something to stick in a person's mind, don't be afraid to reuse content"
– Jennifer Gibson, Head of Marketing, East Hemisphere, EthosEnergy Group
---
Once again, thanks to all MarTech enthusiasts who have tuned in to the Global Virtual MarTech Summit and shared a moment of learning and networking with us. For those who couldn't make it to our live sessions and felt like you've missed out, don't worry, you still have the opportunity to relive the summit on-demand here.
Finally, the registration for our next in-person summit The MarTech Summit London, 17 & 18 November is now open. Simply register a pass for you and your team here – https://themartechsummit.com/london
The MarTech Summit Team is pleased to have hosted an elite and engaging community. Stay tuned for more to come by following our social media accounts and joining The MarTech Community on Slack!
Find us on:
By: Catherine Collinge, September 2022