The First 2023 MarTech Summit
The Global Virtual MarTech Summit APAC 2023 was successfully held on 22nd February 2023. It was a fantastic experience again, thanks to the MarTech community!

Bringing together a diverse range of marketing technology professionals from all over the Asia Pacific region. The summit focused on the latest trends, challenges, and opportunities in the MarTech industry, with a particular emphasis on the APAC market. It gathered more than 21 pioneering thought leaders from global companies operating in various verticals.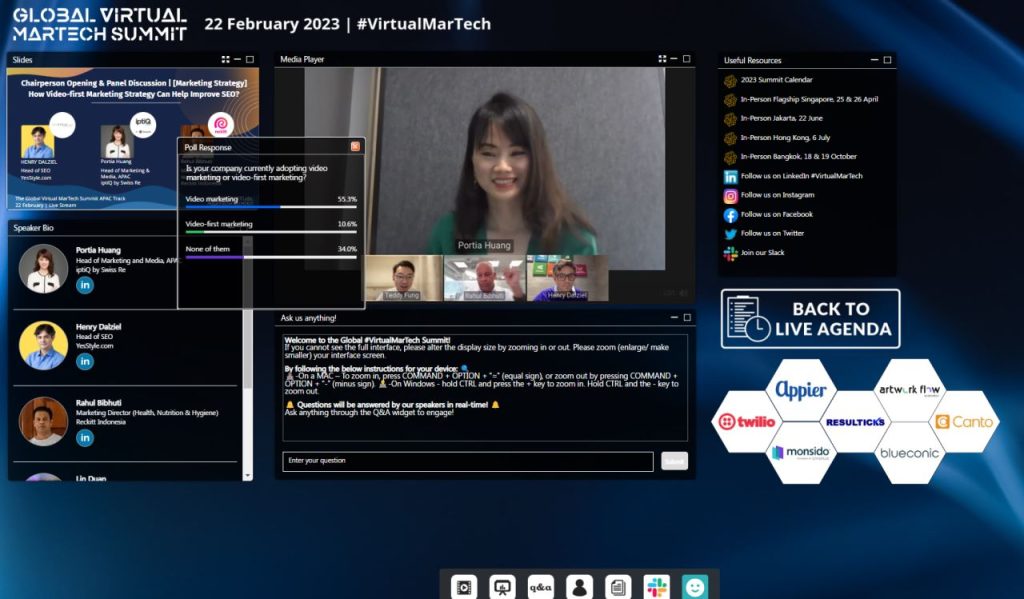 There were 8 sessions including fireside chats, panel discussions, and keynote presentations delivered to 800+ live attendees.
Key Takeaways
Here are some of our team's key takeaways from this summit:
In 2023, companies must be both agile and trustworthy, align sales and marketing goals, maintain a clear focus in execution, showcase their culture, and demonstrate empathy and insights from their people to succeed in the market.
Personalisation and privacy are crucial considerations in MarTech. As consumers become more aware of their data privacy, MarTech professionals must be transparent and ethical in their use of personalisation techniques.
With new technologies emerging all the time, businesses must continually innovate and experiment with new approaches to stay competitive and meet the evolving needs of their customers.
Audience Poll Results

Starting with a data related one, only 8.8% didn't trust business data presented in their organisation, and over 60% didn't always trust and had concerns about the data they didn't extract the information from.

For the question about visuals versus sound in content marketing, only less then 2.6% chose <50% of the time for visuals, you can tell visuals are becoming a curious part of content now.

Moving to another important new trend in MarTech – no-code, we're pretty sure our audience members are conscious of the importance of no-code strategy but still is not the top priority for now.

Regarding big operations and big data, most of our attendees believe that there is still room for improvement and that the potential has not yet reached its peak.

We can see that even though most of our audience has adopted video marketing, less than 10% uses a video-first marketing approach.
Summit Highlights
And your favourite part, the notable quotes and key takeaways we highlighted from the summit:
"Stay human and show your culture, empathy and insights from your people." – Cassius Taylor-Smith, Chief Marketing Officer, Colliers
"Ensure sales & marketing alignment in your goals and a clear focus in your execution. These small change can make a big difference in the final outcome as marketing a revenue-driver for your organisation." – Jasmine de Guzman, Director of International Marketing, Monsido powered by CivicPlus
"If the brands can utilise sound better, they can get a person to favor to the brand every 0.146 second. " – Christy Chau, Head of Marketing, APAC, ECOVACS Robotics
"Big Ops is the layer that consumes and ultimately generates value from Big Data. Personalisation as an example of value-added contribution of Big Ops to Customer Experience." – Victor Cobo Ramirez, Director, Customer Portfolio and eCommerce Product Owner, Manulife
"Big Ops development requires enterprise wide changes and leadership buying. It will bring together a lot of departments to work together to account for the larger picture while solving specific problems" – Akanksha Rastogi, Head of Data & Insights, foodpanda Thailand
"Decision to use a no-code/low-code solution or a high-code solution will depend on the specific requirements and constraints of the project – Complexity, Customisation, and Performance" –Nathdanai Kwansiripat, Head of Digital Transformation, Bank of Ayudhya
"Some of the no-code and/or low-code apps can be explored to improve efficiency and foster productivity and collaboration for the business. The trick is to remain open minded and be inquisitive and resilient to try out the new available tools to find which ones suit you / your business needs best." – Ria Sutrisno, Chief Marketing Officer, Sampoerna Schools System
"We live VISUALLY. Put video content at the forefront of your marketing efforts, and put your customers at heart when creating and distributing videos, at whatever touch points you're engaging them." – Portia Huang, Head of Marketing & Media, APAC, iptiQ by Swiss Re
Future Engagement
Looking ahead, it is clear that the MarTech industry in APAC will continue to grow and evolve at a rapid pace. With new technologies emerging all the time, businesses must stay on top of the latest trends and developments if they want to remain competitive. The Global Virtual MarTech Summit APAC was a valuable step in this direction, and it will undoubtedly continue to be an essential event for MarTech professionals in the years to come.
Thank you all again for having joined us at this edition of the Global Virtual MarTech Summit to share a moment of learning and networking. For those who couldn't make it to our live sessions and felt like you've missed out, don't worry, you still have the opportunity to relive the summit on-demand here.
More to come in this year! Check more details below:
The MarTech Summit Singapore, Tuesday & Wednesday, 25 & 26 April
The MarTech Summit Jakarta, Thursday, 22 June
The MarTech Summit Hong Kong, Thursday, 6 July
The MarTech Summit Bangkok, Wednesday & Thursday, 18 & 19 October
Reserve your seat now!
Last but not least, The MarTech Summit Team is proud and pleased to have hosted an elite and engaging community once again. Stay tuned for more to come by following our social media accounts and joining The MarTech Community on Slack!
Find us on:

By: Namsa KangZhu, March 2023