The Final Virtual Gathering in 2022
The Virtual MarTech Exchange Summit successfully took place on 8th December 2022. It was a fantastic experience again, thanks to the MarTech community!

For this edition of the Virtual MarTech Exchange Summit, we were hosting back-to-back interviews with MarTech thought-leaders to hear their answers to the "Most Asked Questions" we had from our audience during our 2022 events. We covered MarTech pain points and what the future holds regarding a re-emergence strategy. We gathered 14 pioneering leaders & experts from global companies operating in varied verticals.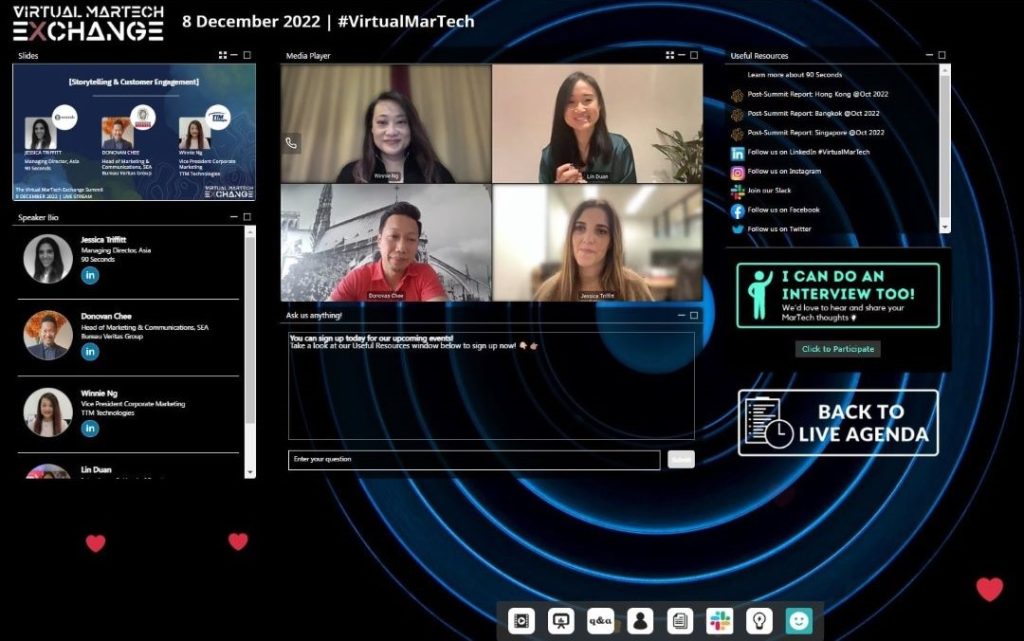 7 interview sessions were delivered to 600+ live attendees, involving a selection of MarTech topics, including Customer Data, Digital Experience, Personalisation, Digital Transformation, Customer Engagement & more!
Summit Highlights
Some notable highlights and takeaways from our speaker interviews across the summit:
''In transformation, the digital team will be restructured. So the manual processes are converted to automated flows and services, for some functions. There will be less people, especially where routine works are converted to programs that are serviced by a set of algorithms. However, if you look at the company history, there won't be less people since we need more people at the backend to make sure that the digital experience is stable to service customers" – Jaslin Goh, Chief Marketing Officer, PayMe by HSBC
''In some cases where digital transformation is not successful it is because the right partners have not been engaged, and usually is not about understanding what is the right partner, it is about how much we are clear with our business strategy'' – Shann Chow, Global Digital, Product Owner, CRM and Marketing Automation, FrieslandCampina
"We already had a stellar line-up of content, topics and speakers so it's about taking the overall event experience to the next level. While content is important, always remember virtual events are an experience – a total package, and how you deliver the content/message is the critical success factor". – Iris Chan, Head of Demand and Growth, APAC, Autodesk
"To develop a more compelling story, I think we need start with some emotion first and then combine with logic and facts that we analyse monthly, in this way we can develop the story brings a lot of resonance and the audience would feel very engaged with the daily life" – Winnie Ng, Vice President Corporate Marketing, TTM Technologies
''Align to your boss's goals when you trying to convince business and management to invite in storytelling production'' – Donovan Chee, Head of Marketing & Communications, SEA, Bureau Veritas Group
''Customer experience changes during the transition from older forms to a digitally dominated landscape, but I always believe and narrate it through these – content, customize, compare, convenience, connect, culture, corporation, consent and control'' – Abhishek Rathi, VP, Digital Solutions & Customer Engagement, Prudential Financial
''In DBS, we work very horizontally across the team, that helps us drive more understanding on the different touchpoints and helps us to contribute a more seamless experience for our customers'' – Adrian Tan, Senior Vice President Marketing & Marketing Communications, DBS Bank
''I believe that personalization enhances the brand experience, and if it has been delivered properly, we can actually bring better perceived value and engagement, that is why I think every brand needs personalisation'' – Nirmal Nair, VP Marketing & Sales – Nissan Importer Business Unit ASEAN, Nissan Motor Corporation
''Pursuit progress, not perfection when it comes to great data and intelligence'' –
Ryan Ducie, Group Head of Marketing, Hyphen Group
''It's important to zoom out from the use cases of the project sometimes, because when it comes to the use cases, very much likely you are focused on building a capability of delivering an output, but the adoption of a machine learning model or business intelligence is also very key to our business outcomes'' – Abhishek Sharma, Group Data Transformation Lead, AIA
Future Engagement
Thank you all again for having joined us at this edition of the Virtual MarTech Exchange Summit to share a moment of learning and networking. For those who couldn't make it to our live sessions and feel like you've missed out, don't worry, you still have the opportunity to relive the summit with the access you can get from here.
More to come this year! We're running our Global Virtual MarTech Summit on 22 February, covering the APAC and EMEA regions! You can sign up now.
And more new in-person locations have been unlocked down, please check our 2023 calendar here: https://themartechsummit.com/events/
Reserve your seat now!
The MarTech Summit Team is delighted to have hosted an elite and engaging community once again. Stay tuned for more to come by following our social media accounts and joining The MarTech Community on Slack!
Find us on:
By: Namsa KangZhu, December 2022