The Virtual MarTech Summit Vietnam 2023, held on September 19, 2023, was a resounding success, and we extend our heartfelt gratitude to the MarTech community for their enthusiastic participation.
In an ever-evolving digital landscape where technological advancements constantly influence consumer behaviour, the creation of impactful digital experiences has become paramount for effectively reaching the desired audience. In this dynamic environment, both tech-savvy adopters and the consumers of tomorrow are poised to demand immediate solutions, unparalleled accessibility, and cutting-edge technology.
As we transition to the "next normal", businesses are preparing to navigate an era characterised by customisation, connectivity, and coherence.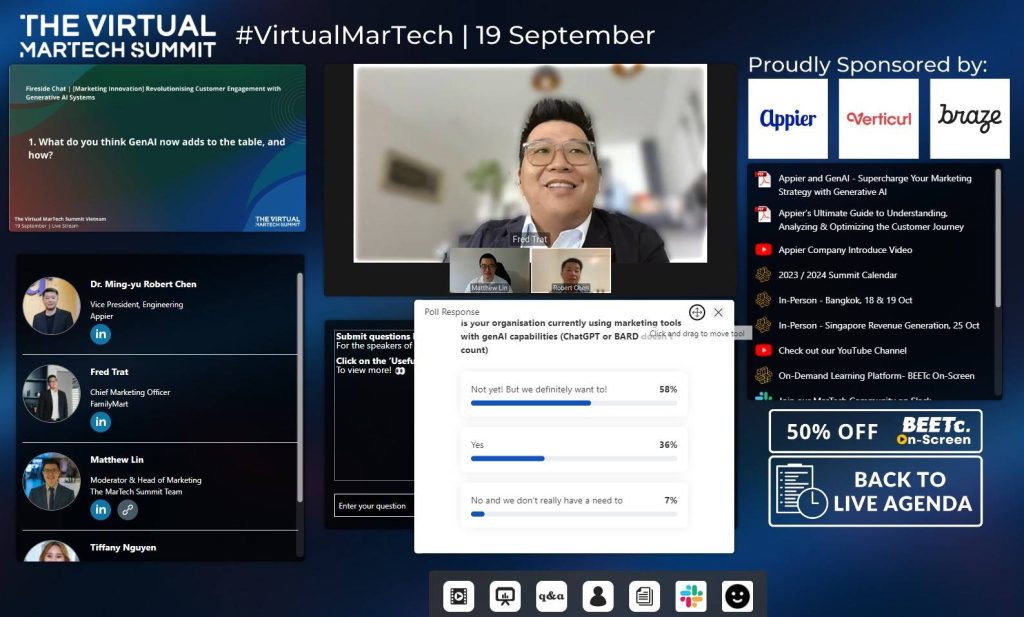 This summit served as a gathering ground for an array of Marketing Technology professionals hailing from various corners of Vietnam. The event featured a well-rounded agenda that incorporated Fireside Chats, Panel Discussions, and Expert Talks. Esteemed thought leaders delved into pioneering topics such as MarTech Stack, MarTech Trends, Content Marketing, Omnichannel Marketing, Customer Data, and Marketing Innovation, among others.
We were honoured to host over 15 distinguished thought leaders representing global and local companies operating in Vietnam, and we were delighted to welcome more than 200 live attendees to the event. The diversity of industries represented at the summit also greatly enriched the learning and networking experiences.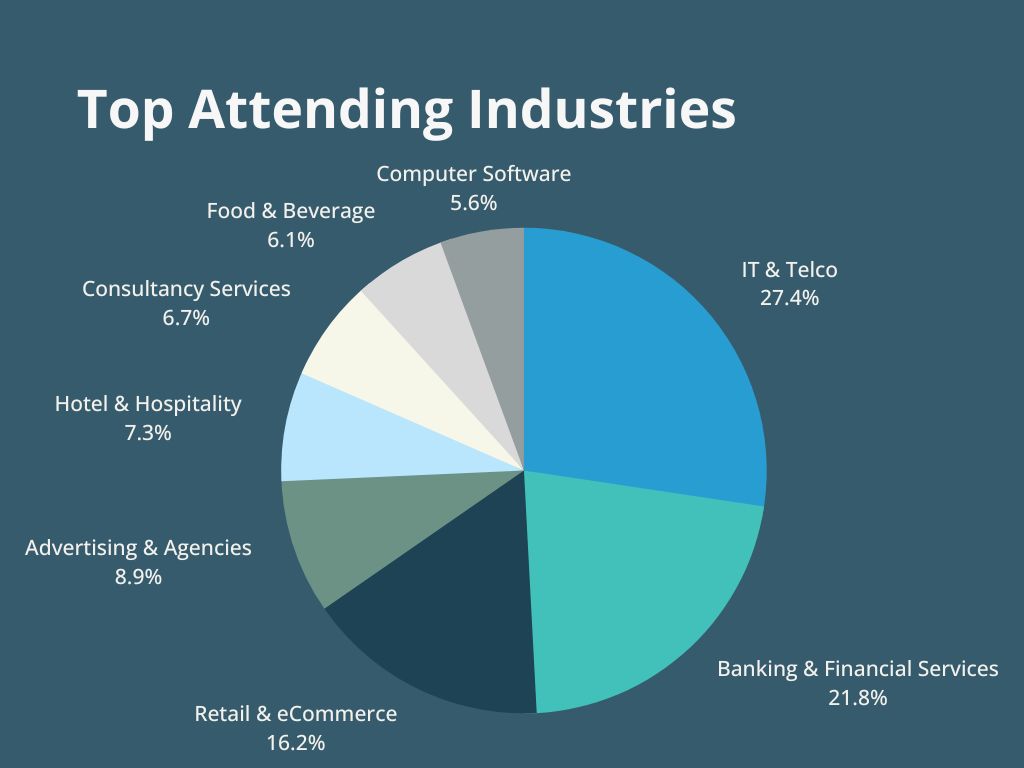 Additionally, over 95% were in leadership positions and above. And about 50% were from companies with a headcount of 501+.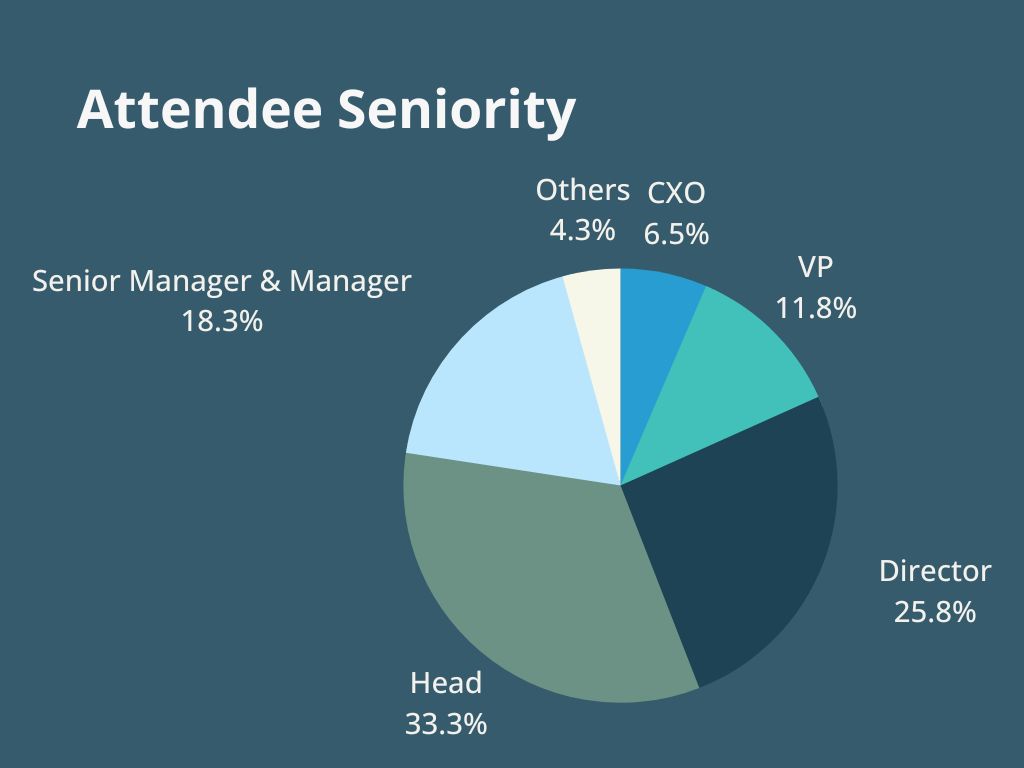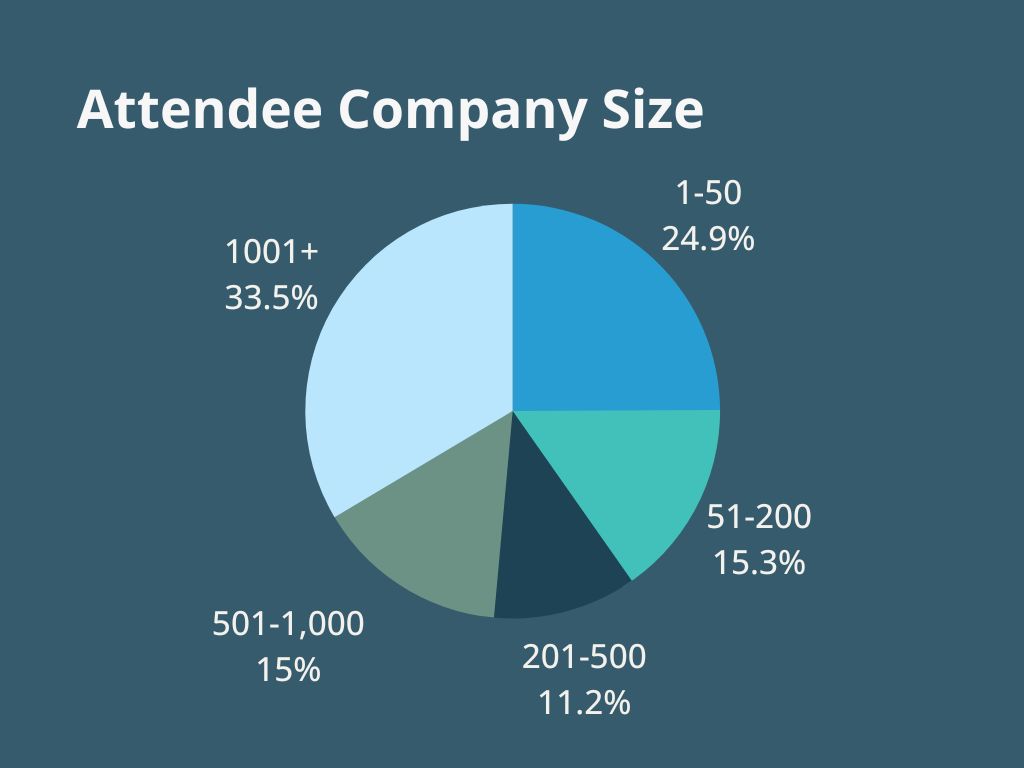 Summit Highlights
Now, the spotlight shifts to our invaluable audience. Let us identify insights from their perspectives by examining the results of the poll questions:

Starting with the factor behind MarTech success, 50% of attendee believe a clear business strategy is the most important factor, and less than 5% didn't trust resources & budget will affect much on MarTech success in their organisation.

Moving to the question related to current marketing tools with GenAI capabilities. Clearly, over 90% of attendee company is currently using or definitely want to explore marketing tools with GenAI in the future. From these points of view, GenAI will inevitably be one of the next MarTech revolutions in the upcoming days.

Moving to another important theme in MarTech – data optimisation, we're pretty sure our audience members are conscious of the importance of Business Needs related to data optimisation.

Regarding sales channels in the next 5 years in Vietnam & SEA, Ecommerce is still valued as the largest portion of sales revenue. However, social media & AI commerce were also mentioned by our attendees.

Instagram, LinkedIn, Facebook & TikTok were identified as the top 4 social media platforms in Vietnam according to our audience. TikTok has been a newly rasing platform in the past 5 years.
Key Takeaways
Apart from the inspiring questions and results above. Here comes our MarTech community's favourite part, the notable quotes and key takeaways we highlighted from the summit:
"The full potential of GenAI's application in commerce has yet to be realized. It is important to know that we have truly only started to see the tip of this iceberg. There is a lot to learn and discover. Importantly, we must be aware of the pros and cons in the adoption of any new technology and take an informed and balanced approach forward." – Dr. Ming-yu Robert Chen, Vice President of Engineering, Appier
"GenAI's greatest promise right now is in enabling personalization at an unprecedented scale. Marketers who realize this will be able to harness the power of GenAI to achieve greater efficacy and productivity. " – Fred Trat, Chief Marketing Officer, FamilyMart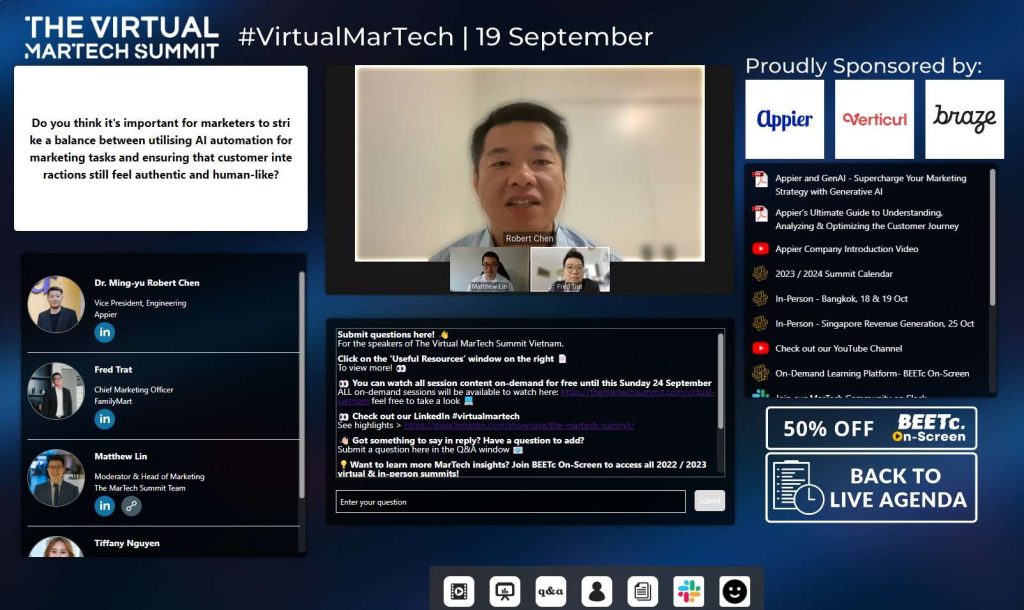 "Customer data optimisation is like gold mining. It takes time and money to invest before generating good outcome. The outcome is different from business to business. It has to be used together with automation for the best result." – Cong Doan Dang, Digital Acceleration & Marketing Lead, McDonald's Vietnam
"Customer behaviour data has become even more important than ever. But how to leverage it without exploiting business' valued customers is critical for every business to evaluate." – Duy-Anh Le, Head of MarTech, Talentnet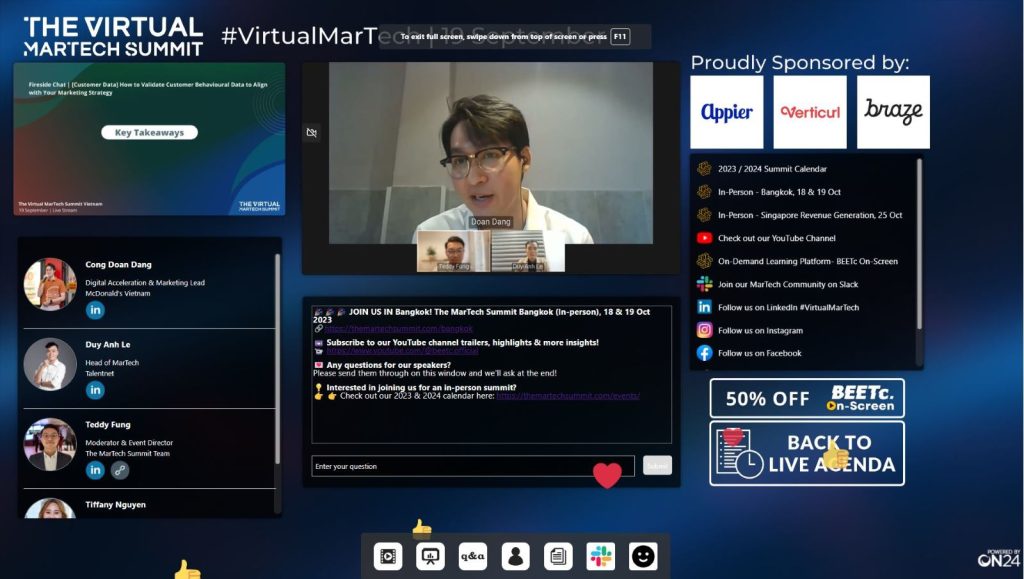 "Many of the companies are the same but what the customer is really buying is The experience of the product that can enhance their life " – Mauro Figueiredo, Director, MarTech & Center of Excellence, Techcombank (TCB)
"When creating content for your content marketing efforts, it's important to remember that the aim of this content is to convince your audiences and convert them into customers. " – Yen Nguyen, Head of Marketing & Communications, Siemens Healthineers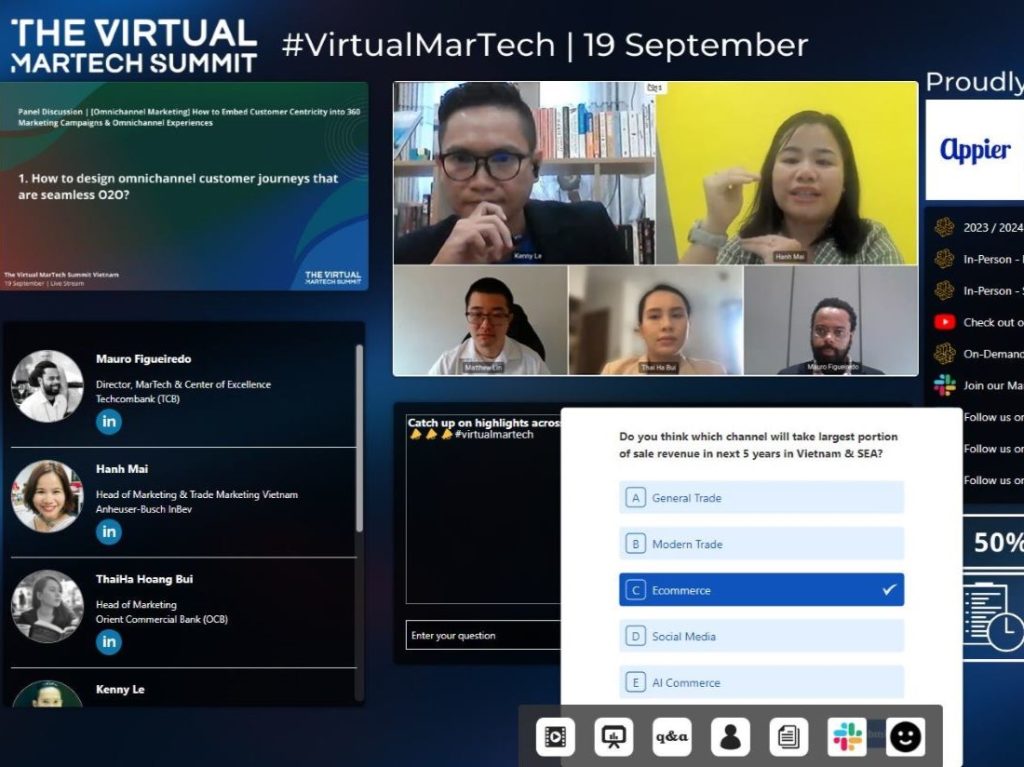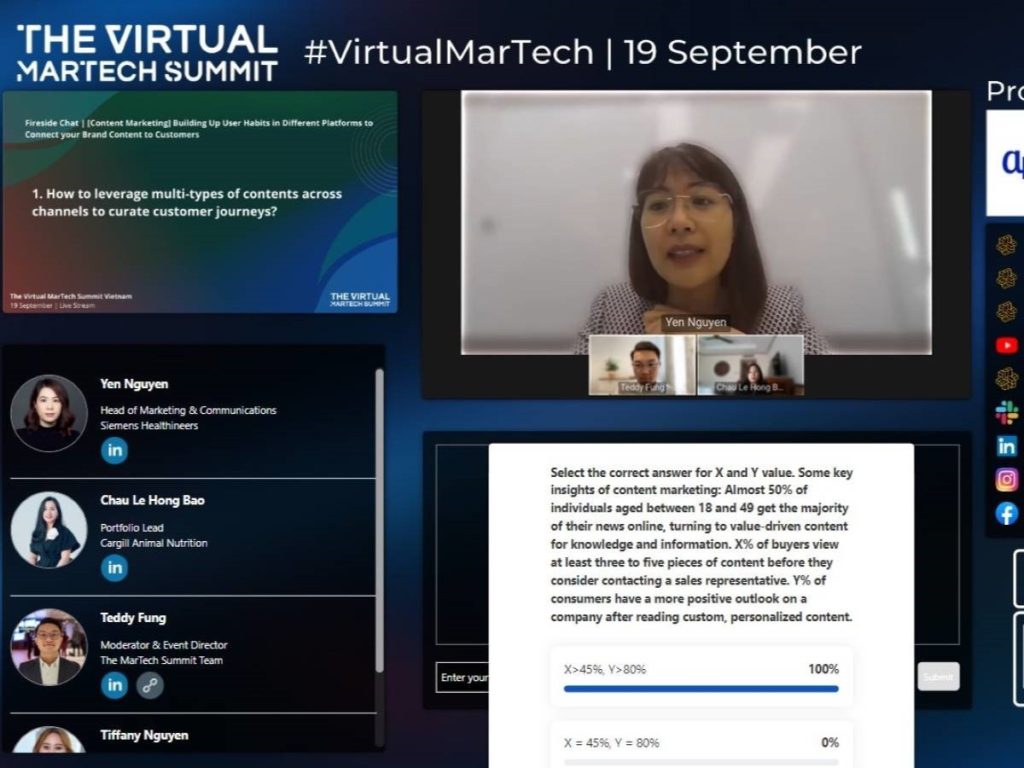 "Creating community stickiness and loyalty through social media platforms requires a thoughtful strategy that aligns with your brand and audience. Understanding your audience, choose the right platform, dual keys: Relevance is key, consistency is key, leverage on UCG." – Thuy Anh Nguyen Do, Director, Brand and Marketing, Vietnam, The Ascott Limited
"Don't rush to grow the community too quickly. Focus on quality over quantity, and ensure that the community culture remains on brand as it expands." – Minh Tuan Vo Dang, Former Head Of Marketing – Levi's, Dockers, Owndays, Banana Republic, Au Chau Fashion & Cosmetics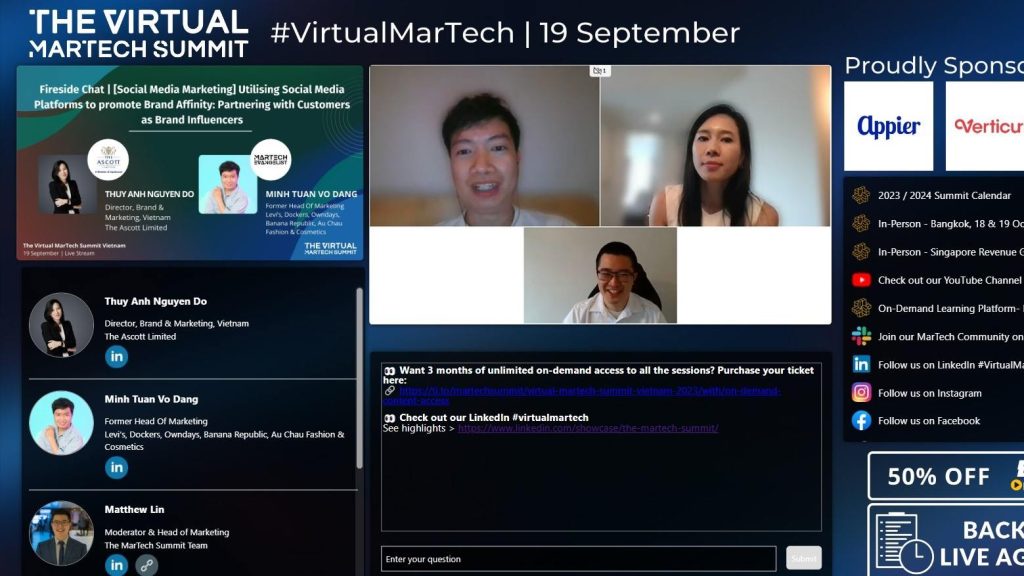 Looking ahead, it is clear that the MarTech industry in Vietnam will continue to grow and evolve at a rapid pace. With new technologies emerging all the time, businesses must stay on top of the latest trends and developments if they want to remain competitive. The Virtual MarTech Summit Vietnam was a valuable step in this direction, and it will undoubtedly continue to be an essential event for MarTech professionals in the years to come.
Future Engagement
Thank you again for joining us at this edition of the Virtual MarTech Summit to share a moment of learning and networking. For those who couldn't make it to our live sessions and felt like you've missed out, don't worry, you still have the opportunity to relive the summit on-demand here.
All the sessions are also uploaded to BEETc On-Screen, our On-Demand Learning Platform, together with all 2022 / 2023 summit recordings from The MarTech Summit & CXO Innovation Summit series!
For more summits to come in this year, check more details below:
2023 Upcoming Summits: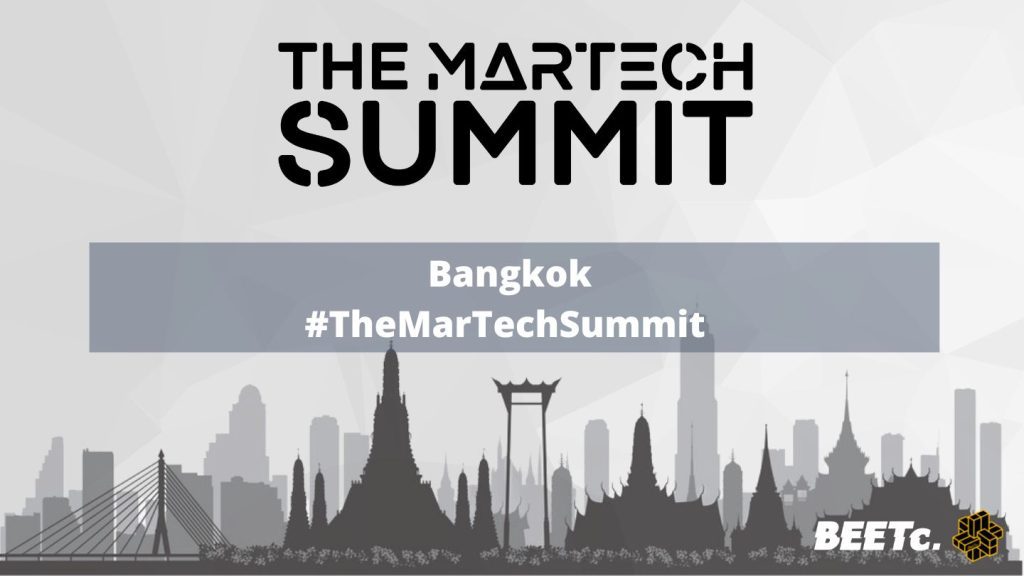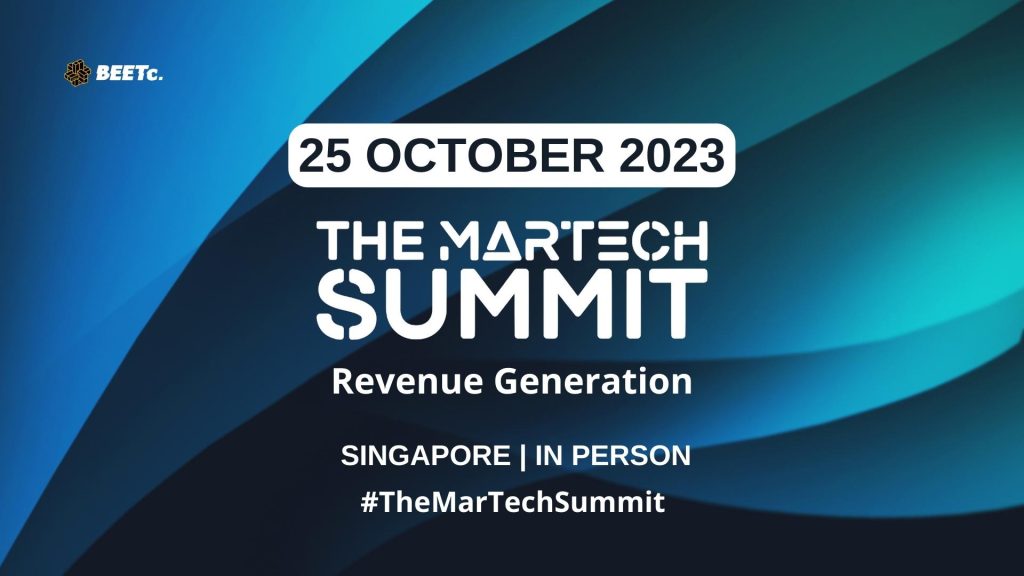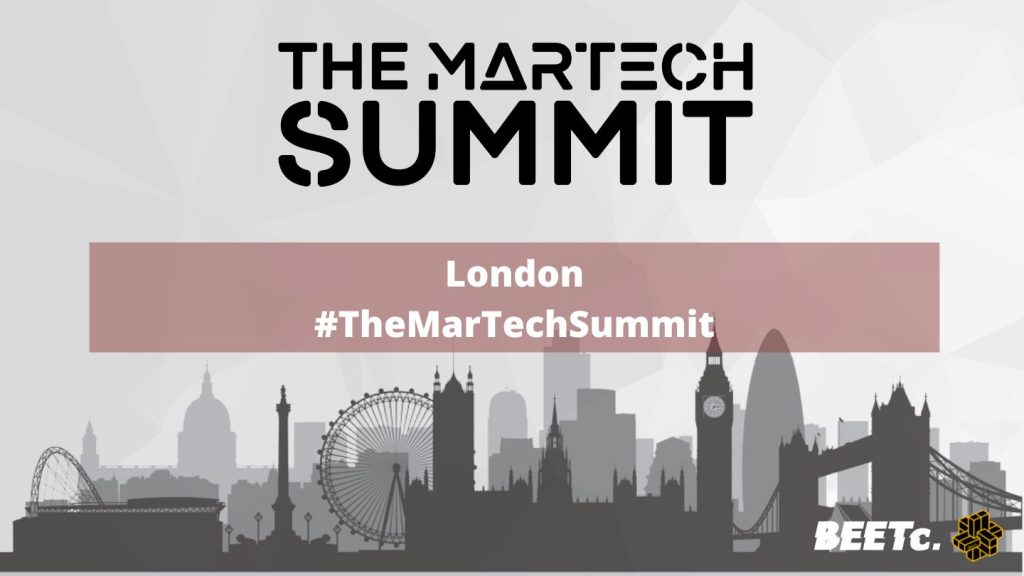 Reserve your seats now!
Lastly, The MarTech Summit Team is proud and pleased to have hosted an elite and engaging community once again. Stay tuned for more to come by following our social media accounts and joining The MarTech Community on Slack!
Find our summit updates and latest MarTech insights on:
Check out the Summit Trailer we had on YouTube for The Virtual MarTech Summit Vietnam, and follow us to see our upcoming updates!
By: Namsa Kang, Sep 2023