Our objective when putting together The MarTech Summit London: Digital Experience 2022 was to ensure that being one of many people's first in-person events to attend in a few years that it was full of worthy speakers, exciting future trends and a chance for everyone to network. We did it!
The event took place at etc.venues 133 Houndsditch London on Tuesday 24th May. A massive thank you to all of the attendees, sponsors and speakers that took part and gave positive feedback throughout.
We were keen for this to be a shared learning event and the format of the agenda and networking opportunities were fundamental to this exchange. The panels gave the attendees the opportunity to raise questions and give opinions through polls and Q&A sessions.
Following the past couple of years, we wanted to tailor for the thirst for all of those organisations that had had to pivot quickly and adapt to a digital-first world.
We wanted to make this Digital Experience themed summit, knowing that it would also be relevant to those who are aiming to sustain their digital efforts. And not forgetting those organisations that already existed in this state in the digital space helping them see how they can stay abreast of knowledge. This being as we all try to achieve a great digital customer experience for our consumers – possible only because of digital technologies.
The summit attracted an incredible number of attendees from cross-industry companies to listen to 13+ live sessions from 35+ speakers that included a mixture of presentation formats, including lightning talks, keynotes and panels, but also with a chance for the audience to participate during poll questions and Q&A opportunities
A titillating conversation around Customer Data Platforms is where we kicked off the day, and it is unanimous that CDP is not optional anymore… or at least that is what was discussed by our panel.
"A unified data strategy allows brands to understand their customers, and customers, now more than ever want to be heard and understood by the brands they love. Thus, now, even the most traditional brands are aiming for a seamless digital experience."
– Joana Tene, Global Head of MarTech, Whirlpool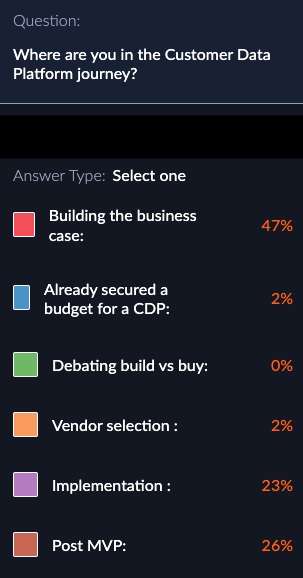 It was really stripped back to the fundamentals for a panel discussion around – How to Ensure Brand & Content Consistency on a Global Scale: "Be crystal clear on what your values are and what your message is to stay consistently relevant locally and globally."
– Gauri Jaisingh, Senior Director Brand and Content Strategy, JLL
A real highlight during the agenda was a discussion on storytelling and community building from which we saw a lot of great quotes come:
"It's very much about when, where and how do you engage with your customers as much as your message."
– Clare Beaumont-Adam, Head of Brand and Marcomms, Make-A-Wish UK.
"Not the Content but the context is king. We need to think about if the channel we're using is right for the story that we tell and also what time are we delivering that story."
– Anoo Mehmi, Global Digital Director, ConvaTec.
And my favourite: "Marketing is like a first date – if you just talk about yourself, there won't be a second one"
– Heike O'Leary, CMO, Haines Watts
A lot of the conversation around future trends and preparing for tomorrow's consumer, today, landed in conversations around the Metaverse. When asking the audience "is your brand already in the metaverse?"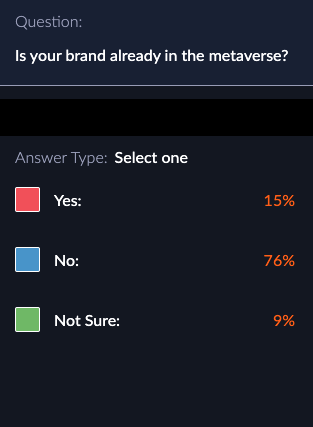 Vanessa Lovatt from Glisser and her co-panelists brought it back to human experiences within their discussion on "How to Navigate the Opportunities and Overcome the Challenges of a Connected Digital Experience": Concluding on the fact that a human-first approach is a must-have and the technology is there to deliver.
Thank you to all of our engaged attendees who submitted a total of over 100 questions during the day for our speakers.
It was a summit packed with insights, case studies and knowledge shared around Digital Experience and MarTech. Time to showcase a couple of key takeaways which we saw come up time and time again:
Content is a product in itself – one that needs to support your core business. In that sense, make it as customer-centric as whatever it is that you are treating your (actual) product.
Consumers are looking for authentic, engaging content with an omnichannel experience. The need of the hour is to effectively use data intelligence to create a unique personalized journey for your customers.
And something for the audience to go back to the office and think about: Who else in my team, or my organisation, do I need to get invested in improving the digital experience and our personalisation programme, and how do I do that?
The good news is we have our Global Virtual MarTech Summit Europe in August where you can sign up now for free here: https://themartechsummit.com/global-virtual-europe
And we're back for a two-day in-person event in November with brand new speakers and topics! We are running Super Early Bird discounts now where you can get £300 off your ticket, today: https://themartechsummit.com/london
We had such a great day, a big thank you to all that made it what it was!
By: Catherine Collinge