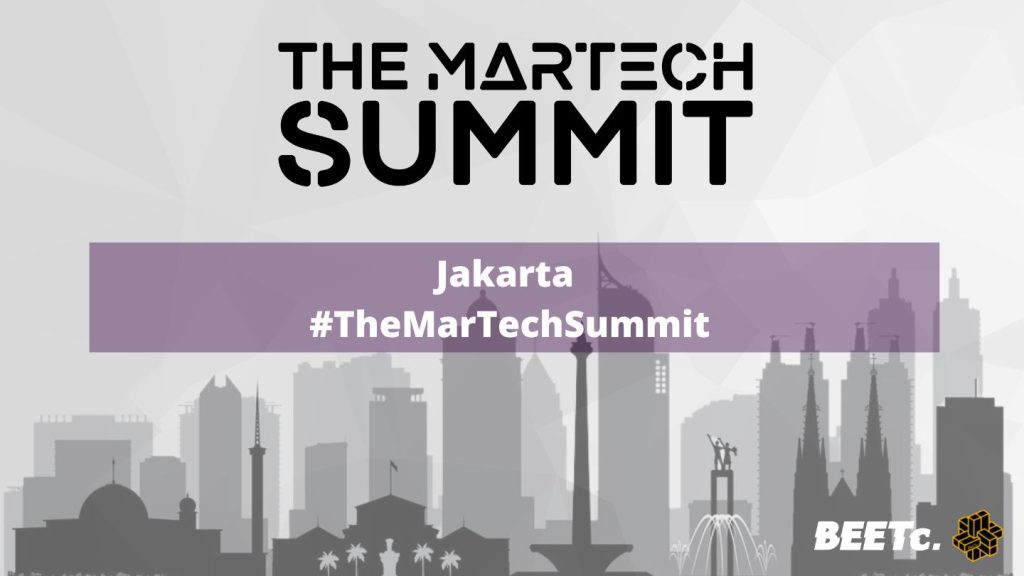 The MarTech Summit is Landing in Jakarta! 
The MarTech Summit is coming to Jakarta in June 2023! We have gathered a great deal of speakers and attendees from Indonesia since our first virtual MarTech summits. And in 2023 we are bringing the best in-person MarTech experience to the Mandarin Oriental Jakarta!
On 22 June 2023, The MarTech Summit will bring together 25+ MarTech thought leaders and 120+ attendees from all industries, exploring the latest MarTech developments and exchanging the insightful experiences.
In the compact one-day agenda, we will fill the day with insightful talks, interactive panel discussions & plentiful networking opportunities with the local and global MarTech experts. Whether you have joined The MarTech Summit before or not, this event will bring you the best opportunity to meet and learn from the MarTech innovators in Jakarta!
What's Going to Happen?
The 1-Day summit is packed with In-Summit Roundtables, Panel Discussions, Fireside Chats, Keynote Presentations, & Networking Sessions!
Our comprehensive agenda covers 4 big MarTech topics:
Data-Driven Marketing: Customer Data Analytics, First-Party Data, Cookieless, Hyper-Personalisation, Data Communications & AI Chatbots
Customer Experience & Engagement: Social Media & Influencer Marketing, Omnichannel Marketing, Digital Experience & User Experience, User-Generated Content, Gamification & Video Marketing
Emerging Marketing Technologies: Location Marketing, Influencer Marketing Tools, Marketing Automation, Metaverse, Web 3.0 & Disruptive Technologies Integration
Digital Transformation: Digital Marketing Transformation, New Partnerships, Digital-First, Account Based Marketing, Conversational Marketing & GDPR Transforming Marketing
There will be 25+ speakers from industry-leading companies, including Lippo Malls Indonesia, The Estée Lauder Companies Inc., ASTRO, Allo Bank, airasia Super App Indonesia, Merck Life Science, Roche, Decathlon Indonesia, Prudential Syariah & MORE!
Check out our confirmed speakers, and request the agenda here!
Why Attend?
Furthermore, the MarTech Summit Jakarta features these desirable attributes:
New Destination in APAC: The MarTech Summit has gathered a great band of speakers and attendees from Indonesia in our previous summits. And now we are bringing up the community in person!
Tailored Agenda for Indonesian Market: The agenda and speaker line-up are crafted specifically for the Indonesian MarTech trends and market, ensuring an insightful and relevant summit experience for all attendees!
Interactive Session Formats: Engage in panel discussions and in-summit roundtables, allowing you to share and exchange your ideas and insights on various MarTech trends and topics with fellow participants.
English Speaking Summit: In Jakarta, one of the biggest APAC business centers, we bring together local and global speakers and attendees to participate in this English speaking summit. Join the MarTech thought leaders of the region for the best discussion and interaction!
Full of Networking Opportunities: Take advantage of the interactive sessions, lunch and coffee breaks, and departure networking drinks to connect with over 120 MarTech enthusiasts throughout the day!
Premium Venue and Location: At the heart of the city, the Mandarin Oriental Jakarta is the perfect location to enjoy the best summit experience!
➡ Reserve your seat and get the Super Early Bird discount by 30 March! https://themartechsummit.com/jakarta-registration
➡ Interested in becoming a partner? Don't hesitate to get in touch with us at sponsor@themartechsummit.com
➡ Group rates are available upon request for 3+ attendees. Get a quote at marketing@themartechsummit.com
To catch up with The MarTech Summit's latest updates about speakers & agenda, follow us now:
We are looking forward to seeing you in Jakarta this June!
By Jabin Wang, March 2023