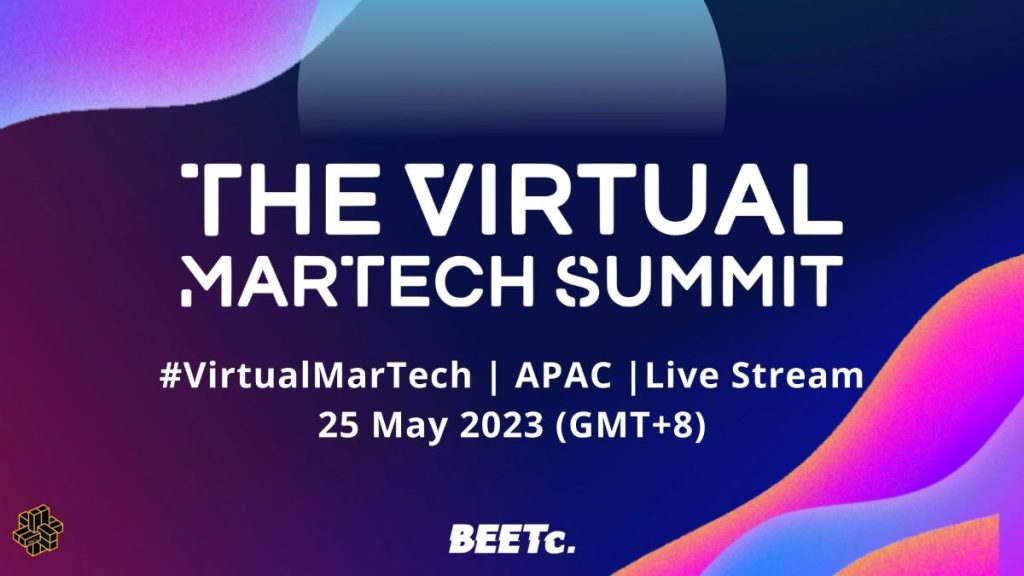 Mid-Year Virtual MarTech!
Join us for the second virtual gathering of The Virtual MarTech Summit on May 25, 2023, where we will be diving into the APAC market through the theme of "Revolutionising the Future of Marketing Technology: Insights, Strategies, and Innovations."
This half-day summit will feature 7+ live sessions from 20+ MarTech thought leaders from the region, covering both B2B and B2C topics. You'll have ample opportunities for engagement and live interactions throughout the event.
Our APAC-focused sessions will highlight the unique pain points and successes of the region's marketing technology industry. We're excited to announce that our lineup of speakers will include new voices from across the industry, providing fresh insights and perspectives on the latest trends and strategies.
What Are the Topics
Our well-tailored agenda will cover a variety of hot topics in the MarTech world such as:
Content Marketing
Revenue Generation
Personalisation
Social Marketing
Digital Transformation
State of Digital Content
Visit our summit page The Virtual MarTech Summit to check out the agenda and the speaker line-up!
Why You Can't Miss This Summit
These are the reasons to join the summit on top of the insight sharing & future trend exploring:
100 % Live Streaming + On-Demand Playback: All sessions are live-streamed, allowing for real-time interaction through live polling and Q&A. If you miss any sessions, don't worry – if you registered beforehand, you'll have access to on-demand playback for 3 months.
Mid-Year MarTech Insights: At the end of May 2023, we'll bring together 800+ MarTech professionals to look back on the past months and explore opportunities for the upcoming months. This is the perfect opportunity to gain fresh insights and ideas for the rest of the year!
Pain Points & Success: To crystallize insightful MarTech practices, our speakers will focus on sharing their real experiences of challenges and successes. By learning from these experiences, you can apply these lessons to your own business and stay ahead of the competition.

APAC Coverage: Our brand new speaker line-up and agenda includes MarTech thought leaders across the APAC region, including Australia, Cambodia, New Zealand, Philippines, Malaysia, Vietnam and more. This provides a unique opportunity to gain insights and perspectives on the MarTech landscape in these countries and expand your knowledge and network in the region.
Register Your Passes Now
Don't miss out on this exciting opportunity to connect with industry leaders and gain valuable insights into the latest marketing technology innovations.
Registration is now open, get your passes now at https://themartechsummit.com/virtual-apac
Sing up now to get the Free 3 Months On-Demand Playback!
Interested in getting involved? Please get in touch with Lin Duan for sponsorship opportunities at lduan@themartechsummit.com
Want to know what we discussed in previous summits? Check out the Post-Summit Reports:
To catch up with The MarTech Summit's latest updates about speakers & agenda, follow us now:
By Jabin Wang, April 2023